Beauty recycling has just been made a lot easier thanks to P&G's new initiative
P&B beauty has launched a new reusable and refillable aluminium bottle system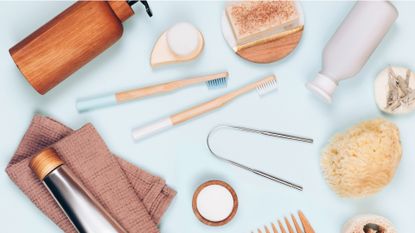 (Image credit: Getty Images)
While you might have already started using shampoo bars and taken other steps towards more sustainable living, there's still a long way to go - especially in the beauty industry. Recycling is more important than ever and with more and more businesses and cooperations joining the plastic ban, it finally feels like some progress is being made.
Recent figures by Recycle Now revealed that only 50% of bathroom packaging is being recycled, compared to 90% of products in our kitchens. To combat the disparity, P&B beauty has launched its first ever reusable and refillable aluminium bottle system.
The new initiative is set to launch in 2021 and will see all P&G brands, including Head & Shoulders, Pantene, Herbal Essences and Aussie, packaged in 100% aluminium bottles that can be reused and refilled.
The new bottles will be made with 60% less plastic compared to a standard brand bottle and whenever you run out of product, you can purchase a recyclable refill pouch to top up your shampoo or conditioner.
Aluminium is a great source for recycling, which is why it is so popular in sustainable beauty. In fact, according to The Aluminium Association, 75% of aluminium ever produced is still in use today, which is impressive to say the least.
With this new system, P&G beauty aims to reduce virgin plastic usage by 50% in shampoo and conditioner bottles by the end of 2021. And if they manage to do that in its first year, the future looks very promising for recycling in the beauty industry as it means a minimum of 300 million fewer virgin plastic bottles will be produced every year.
Let's hope others follow suit!
Sagal is a journalist, specialising in lifestyle, pop culture, fashion and beauty. She has written for a number of publications including Vogue, Glamour, Stylist, Evening Standard, Bustle, You Magazine, Dazed and Wonderland to name a few.