The best shampoo bars that hydrate and nourish all hair types
Invest in one of best shampoo bars for a more sustainable hair care routine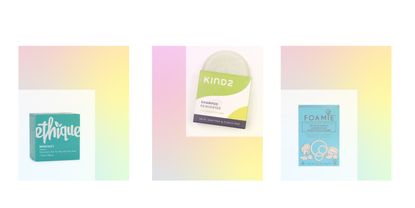 (Image credit: Future/Canva)
The best shampoo bars should be easy to use, come with a range of pleasing scents, of course be as eco-friendly as possible and—most importantly—leave hair looking and feeling clean, healthy and nourished.
These bars—solid, soap-esque versions of liquid shampoo—are becoming increasingly popular thanks to their (on the most part) plastic-free formulations and expanding ranges that are designed to work with an increasing number of different hair types. There are even sulfate-free options becoming available too and they're also travel-friendly, as they don't count towards your hand luggage allowance. So once you've tried one out, we reckon you'll definitely think twice about your trusty liquid product.
Of course, switching over to shampoo bars can come with a level of trepidation—after all it's a whole new way of doing a basic hygiene ritual that you've spent your whole life doing another way. That's why our expert beauty team has put eight shampoo bars to the test to see just how they performed and how they left our hair afterward—so that we can give you the lowdown on exactly how to move over to this new hair washing technique. Ethique Mintasy came out on top for our tester, leaving her hair feeling clean and hydrated. Keep reading to see which shampoo bar will be the one for you, and find a new beauty essential.
How we tested the best shampoo bars
When testing shampoo bars, I used each bar a couple of times before forming an opinion so that I was able to gauge more fairly how they worked and I took the following points into consideration:
Price
How plant-friendly it was
Variations and hair types it's suitable for
Scent
General ease of use
Packaging
How it made hair look and feel, both immediately after washing and again after styling
With more and more shampoo bars launching, it can be an overwhelming product to shop—especially when you want to ensure the one you're buying is actually as good for the planet as it claims. I based my selection on popular products, some newer ones and also incorporated some smaller brands which can often be overlooked.
Meet the tester
Meet the tester
Lucy Partington
Hairdressers always tell me my hair is fine but there's a lot of it. It's got a natural curl to it (that I never wear in its natural state), but my scalp is sensitive so I have to be careful with the types of products I use now. I err on the side of caution and opt for gentle shampoos and conditioners that are less likely to irritate, along with nourishing hair oils, texturising sprays and—of course—dry shampoo more often than I should.
Shampoo bars are a very personal thing, and ultimately the perfect product is something that strikes the balance between making hair look and feel good and being planet-friendly. And of course scent matters too, as, like with the best perfume for women, everyone has a different scent they love to use on their hair (or even no scent at all!). Often, it takes time for hair to get used to using this type of product so it's important not to judge it based on first use.
The best shampoo bars as reviewed by an expert beauty editor
1. Ethique Mintasy Solid Shampoo
The best shampoo bar for most hair types
Specifications
Weight of bar: 110g (equivalent to 3 bottles of shampoo)
Brand eco-credential: Plastic free, carbon neutral, vegan and all products made without palm oil
Key ingredients: Cocoa butter, coconut oil, peppermint extract
RRP: $15/£13 for 110g
Reasons to buy
+
It's created by a brand who are really passionate about sustainability
+
It had the best results from first use
Reasons to avoid
-
We found it didn't dry out very well, therefore it might not be as easy to travel with as some without a case
-
Slightly more pricey
Ethique's bright green, square-shaped shampoo bar was a pleasure to use. Ethique has 11 types of shampoo bars for all different hair concerns but the Mintasy seems to be the most popular. If you're trying to get into sustainable living, then this shampoo bar is also helpfully vegan and cruelty-free.
When using, I found that it smelt super fresh and minty thanks to the peppermint oil. It also foamed up really quickly and easily in comparison to some of the others I tried, which was reassuring in making it feel like my hair was getting a good clean. The minty scent felt like it was helping to cleanse the scalp as well as the hair—and it was easy to wash out, too. It didn't leave hair in a tangled, matted mess and while my hair did feel a bit too squeaky clean, it still felt cleansed, smooth, and hydrated without that telltale waxy feel that some shampoo bars can have in the first few uses.
Read the full Ethique Mintasy Solid Shampoo review to learn more about why this bar is such a go-to product for shampoo bar converts
2. Foamie COCONUT SHAMPOO BAR
The best shampoo bar for maximum hydration
Specifications
Weight of bar: 80g
Brand eco-credential: Uses 80% less water than counterparts
Key ingredients: Coconut base
RRP: $9.99/£9.15 for 80ml
Reasons to buy
+
Vegan and cruelty free
+
Contains no parabens or sulphates
+
Kind to hair with a PH balanced formula
+
Smells great
Reasons to avoid
-
Slightly smaller bar than others in this list
I loved the Foamie for several reasons—not only did it deliver a serious dose of hydration to my thirsty hair, leaving it smooth and supple, but it smells great too, with tropical notes that lasted throughout the day. And it can be integrated as part of your curly girl routine too.
The ergonomic design means that it fit into the palm of my hand easily, which made it easier than some others to use and meant that it wasn't constantly slipping out of my hands in the shower. I was also really into the handy 'travel buddy' travel case that is sold separately, which really came into its own when I went away for the week and wanted a non-messy compact way to pack this into my toiletries bag.
Usability tip: I found that this lathered up better when I rubbed it directly onto my hair rather than foaming it up in my hands—but if that's your preferred method, then it works fine too
3. Faith in Nature Coconut and Shea Butter Shampoo Bar
The best budget shampoo bar
Specifications
Weight of bar: 85g
Brand eco-credentials: Plastic free, carbon neutral, vegan and all products made without palm oil
Key ingredients: Cocoa butter, coconut oil, peppermint extract
RRP: $6.99/£7 for 85g
Reasons to buy
+
It's on the more affordable end of the scale
+
All ingredients are 100% natural
Reasons to avoid
-
We found it took a while to get a decent amount of foam
-
Might weigh down finer hair types
Sulfate-free and vegan-friendly, this shampoo bar is as effective as it is affordable.
This is a good size in that it's not too big and not too small, which made it super easy to grip once it's wet—it didn't slip and slide all over the place (which is no mean feat for a shampoo bar!).
However, it was quite difficult to foam up—it took some doing both in my hands and by rubbing directly onto the hair, which did cause a bit of unnecessary tangling. Once washed out, my hair didn't feel as squeaky clean as it did with some of the other shampoo bars though—instead, it felt like regular liquid shampoo had been used, which was a nice bonus. It didn't have much of a scent but I didn't find that to be a problem at all. But if you prefer heavily scented shampoos then it might not be one for you.
4. Kind2 The Hydrating One
Best shampoo bar for dry, curly and/or coloured hair
Specifications
Weight of bar: 80g (equivalent to 60 washes/two bottles of shampoo)
Brand eco-credentials: All natural and products packaged in recycled cardboard
Key ingredients: Cocoa butter, coconut oil, peppermint extract
RRP: $17.00/£7.50 for 80g
Reasons to buy
+
It's suitable for both coloured and curly hair
+
Soap free and pH-balanced so is kind to sensitive scalps
Reasons to avoid
-
It doesn't have much of a scent
-
It's sulfate-free so doesn't lather up that much
I followed this shampoo bar with the matching conditioning bar and I was pleased with the results. Be warned though, that this shampoo bar doesn't create much of a lather or foam. That's due to the fact that it's sulfate-free and therefore doesn't have the foaming agents in it—but that doesn't make it any less effective and instead makes it much kinder to the scalp and less likely to dry it out or cause irritation.
This is another bar that also doesn't have much of a scent, but that's not necessarily a problem, it's just down to personal preference. However, it did leave my hair feeling soft, smooth, and manageable with a great shine to boot, and ready to be styled with curly hair tips to keep frizz at bay.
5. Nuddy Ultra Volume Blow Dry Shampoo Bar
Best shampoo bar for serious volume
Specifications
Weight of bar: 100g
Brand eco-credentials: Plastic free and cruelty free
Key ingredients: Coconut oil, argan oil and glycerin
RRP: £8.95 for 100g (UK only)
Reasons to buy
+
It's created by a female-run, independent brand
+
pH balanced and super nourishing
Reasons to avoid
-
Curly hair types might find it too drying
-
May be too heavy for thin, fine hair