The best shampoo bars to cleanse and nourish all hair types
Our contributing beauty expert has reviewed the best shampoo bars to help you create a more sustainable haircare regime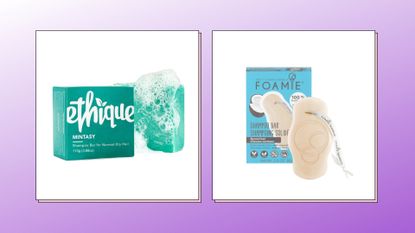 (Image credit: Ethique/Foamie )
The best shampoo bars should be easy to use, eco-friendly, come in a range of pleasing scents and, most importantly, leave your hair looking and feeling clean, healthy and nourished.
These bars—solid versions of liquid shampoo that resemble soaps—are becoming more and more popular thanks to their (often) plastic-free formulations. These ranges are also designed to work with an increasing number of different hair types, rivaling even the best shampoo for curly hair.
They're also travel-friendly, as they don't count towards your carry-on allowance, and there are even sulfate-free options available now, too (read our guide on what sulfates do to hair for more on that one). So once you've tried one out, we reckon you'll definitely think twice about repurchasing your trusty liquid product.
All that being said, switching to shampoo bars can spark trepidation—after all, it's a completely new way of doing a basic hygiene ritual that you've spent your life doing another way. That's why our contributing beauty expert has put eight shampoo bars to the test to see how well they perform and how they leave hair looking and feeling—to give you the lowdown on exactly how to move over to this newer hair-washing technique. These are the products that she found performed best.
How we tested the best shampoo bars
When testing shampoo bars, I washed my hair with each shampoo bar a couple of times before forming my opinion, so that I was able to gauge more fairly how they worked. I took all of the following points into consideration to inform my review.
Price
How plant-friendly it was
Variations and hair types it's suitable for
Scent
General ease of use
Packaging
How it made hair look and feel, both immediately after washing and again after styling
With more and more shampoo bars launching, it can be an overwhelming product to shop—especially when you want to ensure the one you're buying is actually as good for the planet as it claims. I based my selection on popular products, some newer ones and also incorporated some smaller brands which can often be overlooked. We've also find out how to make shampoo bars at home for a more accessible approach.
Meet the tester
Meet the tester
Lucy Partington
Shampoo bars are a very personal thing, and ultimately the perfect product is something that strikes the balance between making hair look and feel good and being planet-friendly. And, of course, scent matters too, as, like with the best perfume for women, everyone has a different scent they love to use on their hair (or even no scent at all!). Often, it takes time for hair to get used to using this type of product so it's important not to judge it based on first use.
The best shampoo bars, as reviewed by a beauty expert
1. Ethique Mintasy Solid Shampoo
Best shampoo bar for most hair types
Specifications
RRP: $15
Weight of bar: 110g (equivalent to 3 bottles of shampoo)
Brand's eco-credential: Plastic free, carbon neutral, vegan and all products made without palm oil
Key ingredients: Cocoa butter, coconut oil, peppermint extract
Reasons to buy
+
Created by a brand that is really passionate about sustainability
+
Had the best results from first use
Reasons to avoid
-
Didn't dry out very well, therefore requires a case for travel
-
Slightly more pricey
Ethique's bright green, square-shaped shampoo bar was a pleasure to use. Ethique has 11 types of shampoo bars for all different hair concerns but the Mintasy seems to be the most popular. If you're trying to get into sustainable living, then this shampoo bar is also helpfully vegan and cruelty-free.
When using, I found that it smelt super fresh and minty thanks to the peppermint oil. It also foamed up really quickly and easily in comparison to some of the others I tried, which was reassuring in making it feel like my hair was getting a good clean. The minty scent felt like it was helping to cleanse the scalp as well as the hair—and it was easy to wash out, too. It didn't leave hair in a tangled, matted mess and while my hair did feel a bit too squeaky clean, it still felt cleansed, smooth, and hydrated without that telltale waxy feel that some shampoo bars can have in the first few uses.
Read the full Ethique Mintasy Solid Shampoo review to learn more about why this bar is such a go-to product for shampoo bar converts
2. Foamie COCONUT SHAMPOO BAR
Best shampoo bar for dry hair
Specifications
RRP: $9.99
Weight of bar: 80g
Brand eco-credential: Uses 80% less water than counterparts
Key ingredients: Coconut base
Reasons to buy
+
Vegan and cruelty free
+
Contains no parabens or sulphates
+
Kind to hair with a PH balanced formula
+
Smells great
Reasons to avoid
-
Slightly smaller bar than others in this list
I loved the Foamie for several reasons—not only did it deliver a serious dose of hydration to my thirsty hair, leaving it smooth and supple, but it smells great too, with tropical notes that lasted throughout the day. And it can be integrated as part of your curly girl routine too.
The ergonomic design means that it fit into the palm of my hand easily, which made it easier than some others to use and meant that it wasn't constantly slipping out of my hands in the shower. I was also really into the handy 'travel buddy' travel case that is sold separately, which really came into its own when I went away for the week and wanted a non-messy compact way to pack this into my toiletries bag.
Usability tip: I found that this lathered up better when I rubbed it directly onto my hair rather than foaming it up in my hands—but if that's your preferred method, then it works fine too
3. Faith in Nature Coconut and Shea Butter Shampoo Bar
Best budget shampoo bar
Specifications
RRP: $6.99
Weight of bar: 85g
Brand eco-credentials: Plastic free, carbon neutral, vegan and all products made without palm oil
Key ingredients: Cocoa butter, coconut oil, peppermint extract
Reasons to buy
+
It's on the more affordable end of the scale
+
All ingredients are 100% natural
Reasons to avoid
-
We found it took a while to get a decent amount of foam
-
Might weigh down finer hair types
Sulfate-free and vegan-friendly, this shampoo bar is as effective as it is affordable.
This is a good size in that it's not too big and not too small, which made it super easy to grip once it's wet—it didn't slip and slide all over the place (which is no mean feat for a shampoo bar!).
However, it was quite difficult to foam up—it took some doing both in my hands and by rubbing directly onto the hair, which did cause a bit of unnecessary tangling. Once washed out, my hair didn't feel as squeaky clean as it did with some other shampoo bars, though. Instead, it felt like regular liquid shampoo had been used, which was a nice bonus. It didn't have much of a scent, which I didn't find to be a problem, but if you prefer heavily scented shampoos then it might not be one for you.
4. Kind2 The Hydrating One
Best shampoo bar for colored hair
Specifications
RRP: $17
Weight of bar: 80g (equivalent to 60 washes/two bottles of shampoo)
Brand eco-credentials: All natural and products packaged in recycled cardboard
Key ingredients: Cocoa butter, coconut oil, peppermint extract
Reasons to buy
+
It's suitable for both coloured and curly hair
+
Soap free and pH-balanced so is kind to sensitive scalps
Reasons to avoid
-
It doesn't have much of a scent
-
It's sulfate-free so doesn't lather up that much
I followed this shampoo bar with the matching conditioning bar and I was pleased with the results. Be warned though, that this shampoo bar doesn't create much of a lather or foam. That's due to the fact that it's sulfate-free and therefore doesn't have the foaming agents in it—but that doesn't make it any less effective, and instead makes it much kinder on the scalp and less likely to dry it out or cause irritation.
This is another bar that also doesn't have much of a scent, but that's not necessarily a problem, it's just down to personal preference. However, it did leave my hair feeling soft, smooth, and manageable with a great shine to boot, and ready to be styled with curly hair tips to keep frizz at bay.
5. Biovene Hydrate Repair, Argan Oil & Mint shampoo bar
Best shampoo bar for damaged hair
Specifications
Weight of bar: 40g (the equivalent of 30 washes)
Brand eco-credentials: water free, zero waste, plastic free as well as all products and packaging are biodegradable
Key ingredients: Argan oil, peppermint, shea butter and macadamia oil
RRP: $3.95/£3.79 for 40g
Reasons to buy
+
It's formulated to help prevent hair fall
+
Made with palm oil and free of sulfates
Reasons to avoid
-
Formulated with beeswax so not suitable for vegans
-
Shea butter may weigh down fine hair
I found that this shampoo bar took a while to foam up, but when it did eventually start to, it was definitely worth the wait. Although it didn't smell very strong, my hair wasn't left feeling too squeaky clean, which was nice. I used it followed by the solid conditioner from the same range, which actually left my hair feeling much smoother and more hydrated than I thought it would.
However, once I had dried and styled my hair post-wash, it did feel a bit limp and greasy—although the more I used this shampoo bar the less that tended to happen, so this could just have been the tell-tale transition period that's experienced when making the switch and comparing shampoo bars vs liquid shampoo.
6. Lush Coconut Rice Cake Shampoo Bar
Best shampoo bar for curly or textured hair
Specifications
RRP: $14.50
Weight of bar: 55g
Brand eco-credentials: No packaging is used, all products are vegetarian and handmade
Key ingredients: Cocoa butter, white rice, creamed coconut, organic coconut milk
Reasons to buy
+
It's created by Lush, the trailblazing eco-friendly brand
+
Comes 'naked' without any packaging
Reasons to avoid
-
Too rich for anybody without thick or dry textured hair
-
Contains sulfates (albeit a palm-free alternative to SLS)
Super foamy and coconutty, this rich and nourishing shampoo bar smelt incredible and had a lovely, rich lather. It cleaned effectively from the very first use, which was when I used it on my hair that was full of three-day-old grease, dirt and dry shampoo. My hair was left feeling cleansed and much lighter.
The double dose of coconut is really moisturizing, but it does have the addition of sodium coco sulfate, which although doesn't contain palm oil, is still a type of sulfate used to help a product foam but that can often cause dryness on the scalp. For a sulfate-free alternative, you can always learn how to make shampoo bars at home, or if you find that sulfates don't lead to dryness, then this product is a must-buy textured hair because of the sheer amount of moisturizing properties it has.
7. Odacite 552M soap free shampoo bar
Best shampoo bar for soft hair results
Specifications
RRP: $18
Weight of bar: 105g
Brand eco-credentials: No plastic used
Key ingredients: Coconut oil, cupuaçu, argan and castor oil
Reasons to buy
+
Lasts between 60-80 washes
+
Vegan, cruelty free and contains no sulphates
Reasons to avoid
-
On the pricey side - but it does go a long way
Odacite's brand ethos is to create products that would be stocked on the shelves at a posh French pharmacy whilst retaining the green California living factor—a match made in efficacious and sustainable heaven if you ask us.
Aptly named 552M, which signifies the 552 million shampoo bottles that end up in landfills each year, this humble soap bar's mission is simple: they save the planet and rather conveniently, your hair at the same time. As for the bar itself? Coconut oil wraps hair in moisture and helps to improve texture on even dry, frizzy, color-treated and damaged hair. The soap-free formula is perfect for those with sensitive scalps.
8. Nuddy Ultra Volume Blow Dry Shampoo Bar
Best volumizing shampoo bar
Specifications
RRP: £8.95 for 100g (UK only)
Weight of bar: 100g
Brand eco-credentials: Plastic free and cruelty free
Key ingredients: Coconut oil, argan oil and glycerin
Reasons to buy
+
Female-run, independent brand
+
pH balanced and super nourishing
Reasons to avoid
-
Curly hair types might find it too drying
-
May be too heavy for thin, fine hair
A super fun brand, Nuddy's peach, and acai shampoo bar smells incredible and really works to help volumize hair. Super easy to use, it lathered up really quickly and easily. It didn't leave my hair feeling too clean, and nor was it too tangled or knotted after using, so if you're still figuring out whether you should brush your hair after a shower, you can still go for this shampoo.
Nuddy claims there's no transition period for this shampoo bar and I can wholeheartedly agree; my hair felt smooth and soft like it usually would after using traditional liquid shampoo, plus it was still super manageable and easy to brush through post-wash. The added bounce and volume also lasted until the next wash.
How to choose the best shampoo bar for you
Shampoo bars are often one of the first switches suggested in lists of easy swaps that can be made in a move towards more sustainable living. Be sure before you purchase that neither your product nor its packaging contains any plastic.
It's also important to ensure that you're definitely about to purchase a shampoo bar and not a regular old bar of soap. "Some shampoo bars are labelled as shampoos, but are in fact soaps," explains explains Tony Maleedy, trichologist and founder of Earth Kind. "There is a great difference between soap and shampoo, the main one being the pH of the product.
"The easiest way of telling them apart is to compare the ingredient list of the shampoo bar packaging and soap bar packaging. If the first few ingredients are the same, then they are both soap bars. Also, typically, the first few ingredients of a shampoo bar read: Sodium cocoate, Sodium olivate, Sodium castorate."
Then, in order to choose the right kind of shampoo bar for you, specifically, the key is to look out for certain ingredients that'll lend themselves well to your hair type or concerns.
Dry, textured hair—nourishing shea butter
Damaged, brittle hair—cocoa butter and coconut oil both have supremely hydrating qualities meaning they work well with this type of hair
Fine hair—seaweed is great for keeping fine hair smooth
Greasy hair—charcoal will work to remove excess oil
Sensitive scalps—aloe vera will gently cleanse sensitive skin types without causing irritation
It's common for it might take a few washes for your hair to adapt properly, as there's usually a transition period that comes with making the switch from traditional shampoo to shampoo bars. After the first couple of washes your hair may feel waxy, but that's completely normal, and is why you should always stick with a product for a bit before deciding it's not quite right. If you wash your hair on a less regular basis, be sure to note the expiration date of your chosen shampoo bar.
How to use a shampoo bar
"The best way to use a shampoo bar is to hold it under the water for a few seconds first, which makes the bar a little softer," explains Maleedy. "Then, holding the bar, rub it over the hair to form a lather. When there is a good lather, put the bar down and use both hands to massage the scalp well, and then work along the hair length to be sure the shampoo has reached it all. Then, rinse well."
Are shampoo bars better for your hair?
The advantage of bars is that they are better for the environment, but they aren't that different in terms of the effect they have on your hair (provided you're using one that's right for your hair type). "Shampoo bars are designed to work in basically the same way as liquid shampoos in that they have to combine with dirt on the hair and scalp—typically dust and dead skin cells—along with oil, which are then removed as the shampoo is rinsed off the hair," says Maleedy.
How long do shampoo bars last?
This will depend on the size of your shampoo bar of choice, but they can last for as many as 80 washes—which is the same as several bottles of your go-to traditional liquid shampoo.
Lucy Partington has been a beauty journalist for eight years, writing for titles including Stylist and Cosmopolitan. She's a true skincare nerd who's on a lifelong quest for a glowing complexion and loves nothing more than learning about new ingredients and products. She's obsessed with having perfect eyebrows and collecting eyeshadow palettes she'll probably never use.