Beautyblender's Zodiac Collection has a sponge for every star sign
#obsessed with the Beautyblender's Zodiac Collection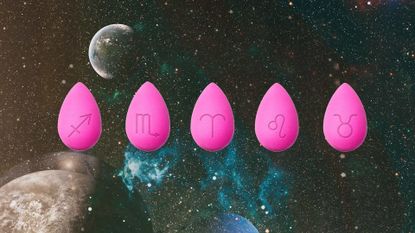 (Image credit: Getty Images / Maximusnd)
Beautyblender's Zodiac Collection proves that sometimes even icons have to reinvent themselves. Like Madonna—or this squishy make-up sponge, which is now channelling astrology.
The Beautyblender first found its way into our make-up arsenal in 2007 and it quickly became the number-one-purchased beauty tool in Sephora. The classic fuchsia sponge has undergone a few transformations over the years - it went mini, tie-dye and then flat as pancake to blot away excess oil. But the basics never changed.
So what is it about the BeautyBlender that makes it a perennial in makeup artists' kits and has us chomping at the bit as soon as it launches a new variation?
First, there's its shape
Unlike traditional pizza-slice-shaped sponges, its genius lies in its egg-like appearance. The lack of edges means the Beautyblender eradicates crease marks on the skin and tidemarks on the jawline. Plus it hugs the curves of the face, making it much easier to buff in product.
Then there's the fact that you wet it for better application without the usual pitfalls
Most sponges before the Beautyblender were designed to repel moisture so weren't porous enough. Application, at best, felt rubbery—at worst, it felt like working foundation in with an eraser. The BeautyBlender, on the other hand, is hydrophilic - meaning it absorbs water so there's literally no room for it to also drink up all your foundation.
In other words, you get that sought after air-brushed finish without tugging at your skin or using half a bottle of product

The material of the Beautyblender Zodiac itself is no different than the original. Both are extremely porous, softening the wetter they become in order to seamlessly buff the best BB creams, powders, and concealers into the skin.
You use it the same way, too: just wet it, squeeze it, and blend away.
The only difference is each new sponge in the Zodiac Collection is engraved with one of 12 different star signs.
Personalisation is made super simple if you want to gift one—all you need to know is the recipient's birthday. And for $20 / £17, seriously, what's not to love?
Whatever way you look at it, the Zodiac Collection is out of this world.
Fiona Embleton is a multi-award-winning beauty editor who has tested over 10,000 products in her 10 years + of writing and shooting beauty stories. For the past four years, she was the Senior Beauty Editor at Marie Claire, having previously worked in the role of Beauty Editor at both Stylist and Cosmopolitan. She has recently gone freelance and alongside My Imperfect Life, she has written for titles including ELLE UK, ELLE Canada, Buro 247, Harper's Bazaar Arabia, Vogue Scandinavia, and ES Magazine. Beauty journalism allowed her to marry up her first-class degree in English Literature and Language (she's a stickler for grammar and a self-confessed ingredients geek) with a passion for make-up and skincare, photography, and catwalk trends. She loves jumping on the latest internet-breaking beauty news, dissecting the best red carpet looks, and having the crème de la crème of dermatologists, make-up artists, and hairstylists on speed dial so she can tap them for the best advice. She's a discerning beauty shopper and knows it can be confusing trying to navigate what's hype and what really works. So if she really likes something, you can trust that she has reached that opinion by vetting it against everything else she's ever tried. Her career highs? Interviewing Cate Blanchett and winning a Jasmine Award for the deeply personal feature Cancer Stole My Mother's Scent.