That viral Bernie Sanders meme is now a covetable – and charitable! – crewneck
Maybe those famous mittens will be next?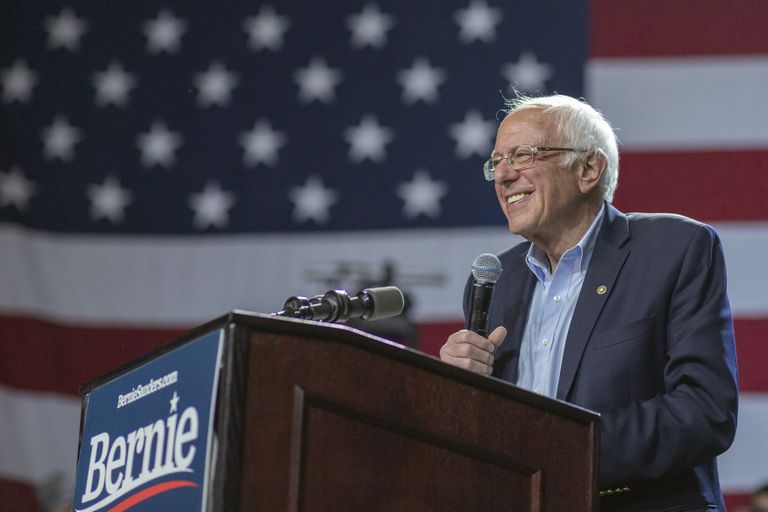 (Image credit: Photo by David McNew/Stringer/Getty Images)
You've no doubt seen the Bernie at inauguration meme: a viral phenomenon of pulling snapshots of a bemittened Bernie Sanders at the presidential inauguration and placing him in beloved movies, historical photos, and even on Mike Pence's head. It was a much-publicized moment that gave other Inauguration Day stand-outs like Amanda Gorman's Hamilton quotes and Jennifer Lopez's "Let's get loud!" rally cry a run for their money.

The Bernie meme has cropped up incessantly on the Internet over the last week, but now it's making its sartorial debut. Ever a good sport, the Vermont Senator released official merchandise emblazoned with the meme on his online campaign store this weekend.

Merch items in the "Chairman Sanders" collection include a unisex crewneck sweatshirt for $45, as well as black cotton T-shirts in both men's and women's sizing for $27 each.
Apparently people have been really "Feeling the Bern" lately, because the items are all currently sold out, but keep an eye out for a restock. Those lucky enough to have already grabbed one of the popular garments will have to wait up to six weeks for delivery due to "overwhelming" demand.
Each purchase benefits the state that Sanders has represented as a US Senator since 2007: 100% of proceeds will go to charities in Vermont, including Feeding Chittenden, Chill Foundation, and Vermont community action centers.
Sanders responded to the viral mitten meme on Late Night with Seth Meyers on January 21st, telling the TV host that he was not at all aware that he was the subject of the most popular photo from Inauguration Day. "I was just sitting there trying to keep warm, trying to pay attention to what was going on!" he told Meyers. He also told CNN's Dana Bash that the charitable merch collection means that the meme "turned out to be a good thing, and not only a fun thing."