You can now place the Bernie at inauguration meme in any address or location
Bernie Sanders became a meme at Biden's inauguration and now you can place him anywhere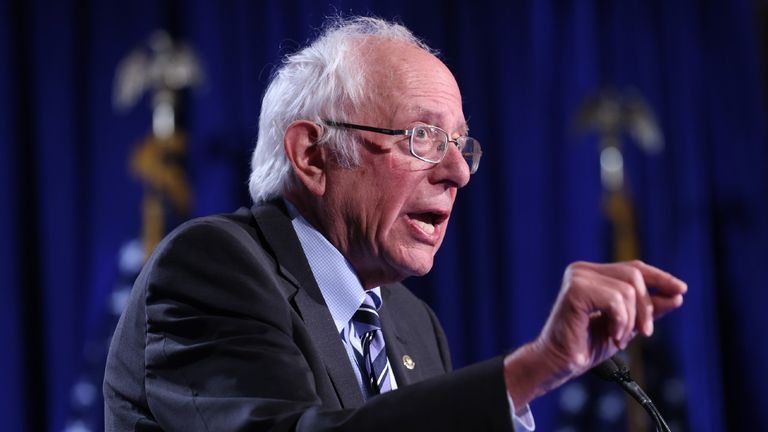 (Image credit: Getty Images / Win McNamee / Staff)
The unexpected star from Inauguration Day? The Bernie at inauguration meme.
The inauguration was a joyous moment for the USA, full of hope and symbols of unity. From the celebratory playlist to Kamala Harris' powerful pre-inauguration outfit, it was exactly what we all needed. But nothing seems to have captured the hearts of the world quite like Bernie Sanders and his mittens.
The Vermont Senator, and President Biden's toughest rival in the Democratic presidential nominations, attended the Inauguration in Washington DC. He paired a simple grey coat with a pair of knitted, patterned mittens. The image of him in his coat and mittens, sitting socially distanced in his chair swiftly caught the eye of fans and became a viral meme almost instantly.
And following the success of the Bernie Inauguration meme, one Twitter user got to work and created a website that you can use to put Bernie in places using google maps street view. The devil works fast, but the internet...
Bernie at Inauguration meme: the best reactions
Fans have been using it as a meme ever since and have now started using it alongside his inauguration pictures. One fan wrote: "Bernie is wearing his I am once again asking you jacket."
Many have said his clothing made him look like he had errands to run, as he was pictured with what looked like an envelope to post. Fans love how unbothered he looks in the photo as if the inauguration was just one of the many things he had to do that day. One fan said: "Bernie dressed like the inauguration is on his to do list today but ain't his whole day."
The image of Bernie and his mittens is a hilarious contrast to the suits and dresses surrounding him. One user wrote: "I've never related to an energy more."
Personally, we think the slightly wonky mask is what really makes it.
Twitter fans have even started editing him into famous paintings, film scenes, and even into other memes. His sitting pose blends perfectly, from sitting on a bench next to Forrest Gump to riding the subway. One wrote: 'Blessed with my Friends' and edited him into the famous Friends couch scene.
Bernie Sanders will start to have a bigger role during Biden's Presidency and we cannot wait for many more memes to come...
Naomi is trainee news writer who writes for My Imperfect life, Woman & Home and Goodto. Naomi writes articles from fashion trends and skincare to entertainment news.