What is the black beauty drug in 'Russian Doll' season 2?
Fans see Natasha Lyonne take the mysterious "black beauty" drug in 'Russian Doll'—but what is it exactly?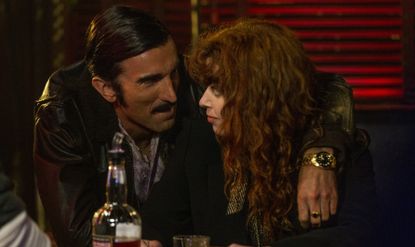 (Image credit: Vanessa Clifton/Netflix)
It looks like Queen Charlotte isn't the only one experimenting with mysterious substances over on Netflix. Though fans were left wondering, "What is the queen sniffing in Bridgerton?" it turned out to be a completely legal stimulant. The substance that Nadia Vulvokov is tripping out on over on Russian Doll, however, is less so.
Let's back up: Russian Doll season 2 finds our heroine Nadia (played by Natasha Lyonne) in a new conundrum that doesn't just see her traveling through time but also adopting the bodies of both her mother and grandmother.
It's in the season premiere, while she's transported into the 1980s-era body of her mom Lenora (who is pregnant with fetus Nadia—we know, it's confusing), that Nadia experiments with a mystifying pill known as a "black beauty." But what is it exactly? Let us take you on a trip.
What is the black beauty drug in 'Russian Doll'?
While occupying her mother's body, Nadia encounters Chezzare "Chez" Carrerra (Sharlto Copley), the "outstanding prick" Lenora was dating while pregnant with Nadia.
Chez is on the run from a drug deal when Nadia runs into him, so it's no shock when he later offers her the choice between "ludes or beauties," a.k.a. quaaludes or black beauties. She chooses the latter, saying: "Holy f*cking sh*t, black beauties. My god, I thought these were just legend...Looks like Purim came early this year."
In fact, black beauties are very much real. Generally, "black beauty" is the street name for any black capsule containing pharmaceutical amphetamine taken as a stimulant. More specifically, it refers to a tablet of Biphetamine, which was consumed recreationally in the 1960s and '70s.
Back in those days, these "beauties" were also called "black widows," "black birds" and "black bombers." However, nowadays, popular nicknames for the tablet include "bennies," "uppers" and "speed." Consider it the retro Adderall—with a prescription, it can legally be used to treat ADHD. However, without an official note from a doctor, black beauty still remains illegal.
Christina Izzo is the Deputy Editor of My Imperfect Life.
More generally, she is a writer-editor covering food and drink, travel, lifestyle and culture in New York City. She was previously the Features Editor at Rachael Ray In Season and Reveal, as well as the Food & Drink Editor and chief restaurant critic at Time Out New York.
When she's not doing all that, she can probably be found eating cheese somewhere.