Everything to know about Natasha Lyonne, '90s icon and 'Russian Doll' star
From 'But I'm a Cheerleader' to 'Orange Is the New Black,' Natasha Lyonne has been one of our favorite faces on screens big and small since the '90s.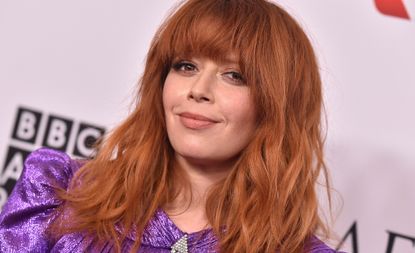 (Image credit: LISA O'CONNOR/AFP)
She's in possession of a first-rate New Yawk accent and one of the best heads of hair on TV: Natasha Lyonne will be back with both when Russian Doll season 2 hits Netflix on Wednesday, April 20.
The multi-hyphenate talent has been a staple of TV and movies for decades, from her wild-child days in 1990s NYC to her latest Emmy-nominated work on the time-looping Netflix sci-fi comedy. But though you undoubtedly know her name—and covet her closet (those pantsuits!)—there's plenty to unearth when it comes to the actress.
So crank up that Russian Doll soundtrack and let's dig in!
Who is Natasha Lyonne, 'Russian Doll' star?
Natasha Lyonne is a 43-year-old actress, director, writer and producer hailing from New York City.
A former child star, Lyonne made her screen debut at the age of six on Pee-wee's Playhouse, following that up with film appearances in '80s and '90s movies like Heartburn, A Man Called Sarge, and Dennis the Menace. She did not finish high school and instead continued her education with film and photography courses at NYU's prestigious Tisch School of the Arts.
She ran into legal and personal troubles in her twenties, including a DUI arrest and treatment for heroin addiction, but has been sober since 2006 and remains candid about her past.
"I'm just happier now. The resentments I had against this business, I'm over them. I almost see them as weird family members. And hopefully I don't have to see those people at the reunion. It's cool that I've been allowed to sort of grow up in this business and even have dark years and be brought back," Lyonne told The Hollywood Reporter.
"I'd probably be a pretty shitty writer if I had only been a child actor who segued gracefully into adulthood," she quipped to the outlet.
Natasha Lyonne movies and TV roles
You've seen Lyonne and her signature mop of red curly hair in movies like Slums of Beverly Hills, But I'm a Cheerleader, the American Pie franchise, Detroit Rock City, Party Monster and Scary Movie 2, to name just a few.
Her biggest TV roles to date have been as Nicky Nichols in the Netflix series Orange Is the New Black—for which she was nominated for Primetime Emmy Award for Outstanding Guest Actress in a Comedy Series in 2014 and received the Screen Actors Guild Award twice for Outstanding Performance by an Ensemble in a Comedy Series—and as Nadia Vulvokov in Russian Doll, for which she was nominated for Outstanding Lead Actress in a Comedy Series in 2019.
Acting-wise, she's popped up on series like New Girl, Portlandia, Inside Amy Schumer and Girls, and she's also directed episodes of Orange Is the New Black, Shrill, and High Fidelity.
Lyonne will next star and executive-produce Peacock's Poker Face, a mystery drama series from director Rian Johnson that will also feature Joseph Gordon-Levitt and The Marvelous Mrs. Maisel actress Stephanie Hsu.
Are Natasha Lyonne and Fred Armisen still together?
In April 2022, Natasha Lyonne revealed that she had split from former Saturday Night Live star Fred Armisen after an eight-year relationship. The reported cause of the break-up? A swimming pool.
"I honestly think we broke up because I wanted a swimming pool. We love each other just about as much as two people can love each other and we're still talking all the time, but Freddy doesn't like a swimming pool," she told The Hollywood Reporter.
"It might seem like a mundane reason for a breakup, but during that pandemic, you've got to get your laps — I'm like Burt Lancaster in The Swimmer. So, I got myself a house with a pool out in Los Angeles."
We've heard of relationship breakdowns during the pandemic, but this reason is new!
Natasha Lyonne sexuality: how does she identify?
Despite appearing in beloved queer titles like But I'm a Cheerleader opposite Clea DuVall and Orange Is the New Black opposite Yael Stone, Lyonne has gone on the record to say she is straight.
However, when asked about being a lesbian icon, Lyonne told The New York Times: "Mind you, when I say I'm not gay, it doesn't mean that I've never tried sleeping with women. Of course I have. I'm not a dumb-dumb."
She continued: "I never want to feel like I'm taking ownership of an experience that's not my own. And when I play a lesbian character, it means that she's on her own ride. I love men. I want to sleep with as many as possible."
Is Natasha Lyonne Jewish?
Yes, Lyonne's parents were from Orthodox Jewish families, and she was raised Orthodox. Her Hungarian-Jewish maternal grandparents were Holocaust survivors.
That familial history had a profound effect on the actress, with her telling the New York Post: "I don't think you can take Hitler out of the equation, the way I moved through my teenage years especially. I've almost not been able to reconcile the real weight of what it means that that can happen, and that that can happen within a line of family that's so close to you."
Her real-life heritage will reportedly play a part in Russian Doll season 2, so stay tuned!
Is Natasha Lyonne friends with the 'Orange Is the New Black' cast?
Seven seasons spent starring together on Netflix's acclaimed Orange Is the New Black have led to lasting friendships if Lyonne's Instagram is any proof. The actress can frequently be found in the company of former costars including Uzo Aduba, Laura Prepon, Danielle Brooks and Dascha Polanco.
Of a November 2021 group outing to Aduba's play Clyde's on Broadway, Lyonne wrote: "Nothing makes me happier than when we all get to be together and I love to see you shine forever."
Natasha Lyonne hair: what are her go-to products?
Lyonne's famous mane is fittingly leonine and trendily copper red on Russian Doll, and it's a look we want to mimic ASAP. Thankfully, the show's lead hairstylist Marcel Dagenais let the world in on his styling secrets for the actress.
"I used Redken Shades EQ, which is a gloss. We literally colored it every three weeks, because I knew she had to go back to Orange after wrapping this, so I didn't want to use a permanent color. Then for maintenance, I was giving Natasha Davines copper shampoo and conditioner," Dagenais told Refinery29.
I would set the wet curls with Hairstory Hair Balm and Bumble and Bumble Styling Crème...Towards the end I would diffuse a tiny bit with my favorite T3 hairdryer. Then I would use Bumble and Bumble Brilliantine, an oil to set the curls, and a little hairspray—Oribe Superfine Strong Hairspray.
Natasha Lyonne on 'Russian Doll' season 2
The sophomore season of Russian Doll will take place four years after Nadia and Alan escape the time loop together and will see both characters dig deeper into their respective pasts, reports Variety.
"We had definitely been playing with a lot of different ideas, but ultimately really wanted to stick with character journey," Lyonne told the publication. "Rather than doing all this backwards exposition to tie together the intervening three and a half years, the idea is, whatever iteration of it it is, Alpha Nadia and Alpha Alan are here and now, being faced with the question of, now that I'm not dying, how do I start living?"
She continued: "When you strip away the fat of a lot of this high-concept sci-fi stuff, that really is at the heart of the question from a character standpoint this year."
Christina Izzo is the Deputy Editor of My Imperfect Life.
More generally, she is a writer-editor covering food and drink, travel, lifestyle and culture in New York City. She was previously the Features Editor at Rachael Ray In Season and Reveal, as well as the Food & Drink Editor and chief restaurant critic at Time Out New York.
When she's not doing all that, she can probably be found eating cheese somewhere.