Bolt Beauty: everything to know about the single dose skincare brand
Spotted the Bolt Beauty skincare capsules? Here's the lowdown on them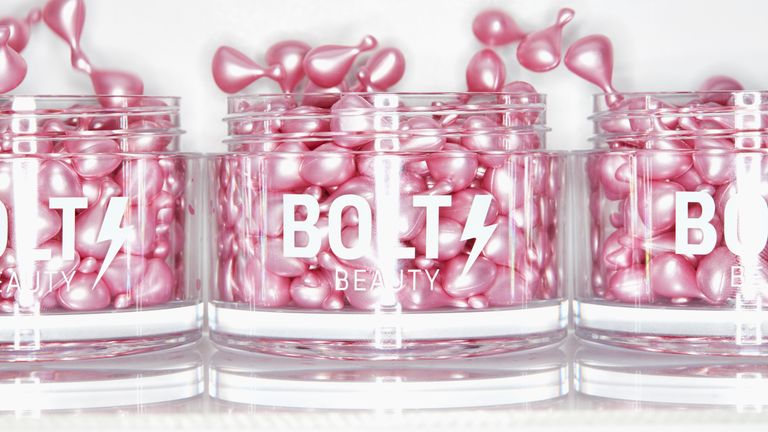 (Image credit: Bolt Beauty)
Heard of Bolt Beauty and wondering what all the hype is about? This newly-launched range of skincare capsules has got the attention of many a beauty lover, thanks to its sustainable and travel-friendly format. (When we can all travel again, that is.)
The main perk of these little skincare drops is that you get exactly the right amount of product for your face in each capsule. But they're also making a big effort to be as sustainable as possible; once you've applied your skincare the biodegradable capsules can be dissolved in boiling water or thrown into your food waste bin. We love to see it.
Bolt Beauty's skincare drops are available in jars or refill bags (which are compostable), the latter of which cost $7 less, and you can get 15% off your first order by signing up to the brand's newsletter.
The Bolt Beauty capsules even have the approval of skincare influencer extraordinaire, Hyram Yarbro, who recently posted a TikTok praising the "cool" capsules as their biodegradable packaging protects them from air and light.
What are the different Bolt Beauty capsules?
Currently the brand has four different types of skincare capsules on offer.
Filthy Clean - cleanser
Mad About Moisture - moisturizer
Vitamin A Game - retinol
Glow Don't Shine - mattifying serum
Bolt Beauty Filthy Clean drops
Bolt Beauty Mad About Moisture drops
Bolt Beauty Vitamin A Game drops
Bolt Beauty Glow Don't Shine drops
Although the brand is based in the UK, Bolt Beauty ships globally, so you'll be able to give these single-dose skincare drops a go wherever you are in the world.
Here's to sustainable skincare for everyone!