The best breakup songs for you according to your zodiac sign
Embrace your heartache, one tune at a time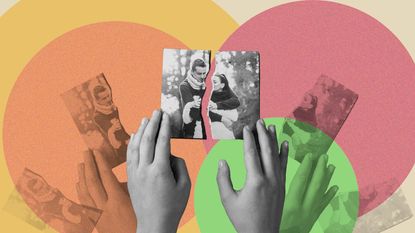 (Image credit: Halfpoint)
Nothing helps kick start the long, dull healing process of a broken heart quite like a shared experience. That's why some of the world's most popular songs, movies and books are about the love we found and subsequently lost.
Luckily, Psychic World have taken a deep dive into the world of astrology and come up with the breakup songs we should all be listening to, according to our zodiac signs. Much like picking the best flowers to suit your zodiac sign, these are the tunes you should play when your love life isn't going so well...
Sagittarius - I Have Nothing by Whitney Houston
Anyone born under the archer sign of Sagittarius finds a breakup harder than most and they will often try to reclaim their lost love once it's over. If it doesn't work out, Sagittarius can brood over a breakup for months, making Whitney's I Have Nothing is the one for you.
Capricorn - Thank U, Next by Ariana Grande
Great at accepting reality and realising why a relationship didn't work out, Capricorns may be sensitive souls but they know when to leave something in the past. Enter Ariana Grande's hit tune, Thank U, Next.
Aquarius - Hurt by Christina Aguilera
Big on overanalyzing when it comes to relationships, Aquarius need a lot of support from friends when a break-up hits. Hurt by Christina Aguilera will help too.
Pisces - Heavy by Anne Marie
Pisces people aren't big on confrontation or sorting out their relationship issues, preferring to leave problems simmering. When relationships fizzle out, turn to Anne Marie's Heavy.
Aries - Truth Hurts by Lizzo
Often Aries get a sense of empowerment from a breakup as they like to make all of the decisions when it comes to love. That's why Lizzo's banging hit Truth Hurts will be the one for you!
Taurus - Say Something by A Great Big World
Taureans love being in love so when it comes to crunch time, they'll fight and fight to keep the love alive. If it does all come crashing down, turn on Say Something by A Great Big World and feel all the feelings.
Gemini - All Too Well By Taylor Swift
Taylor Swift's All Too Well will connect with Gemini on a load of levels. Characterised with their ever changing moods of sensitivity and confidence, Geminis can often get overwhelmed by their breakup sadness at first.
Cancer - A Million Reasons by Lady Gaga
Super sensitive Cancerians will hold onto a relationship until the bitter end, but when it's over, it sure is over. That's when Lady Gaga's A Million Reasons comes in - turn it up loud!
Leo - Everytime by Britney Spears
This sad song from Britney is perfect for when Leos are going through a tough time. Leos really crumble as a relationship ends and they can have a hard time processing their emotions.
Virgo - What Now by Rihanna
Keen to avoid conflict Virgos will hold their head high and walk away once they know time is up on their current love interest. What Now by Rihanna will be their perfect companion.
Libra - Someone like You by Adele
Libras like to work hard keeping a relationship going and would rather take a break than end things for good. If it does end, Adele's Someone Like You will resonate as Libras always like to remain on good terms with exes.
Scorpio - Josslyn by Olivia O'Brien
Scorpios can let their ex become an obsession so they need an upbeat, calming song, which is where Olivia O'Brien's song Josslyn comes in. It's hard for Scorpios not to be overcome with emotion, so go easy on yourself!
Cute astrology-themed gifts
Brand
Colour
Price
Refine ☵
Sort By
Lydia is a freelance travel writer, and Lifestyle News Editor at My Imperfect Life
Her travel writing has been published in BBC Good Food, Oh magazine, Harper's Bazaar UK, Town&Country, ELLE UK, MailOnline, Woman, and woman&home
She began her career compiling fashion and beauty pages for teen magazines at the BBC where she interviewed and styled some of the world's biggest pop acts—from Taylor Swift and Demi Lovato to One Direction—before joining celebrity magazine Now, as Fashion and Beauty Director, and later Woman magazine as Lifestyle Director.
Travel has been a constant passion over the course of Lydia's 14-year career. At 19, she took her first solo trip to Guatemala, Belize, and Mexico and has gone on to explore parts of 53 countries, returning to many often.
At 23, she quit her job and traveled out of a backpack for a year, living on just $26 (£20) a day. Of the 15 countries she visited, 13 were explored by land in a bid to cut her carbon footprint. Some highlights from the trip include a teaching by the Dalai Lama in the foothills of the Himalayas, sleeping on the world's largest salt flat, Salar de Uyuni in Bolivia, and being completely overwhelmed by the magnificent Iguazu Falls on the Argentina-Brazil border.
In 2015 Lydia traveled solo through India and Nepal for three months, visiting some of the most spiritual places in the world, and completing Nepal's Annapurna Base Camp trek over the course of nine days.
In 2021 she spent three months traveling solo through Portugal and Spain where she was on a mission to hunt out the best restaurants, find one-off boutique hotels and visit incredible art exhibitions.
Day-to-day she manages a global team of nine news writers and oversees news content on My Imperfect Life
Follow Lydia on Instagram @lydiaswinscoe