The unusual way beauty shoppers are supporting the #FreeBritney campaign
Please let this be the sweet smell of success for Britney.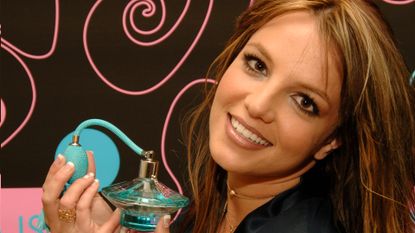 (Image credit: L. Busacca /Getty Images)
Following the release of the controversial New York Times documentary, Britney Spears perfume sales have sky-rocketed. In the past month alone, the pop icon's fragrances have enjoyed a 155 percent boost in sales, undeniably the result of a new wave of support after Framing Britney Spears was aired.
Online retailer Fragrance Direct has seen a 335 percent increase when compared with February 2019. "We've definitely had a surge of interest in Britney Spears fragrances this month, with five of her most iconic scents peaking in sales. Scents from the Fantasy collection have been amongst our best-sellers," fragrance expert Mia Gardner said.
So why this sudden desire to smell like Britney? The reason, I believe, is three-fold. The documentary — which has since becomes Sky's most-watched investigative feature ever — explores the rise of Britney's fame before her subsequent struggles with the paparazzi and conservatorship with her father. And here's the thing: Britney in her prime had one of the best-selling celebrity fragrance franchises of all time.
Cast your minds back to 2004. Britney made her first foray into fragrance with Curious, the first of 23 perfumes developed with Elizabeth Arden. At the time, a bubble-gum-chewing Britney said: "I'm so excited about doing my new fragrance with all of you. It smells amazing, and it is in department stores, so I seriously suggest to be sexy and go out and get it. Seriously."
Thankfully, Britney knows a hit when she sees (or in this case, smells) one. The saccharine fruitiness of Curious not only became catnip to her teenage fans, it became a fragrance phenomenon. It was the top selling fragrance of 2004, netting over $100 million in sales. Perhaps more impressive, in 2005, the scent was a finalist in the Women's Luxe category at the Fragrance Foundation Awards (the Oscars of perfume), alongside Dior's Pure Poison, Prada Eau de Parfum, and DKNY's Be Delicious.
But it is Britney's scent Believe that fans are currently using to send a smoke signal to the star; the act of daubing pulse points with the spicy floral sillage their ultimate sign of solidarity. This is something Gardner confirms: "We've also seen a 48 percent sales increase for the 'Believe' fragrance, which could be a sign that fans are showing their support to Britney after watching the new documentary."
Here's the thing: fragrance also has the uncanny knack of communicating emotion. It's a two-way street - a fragrance can elicit emotions in the wearer by triggering a memory. This is because odor molecules flow to the limbic system in the brain, where moods, emotions and memory are processed. But equally a perfumer can use certain scents to tell their own emotional story.
This, perhaps, is what is really driving sales of Britney's fragrances right now. Ultimately, we feel empathy with the star's plight and want her feelings to be aired. Surrounding ourselves in a mist of the aptly named Believe maybe one way to tap into both of those things.
If nothing else, the blend of tangerine, honeysuckle, amber and praline is a stark reminder to all of us of the youthful, infectious energy Britney brought to the stage before her downfall.
Fiona Embleton is a multi-award-winning beauty editor who has tested over 10,000 products in her 10 years + of writing and shooting beauty stories. For the past four years, she was the Senior Beauty Editor at Marie Claire, having previously worked in the role of Beauty Editor at both Stylist and Cosmopolitan. She has recently gone freelance and alongside My Imperfect Life, she has written for titles including ELLE UK, ELLE Canada, Buro 247, Harper's Bazaar Arabia, Vogue Scandinavia, and ES Magazine. Beauty journalism allowed her to marry up her first-class degree in English Literature and Language (she's a stickler for grammar and a self-confessed ingredients geek) with a passion for make-up and skincare, photography, and catwalk trends. She loves jumping on the latest internet-breaking beauty news, dissecting the best red carpet looks, and having the crème de la crème of dermatologists, make-up artists, and hairstylists on speed dial so she can tap them for the best advice. She's a discerning beauty shopper and knows it can be confusing trying to navigate what's hype and what really works. So if she really likes something, you can trust that she has reached that opinion by vetting it against everything else she's ever tried. Her career highs? Interviewing Cate Blanchett and winning a Jasmine Award for the deeply personal feature Cancer Stole My Mother's Scent.