This is how you can watch the viral Britney Spears documentary in the UK
New York Times' 'Framing Britney' documentary is airing in the UK tonight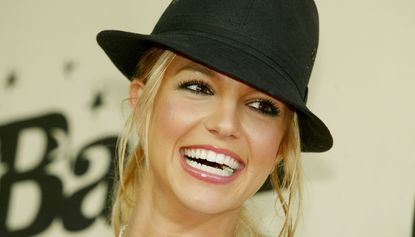 (Image credit: Singer Britney Spears attends the MTV Bash at the Hollywood Palladium on June 28, 2003 in Hollywood, California.)
In February, the New York Times released a documentary titled Framing Britney, an insightful film examining the damaging and incredibly intrusive media scrutiny Britney Spears endured throughout her career and looking into the current #FreeBritney movement.
The documentary, which aired on FX in the US last week, has sparked a major reaction online, with fans and fellow celebrities speaking out to condemn the way horrifying way Britney was treated by mainstream press from the moment she entered the limelight as a teenager. Many magazines have also published think pieces and public apologies reflecting on ways in which we all let Britney down, while also calling out the vicious tabloid culture.
The ongoing conversation has had those of us who have yet to watch the film dying to find a way to stream it outside of the US. Earlier this month, the full documentary was available on YouTube for global audiences to watch. However, it has since been taken down, though this doesn't mean you can't watch it if you're in the UK. In fact, the documentary is airing on British Tv tonight!
Read on to find where and what time...
Framing Britney: what to know
Framing Britney is a collaborative film by a team of journalists from the New York Times. It examines the relentless way in which Britney Spears was scrutinized by the media throughout her career. First, as a teenager who was sexualised and bullied by the press for being a 'bad influence' before also being pitted against then-boyfriend Justin Timberlake and villainized when the pair broke up, and then again when she gave birth to her two sons and was portrayed as a 'bad mother'.
Throughout it all, the documentary highlights that Britney endured intense surveillance by the paparazzi, which eventually became incredibly detrimental to her mental health and led to her so-called public 'meltdown' in 2007, where she shaved her head was ultimately hospitalized and checked into rehab. Shortly after, Britney was placed under a conservatorship with her father Jamie Spears.
'Framing Britney' explains how every aspect of the pop star's life for the past 13 years has been under control by her father, who has been her conservator since 2008. It goes into further detail about this, including interviews with lawyers who worked on the case and a paparazzi who followed Britney around for years. Paris Hilton also makes a short cameo, while #FreeBritney activists and the hosts of popular podcast the Britney's Gram also featuring to discuss the matter.
The film comes after it was announced in October 2020 that Britney lost an ongoing court battle to have her father removed as a conservator of her estate, the BBC reports. At the time, the US court rejected Britney's plea, despite the singer's lawyer arguing that she was 'afraid' of him, and that she would not be allowed to perform so long as he remained in the role.
How to watch Framing Britney in the UK
Framing Britney will finally be available in the UK as it airs tonight (16 February) on Sky Documentaries at 9pm.
The 90-minute documentary will then be available to watch on NOW TV for those who have an Entertainment Pass on the streaming service, which is priced at £9.99 per month.
How to watch Framing Britney in the US
For US audiences, the documentary will still available be available to stream on Hulu, where you can buy a subscription for $5.99 per month.
Reaction to Framing Britney
Following the documentary's release, many—including celebrities—have reacted in horror to the way Britney was treated, highlighting the complete disregard for mental health awareness and the damaging effect of fame. Less than 48 hours after it aired, 'WE ARE SORRY BRITNEY' was trending on Twitter.
Paramore singer, Hayley Williams expressed her frustrations on Twitter, tweeting: "The Framing Britney Spears doc holy f***. No artist today would have to endure the literal torture that media/society/utter misogynists inflicted upon her."
She continued: "The mental health awareness conversation, culturally, could never be where it is without the awful price she has paid."
Similarly, Sarah Jessica Parker tweeted "#FreeBritney" while Miley Cyrus shouted out "Hey, we love you Britney" during her performance of 'Party In The USA' at the Superbowl pregame show. Meanwhile, plenty of others used the hashtag #FreeBritney to show their solidarity to the pop star.
Britney has yet to directly comment on the documentary. However, on Tuesday she shared a throwback post from a performance she did three years ago and wrote a caption that felt like an indirect response. "I'll always love being on stage …. but I am taking the time to learn and be a normal person ….. I love simply enjoying the basics of everyday life!!!!"
She continued: "Remember, no matter what we think we know about a person's life, it is nothing compared to the actual person living behind the lens."
There have been no updates regarding Britney's conservatorship since the documentary aired but one thing is for sure, the #FreeBritney movement isn't going anywhere.
Sagal is a journalist, specialising in lifestyle, pop culture, fashion and beauty. She has written for a number of publications including Vogue, Glamour, Stylist, Evening Standard, Bustle, You Magazine, Dazed and Wonderland to name a few.