This hair color is poised to take over in 2021
Even Hailey Bieber has gone darker.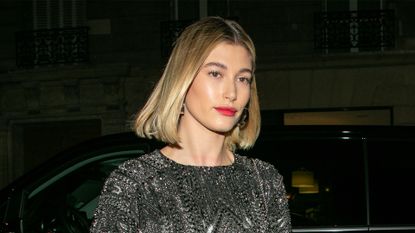 (Image credit: Marc Piasecki/ Getty Images)
'Bronde' was already racking up style points when Hailey Bieber confirmed what we already suspected: this shade is going to be everywhere in 2021. Why 'bronde'? Put simply it chimes with our low-maintenance approach to pretty much everything right now.
While bangs and bob hairstyles have become the go-to cuts of quarantine, any noise around hair color has been all but muted since the pandemic began. But now Hailey has dialled up our interest once again by switching her signature Californian blonde for an altogether darker hue - the sweet spot between blonde and brown that not only frames the face more softly than stark shades of platinum but is actually pretty practical, too.
No matter which way you look at it, blonde hair is hard work. The upkeep itself means wrestling with purple shampoo to tone out brassiness while monthly top ups of bleach are de rigeur to keep dark roots at bay.
So when Hailey debuted her fresh new 'bronde' hair, it was the compromise hair color we'd been looking for. Still on the right side of blonde, it just downgrades the slavish commitment and more-is-more approach.
Hailey's hairstylist, Amanda Lee, shared the new picture of Hailey on her Instagram, tagging colorist Cassondra Keeling, who also tends to Kylie Jenner and Addison Rae's locks.
In the picture Hailey is rocking an all over light brown color, with roots we assume are close to her natural shade. But it's the combination of smoky and soft blonde blended highlights that really steals the show as it still throws light on her complexion but means she can avoid any obvious regrowth.
And what's not to love about that?
*Bookmarks this page for when salons re-open*.
Fiona Embleton is a multi-award-winning beauty editor who has tested over 10,000 products in her 10 years + of writing and shooting beauty stories. For the past four years, she was the Senior Beauty Editor at Marie Claire, having previously worked in the role of Beauty Editor at both Stylist and Cosmopolitan. She has recently gone freelance and alongside My Imperfect Life, she has written for titles including ELLE UK, ELLE Canada, Buro 247, Harper's Bazaar Arabia, Vogue Scandinavia, and ES Magazine. Beauty journalism allowed her to marry up her first-class degree in English Literature and Language (she's a stickler for grammar and a self-confessed ingredients geek) with a passion for make-up and skincare, photography, and catwalk trends. She loves jumping on the latest internet-breaking beauty news, dissecting the best red carpet looks, and having the crème de la crème of dermatologists, make-up artists, and hairstylists on speed dial so she can tap them for the best advice. She's a discerning beauty shopper and knows it can be confusing trying to navigate what's hype and what really works. So if she really likes something, you can trust that she has reached that opinion by vetting it against everything else she's ever tried. Her career highs? Interviewing Cate Blanchett and winning a Jasmine Award for the deeply personal feature Cancer Stole My Mother's Scent.