Social media is losing it over that Cara Delevingne Megan Thee Stallion moment at the Billboard Music Awards
These Cara Delevingne and Megan Thee Stallion memes from the BBMAs were more fun than the ceremony itself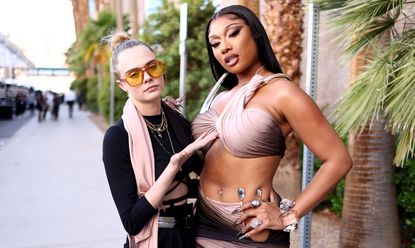 (Image credit: Matt Winkelmeyer/Getty Images)
We're going to be honest with you: we don't entirely know what was up with Cara Delevingne and Megan Thee Stallion last night at the Billboard Music Awards 2022, but we do know that people are getting a kick out of this morning.
It all started when the 29-year-old model and the 27-year-old rapper hit the red carpet at Sunday's BBMAs, held at Las Vegas' MGM Grand Garden Arena. While Megan Thee Stallion—who performed her hit single "Plan B" at the event and was nominated in, and later won, the award for Top Rap Female Artist—posed before photographers in an ombré Mugler two-piece set, Cara Delevingne was caught by cameras peeping behind the step-and-repeat and enthusiastically hyping up the "WAP" musician with some "yas queen" words of encouragement. (We can't say we entirely blame her, Meg looked gorgeous!)
Cara then joined Megan on the red carpet and began dramatically tossing the floor-length train of her dress in the air to help photographers get the perfect pic of the music star.
It is clear that the two celebs are friends—they were recently spotted dancing together at Cardi B's after-party to the Met Gala 2022 earlier this month—even sitting together inside during the ceremony, with Cara being seen congratulating the rapper after her big win was announced.
But social media users hilariously joked that the whole thing seemed less about "stanning" and more about "stalking."
The best Cara Delevingne Megan Thee Stallion memes:
The ever-creative users of Twitter used clips from Scary Movie, Euphoria, The Office and more to accurately portray how, uh, taken Cara Delevingne was with Megan Thee Stallion throughout this year's Billboard Music Awards. "Your chances of being watched by Cara Delevingne are slim but never zero," one user quipped.
Whatever was actually going down last night, we know one thing: we've got our eye on these fabulous friends!
your chances of being watched by cara delevingne are slim but never zero pic.twitter.com/rZzs7JQXr6May 16, 2022
See more
why in every piece of media i see of megan at this awards i see cara delevingne 5 inches away from her pic.twitter.com/moijNxlx6WMay 16, 2022
See more
Megan Thee Stallion trying to hide from Cara Delevingne:pic.twitter.com/Y5cHRTyd6iMay 16, 2022
See more
Cara Delevingne coming through the mirror when Megan Thee Stallion tries to hide from her in the bathroom: pic.twitter.com/8Tv2js2odmMay 16, 2022
See more
pov you're megan thee stallion running into cara delevingne on a red carpet pic.twitter.com/NA4WqUz0wwMay 16, 2022
See more
cara delevingne outside megan the stallion's house pic.twitter.com/TFYiDgHpWaMay 16, 2022
See more
nobody:megan thee stallion: *looks under her bed*cara delevingne: pic.twitter.com/L5a75DmNP0May 16, 2022
See more
Cara Delevingne when she realizes megan isn't at the same function she's at pic.twitter.com/hx5zhQpiCyMay 16, 2022
See more
cara delevingne needs to be stopped. pic.twitter.com/Wh2p35kEJJMay 16, 2022
See more
megan thee stallion and cara delevingnepic.twitter.com/afmFWWWrC0May 16, 2022
See more
when i'm in a stalking megan thee stallion contest and my competition is cara delevingne pic.twitter.com/Bixmzc8FMhMay 16, 2022
See more
JUMPSCARE when Cara Delevingne just suddenly popped out of the back https://t.co/wM11RUSTXWMay 16, 2022
See more
Cara Delevingne peeking through Megan Thee stallion's Car window: pic.twitter.com/JOX2Sm9h3AMay 16, 2022
See more
Christina Izzo is the Deputy Editor of My Imperfect Life.
More generally, she is a writer-editor covering food and drink, travel, lifestyle and culture in New York City. She was previously the Features Editor at Rachael Ray In Season and Reveal, as well as the Food & Drink Editor and chief restaurant critic at Time Out New York.
When she's not doing all that, she can probably be found eating cheese somewhere.