Charlotte Tilbury has launched color-changing lipsticks for your perfect shade every time
The new Glowgasm Lips are a lip balm-lipstick hybrid for a signature color that's truly yours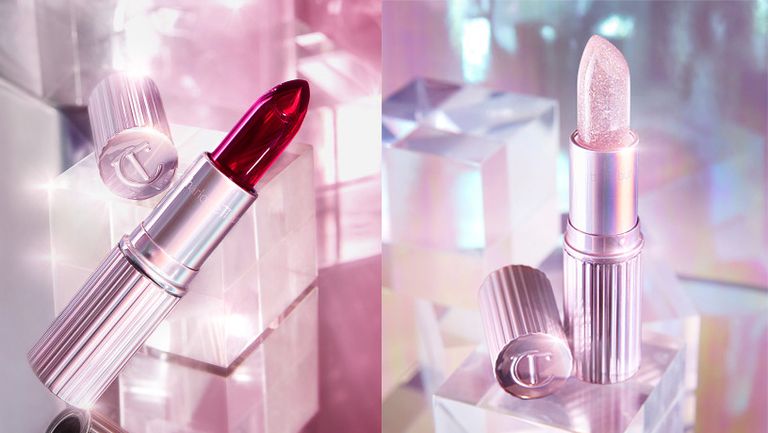 (Image credit: Charlotte Tilbury)
She's the woman behind so many of our beauty faves, from Pillow Talk Lipstick to her signature Magic Cream, and has created endless iconic looks for the red carpet and backstage at Fashion Week – Charlotte Tilbury is a beauty powerhouse, no question.
So when the lady releases a limited edition product, you can pretty much guarantee it's going to fly off the shelves – as will be the case with this year's dazzling Christmas collection.
Proving my point are the brand's new, limited edition Glowgasm Lips, which are seriously FUN. A cross between a lipstick and a lip balm, they're available in two shades, a red and pink, with a finish that's like a wash of crystalline shine. And did we mention, they change colour depending on the person wearing them? We're calling this a nod to 90s fashion as they're giving us serious mood ring vibes. Love it.
So here's how the fun part works: according to the brand, the Glowgasm Lips lipsticks trigger a "lip chemistry effect" that will produce your very own personalised shade, based on your natural lip shade, warmth, moisture and pH level.
It really does take all the fuss out of trying to find your perfect lip colour. Pretty clever stuff, Madam Tilbury. We take our hats off to you.
Charlotte Tilbury Glowgasm Lips in Glittergasm, $32, charlottetilbury.comView Deal
Charlotte Tilbury Glowgasm Lips in Jewelgasm, $32, charlottetilbury.comView Deal
The two shades on offer are Jewelgasm, a glowing red shade, and Glittergasm, what looks like a clear and sparkling lip balm but changes to pink after application. The result? A lip colour that perfectly suits your skin tone. It doesn't get much more bespoke than this.
Don't hang around, because these won't be around for long (unless Charlotte is VERY kind to us and makes these part of her permanent collection).
Race you to the checkouts!
Lucy is a beauty journalist who has written for titles including Marie Claire, Cosmopolitan, Women's Health, InStyle and Woman & Home, and regularly contributes to My Imperfect Life. Most recently she was Junior Beauty Editor at Marie Claire. Covering skincare, haircare, make-up and wellbeing, her job involves anything from picking the brains of the world's top dermatologists to swatching the latest and greatest foundations. When she's not got beauty on the brain, you're most likely to find her spending time with dogs (her sister owns one very sassy cockapoo), reading or sleeping. She's also a big fan of RuPaul's Drag Race, rosé and and house plants that stay alive.