This is officially the cheesiest rom-com ever - how many times have you seen it?
Cheesy rom-coms are the perfect choice this Valentine's Day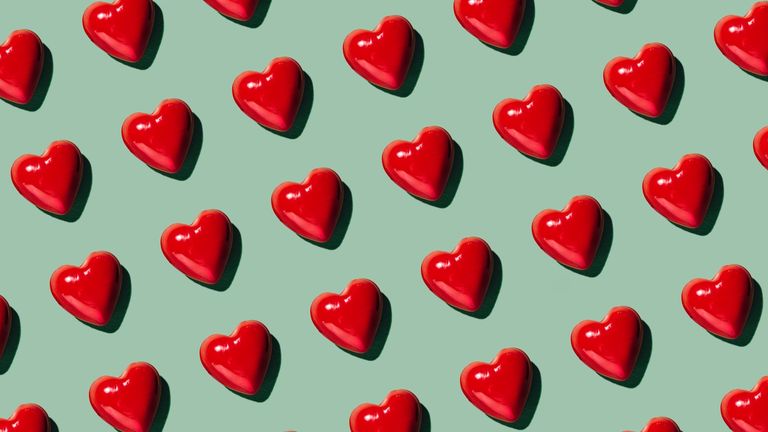 (Image credit: Emilija Manevska via Getty)
Cheesy rom-coms may not always be critically acclaimed, but they sure know how to keep us entertained. With their will-they-won't-they storylines, rom-coms have viewers on the edge of their seats, hoping to see their favorite characters *finally* get together. And with the uncertainty of recent months meaning many people are unable to see their real-life loved ones, there's something very comforting about settling down to watch something you know will have a happy ending. 
Netflix's Bridgerton may be one of the most successful TV shows ever and who could forget Emily in Paris? But if you're looking for true cheesy romance, it's hard to beat the likes of How to Lose a Guy in 10 Days, The Wedding Singer or everyone's favorite relatable film - Bridget Jones's Diary. 
We all know how wonderfully over-the-top rom-coms can be, but exactly how much cheesiness is there underneath all the romance and drama? Well, we now have the answer as OnBuy.com analyzed all romantic occurrences in our favorite flicks to reveal how often we're hit by a cheesy cliché.
But which is the ultimate cheesy rom-com? You're about to find out…
What is the cheesiest rom-com?
When Harry Met Sally…
It's a classic rom-com for a reason and many fans won't be at all surprised to find that When Harry Met Sally… is the cheesiest rom-com! But did you know that the research found that there is one romantic occurrence every 48 seconds on average? 
Starring Meg Ryan and Billy Crystal, this award-winning film from 1989 may be the oldest on the list, but it's definitely stood the test of time where rom-com fans are concerned! And that's not all, as this old favorite also has the most kisses (24) and the most mentions/acts of sex (25 times) throughout the film!
Top cheesy rom-coms to add to your watch list this Valentine's Day
It may not have had enough cheesiness to beat When Harry Met Sally…, but Bridget Jones's Diary came in second place when it comes to the top cheesy rom-coms. If picturing Hugh Grant and Colin Firth fighting for Bridget's love isn't enough, you only need to wait for less than a minute (59 seconds) for something romantic to happen. And there's is one thing that it can match with When Harry Met Sally… - the number of couples appearances - where they tie in joint first place. 
Also making the top 3 cheesiest romantic comedies is The Wedding Singer. This brilliant film has been revealed to have a romantic moment every 1 minute and 7 seconds on average. Starring Drew Barrymore and Adam Sandler, this film perhaps unsurprisingly also takes the crown for the highest number of weddings (4). After all, the clue is in the name...
How to Lose a Guy in 10 days is also pretty cheesy - and fans can't help loving it for that. Narrowly following The Wedding Singer, this uplifting movie has a romantic moment every 1 minute and 8 seconds on average. 
It also has a pretty huge amount of kisses - 17. Following Benjamin and Andie, one challenged to make a woman fall in love with him, the other to write an article on how to lose a man in 10 days, if you haven't already seen this, you're in for a treat.
Starring rom-com favorite Hugh Grant alongside Julia Roberts, who could forget their romantic journey in Notting Hill? And it seems that forgetting the cheesiness might be difficult too as you only have to wait for an average of 1 minute and 15 seconds to see something romantic happen. With 13 romantic songs and 1 wedding, it's difficult to resist this story of boy-meets-girl. And his book store is to die for too!
And it may not have made the top five cheesy rom-coms but in a respectable sixth place comes He's Just Not That Into You. Wait just 1 minute and 19 seconds on average and you'll see a romantic occurrence, with the film also having the same number of kisses (15) as Notting Hill. It also has 16 mentions/acts of sex so if you're a fan of cheesy rom-coms with plenty of steamy scenes, this might just be the one for you.
Valentine's Day is just around the corner, so there's never been a better time to catch up on some cheesy rom-coms.
If you can decide which one of these favorites to watch, that is!
Emma is Senior Lifestyle Writer for Goodto.com, womanandhome.com and Myimperfectlife.com and she loves sharing the latest lifestyle, celebrity and entertainment news. Before joining Future, previously TI Media, Emma was a Freelance Editor and before that a Publisher for an independent digital publisher. When she's not writing about the next big lifestyle trend, she enjoys cooking, long walks and watching as many crime dramas as she can!