Everything we know about Emily in Paris season 2: release date, new love interests, and more
Who will be romancing Emily Cooper in Emily in Paris season 2?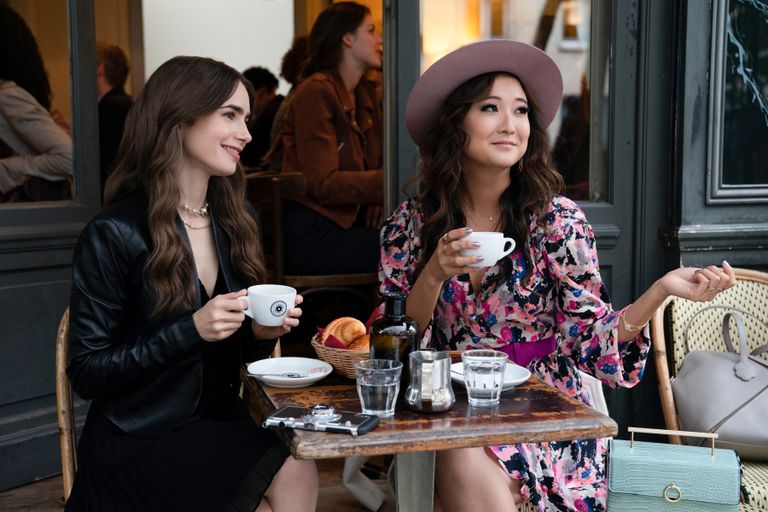 (Image credit: STEPHANIE BRANCHU/NETFLIX)
Emily in Paris season 2 is back, bébé! The sophomore season was confirmed in November to joy and groans, and though we still have no official release date, production on the second season officially kicked off this spring. And we're counting down the days until we get to see Chef Gabriel again. 

Lucas Bravo reportedly won't be the only one wooing Emily Cooper next season. Three new cast members, including a new love interest for our eponymous heroine, will be joining the Emily in Paris cast next season. 
But when is the second season of the binge-worthy Netflix series finally coming to Netflix? The series follows Emily Cooper, played by Lily Collins, a Chicago-based marketing executive who moves to Paris and adjusts to life there. It's filled with enviable fashion and beauty looks—as well as love interests. And, of course, Emily's super chic iPhone case.
Though critics have derided the show, it's quickly become a hit since it was released on October 2nd. So we can't think of a reason the streaming giant would not renew this unexpected hit. Here's everything we know about Emily in Paris season 2:

When will filming begin on Emily in Paris season 2?
On Monday, May 3rd, Netflix announced that filming was officially underway for the show's second season in—duh—Paris, as well as St. Tropez and three other locations around France, reports Entertainment Weekly. 
The streaming giant cheekily announced the start of production of Emily in Paris season 2 via a memo from Sylvia Grateau, Emily's boss at the Savoir Agency on the show.

The memo reads: "Je serai breve. We are writing to inform you that Emily Cooper's new work permit has been approved with a start date of May 3, 2021. As per our prior correspondence, she is an asset to Savoir and we hope she continues to have an impact with our clients who are very particular about the results they expect from their agency."

"As we often work with very unique brands, we hope that Emily continues to immerse herself culturally here in order not to make any egregious faux pas," the announcement continues. "We will continue to keep you updated on her progress and accomplishments in the coming months."
In a recent Academy of Television Arts & Science panel, series star Lily Collins said this of her experience playing the jet-setting Emily Cooper: "Not only did playing Emily teach me more about myself, but also about the world around me. I couldn't be happier to be back in Paris for Season 2 to expand upon those lessons, to continue to grow, and learn even more about this beautiful city and all of its character with Emily." 
The Academy of Television Arts & Science panel also revealed that Emily in Paris was Netflix's most popular comedy series of 2020, with 58 million households around the world tuning in to Emily Cooper's European antics within the first 28 days of the show's premiere. 
For context, uber-popular Netflix dramas like Bridgerton, The Witcher and Lupin brought in 82 million people, 76 million people and 70 million people, respectively, reports Deadline. 
Merci beaucoup to our 58 million fans for making Emily in Paris our most popular comedy series of 2020 — you're going to love what they're working on for Season 2, which is now in production! pic.twitter.com/R1nyV4wpCUMay 3, 2021
See more
When is the Emily in Paris season 2 release date?
Mon chéri, we hate to disappoint, but we cannot confirm a premiere date quite yet. Although the cast and crew headed back to work in Paris and Saint-Tropez in May 2021, a premiere has yet to be announced. We're crossing our fingers that we'll be treated to a fall season 2 debut, or perhaps early winter 2022 if COVID interfered with production.
Who will be joining the Emily in Paris season 2 cast?
All our favorites will be returning, Camille Razat, Ashley Park, Philippine Leroy-Beaulieu, Samuel Arnold, and Bruno Gouery and don't worry Gabriel fans, of course, Lucas Bravo will be returning to the juicy love triangle. William Abadie, who plays Emily's client Antoine Lambert on the show, has been upped to series regular for season two. 
Darren Star (the show's creator) has also said he hopes Kate Walsh, who plays Emily's American boss will appear more throughout season 2.
Alongside those season one favorites, Emily in Paris season 2 will welcome several new cast members—including a new love interest for Emily Cooper. American actor and playwright Jeremy O. Harris (Slave Play) will guest-star as Gregory Elliott Dupree, an iconic fashion designer, as will French actor Arnaud Binard as Laurent G, a Saint Tropez nightclub owner.
But most exciting for fans will be the inclusion of Lucien Laviscount—who you may know from Katy Keene and Scream Queens—who will be recurring as the sarcastically charming Alfie, a 30-year-old Londoner who may just be stretching that Emily-Gabriel-Camille love triangle into a love quadrangle. 
#EmilyInParis Season 2 News: Jeremy O. Harris will play an iconic fashion designer, Lucien Laviscount joins as a Brit who gets under Emily's skin before she starts to like sarcastic charm, and Arnaud Binard guest stars as the party boy owner of a popular Saint Tropez nightclub. pic.twitter.com/lwiX1hZlsQMay 24, 2021
See more
What will happen in Emily in Paris season 2?
In season two, Emily is apparently going to be "more a part of the fabric of the world she's living in", Darren Star told OprahMag.com.
"She'll be more of a resident of the city. She'll have her feet on the ground a little more. She's making a life there."
The second season won't focus on Emily being a fish out of water, it will be all about her living in Paris, and hopefully, we'll see her getting the hang of her new life and even the language.
Star has also said he wants Emily to get closer to more of the other characters, and hopes we can learn more about the backstories of the people she works with: "I'd like to explore so much more of the supporting cast, like Philippine Leroy-Beaulieu, who plays Emily's boss."
Collins talked to Vanity Fair about what we might see in season 2: "There were so many situations that we were like, 'Okay, write that down. That's going to happen in season two.'" 
"Also, there were so many experiences where we were like, 'Does Emily go abroad? Do you think Emily takes the Eurostar and hops out and goes to Belgium or she goes to London?' That would be so much fun." 
Heartthrob Lucas Bravo has also hinted at what he thinks could happen next and it seems like Camille and Emily could become a thing?!
But with a big cliffhanger at the end of season one, the next installment can't come soon enough.
How will Emily in Paris season 2 differ from the first?
If you ask Camille Razat, she seems to think that the impending second season will be better than the series' debut. 
"It's much more complicated," she revealed to People. "There are much more emotional scenes. My character is even more important. I think season 2, it will be better than season 1, actually." 
Behind-the-scenes of Emily in Paris season 2
From birthday messages to glimpses of fan art, the Emily in Paris cast is always keeping viewers in the loop, especially Lily Collins. 
"Loving these - so cannot wait for Season 2! And your brilliant creativity to continue…" the actress wrote on Instagram alongside fans' work. We have to say, these pieces are tres chic! 
Plus, we adore the cast getting together as production begins to share their excitement for the new Parisian adventures.
Emily in Paris award nominations
Despite some disgruntled viewers who weren't as taken with the comedy as others, Emily in Paris went on to earn two Golden Globes nominations, one for TV Series (Comedy or Musical) and Best Actress in a TV Series (Comedy or Musical) for Lily Collins. 
In July, the Netflix show also swept up two Emmy Award nominations: Outstanding Comedy Series and Production Design for a Narrative Program.