Demi Lovato says a positive relationship with food finally gave her 'dream boobs'
The star opened up to fans on Instagram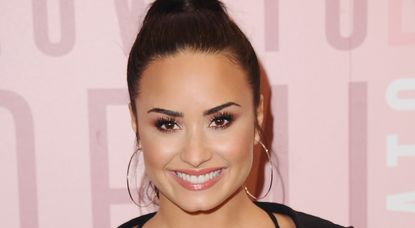 (Image credit: Getty Images: Photo by Jon Kopaloff/FilmMagic)
Demi Lovato has always been candid with fans about her personal life and the various struggles she has faced along the way since entering the limelight as a child star - it's one of the many reasons why she's so loved.
Now, the I Love Me singer has opened up about how establishing a new relationship with food has not only made her happier, but given her the boobs she's always wanted.
On Friday, Demi took to Instagram to share a selfie, telling her 93.1 million followers not to restrict themselves in an unhealthy way when it comes to what they eat, and instead following a more intuitive eating mentality.
She wrote: "Fun fact: I never had boobs until I started eating what I wanted. My whole life I hated my small tittaayyys and then when I finally let go of my eating issues, I GOT THE BOOBS I WANTED!!! 😂😂 this is no push-up bra or boob-job y'all!!! IT'S ALL ME!!
"And you know what, they're gonna change too!!! AND I'LL BE OKAY WITH THAT AS WELL!! But let this be a lesson y'all.. our bodies will do what they are SUPPOSED to when we let go of trying to control what it does for us. Oh the irony.... 💞 "
Demi, who has been vocal about her issues with her body image and her struggle with eating disorders in the past, then encouraged fans to share their own stories in the comment section, ending the post with: "Did you have a similar experience when making peace with your eating issues?? I'd love to hear!!!"
It didn't take long for others to start responding to the request, with one fan sharing: "I had eating issues because I am a dancer and people used to [say] to me that I NEEDED to be thin, so I got thinner. But I was unhappy with my body. It wasn't me, it wasn't the body that I wanted and I wasn't eating what I wanted as well."
She continued, explaining that she was now "at peace" with herself and eats whatever she wants.
Many others rushed to praise Demi on her journey, expressing how proud they were of her and how amazing she looked. Even celebrities friends like Bebe Rexa and Christina Aguilera were in the mix, with Bebe commenting: "You're doing amazing sweetie, we love you," while Christina simply commented "yasss ❤️😘 ."
Go Demi!
Sagal is a journalist, specialising in lifestyle, pop culture, fashion and beauty. She has written for a number of publications including Vogue, Glamour, Stylist, Evening Standard, Bustle, You Magazine, Dazed and Wonderland to name a few.