Chrissy Teigen's favourite Dr Dennis Gross peel pads now come in a body version
Brace yourself for a top-to-toe glow courtesy of the new Dr Dennis Gross Alpha Beta Exfoliating Body Treatment.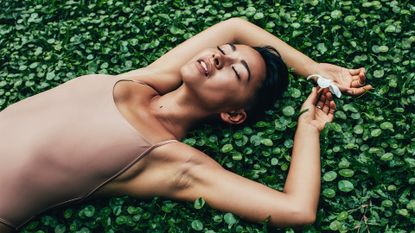 (Image credit: Getty Images/Jasmina007)
The Dr. Dennis Gross Alpha Beta Exfoliating Body Treatment has landed and if you've ever tried the original facial peel pads you'll understand why we're stifling a squeal right about now.
It's no stretch to say that for Dr Dennis Gross, chemical exfoliation is the Batman to a serum's Robin. You see, this NYC derm is renowned for his love of alpha hydroxy acids (AHAs) and beta hydroxy acids (BHAs) for gently buffing away dead cells and turbo-charging skin's regeneration processes.
The immediate effects speak volumes so it's no wonder his Alpha Beta Universal Daily Peel for the face is one of the best-selling skin-care products at Sephora, and has won over celebrity fans like Chrissy Teigen, Kim Kardashian West and Selena Gomez.
The brand already boasts eight peel variations, and the lineup is now includes the first body version to ramp up skin's glow.
What is the Dr. Dennis Gross Alpha Beta Exfoliating Body Treatment?
Like the popular Dr. Dennis Gross facial peel pads, at first glance the body treatment looks like the type of towelette that gets served up after a meal at your local dim dum restaurant.
Don't be fooled, though, the new body treatment also combines the same alpha hydroxy acids (AHAs) and beta hydroxy acids (BHAs) for effective exfoliation. We're talking a cocktail of glycolic, lactic, malic, and citric acids.
But this formula is tailored to the needs of your body's skin, rather than your face. Translation: it's stronger as the skin on your body is two to three times thicker than the skin on your face. So it can handle a three-pronged approach combining chemical exfoliation, enzyme exfoliation and physical exfoliation from the textured pad itself.
To that end, bakuchiol and enzymes join the cell turnover party to reveal smoother skin.
But the benefits don't end there. Exfoliating your body with these types of ingredients can help the the best moisturizers absorb better as there is nothing grizzly blocking your pores. This is crucial as your body also has fewer oil-producing glands compared to your face, so it's more prone to dryness.
Everyone can benefit from body exfoliation. After all, your skin from the neck down suffers from the same issues as your face (dryness, blocked pores and pigmentation) so it's futile to just stop your skincare at the jawline.
But there are other reasons you might what to try Dr. Dennis Gross Alpha Beta Exfoliating Body Treatment - if you suffer from concerns such as keratosis pilaris (tiny red bumps on the arms), body acne and ingrown hairs, all of which these pads can alleviate.
See you in line at Sephora...
Fiona Embleton is a multi-award-winning beauty editor who has tested over 10,000 products in her 10 years + of writing and shooting beauty stories. For the past four years, she was the Senior Beauty Editor at Marie Claire, having previously worked in the role of Beauty Editor at both Stylist and Cosmopolitan. She has recently gone freelance and alongside My Imperfect Life, she has written for titles including ELLE UK, ELLE Canada, Buro 247, Harper's Bazaar Arabia, Vogue Scandinavia, and ES Magazine. Beauty journalism allowed her to marry up her first-class degree in English Literature and Language (she's a stickler for grammar and a self-confessed ingredients geek) with a passion for make-up and skincare, photography, and catwalk trends. She loves jumping on the latest internet-breaking beauty news, dissecting the best red carpet looks, and having the crème de la crème of dermatologists, make-up artists, and hairstylists on speed dial so she can tap them for the best advice. She's a discerning beauty shopper and knows it can be confusing trying to navigate what's hype and what really works. So if she really likes something, you can trust that she has reached that opinion by vetting it against everything else she's ever tried. Her career highs? Interviewing Cate Blanchett and winning a Jasmine Award for the deeply personal feature Cancer Stole My Mother's Scent.