First Lady Dr. Jill Biden's relationship advice will help mend a broken heart
If you're going through a break-up, Jill Biden is here to help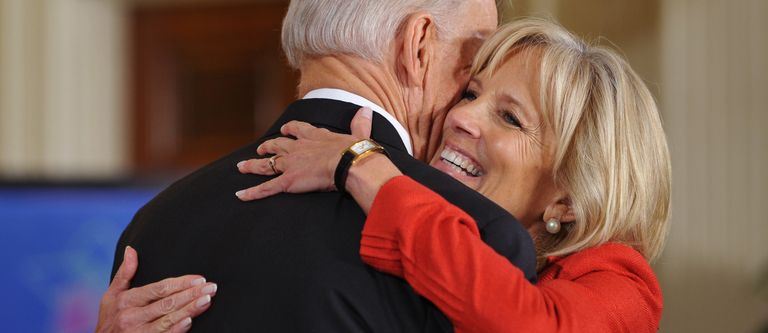 (Image credit: Mandel Ngan/Getty)
Everything can feel confusing right after a break-up. Your heart aches, picking yourself up seems impossible, and everyone in your life always has a ton of unsolicited advice on what you should be doing and how you should be feeling. But if you're ready to drown out the noise, Dr. Jill Biden shares some genius advice to help you feel less overwhelmed.
The First Lady shared some helpful advice on divorce during an interview on The Kelly Clarkson Show.
"This is what I would say to you if I were your mother," Dr. Biden tells Kelly Clarkson in a clip from their upcoming tell-all. Biden shares how she found the strength to move on from heartbreak. Staying hopeful is the best thing you can do, she reveals. Assuring Clarkson that it's possible to find love again, Biden says: "My mother always said to me, 'things are going to look better tomorrow.' And if you can take one day at a time, things will get better."
She adds: "If I hadn't gotten divorced, I never would've met Joe. I wouldn't have the beautiful family I have now, so I think things happen for the best."
The girl talk follows Clarkson filing for divorce from husband Brandon Blackstock back in June 2020. The pair were married for seven years and the American Idol winner revealed: "My life has been a little bit of a dumpster" due to the divorce filing.
Dr. Biden assures the music superstar that her heart will mend in due time, adding time heals all wounds, even a broken heart. She tells Clarkson that one day she'll move on to bigger and better romances. "I think, Kelly, over time—I don't know how long it's been for you—but, I think, over time, you heal, and you're going to be surprised. I can't wait until that day comes for you and you're going to call me up, and you're going to say, 'Hey Jill, you were right!'"
Lifestyle news writer