'Skin icing' - the new facial cryotherapy trend for when you've reached peak jade roller
Ice, ice baby.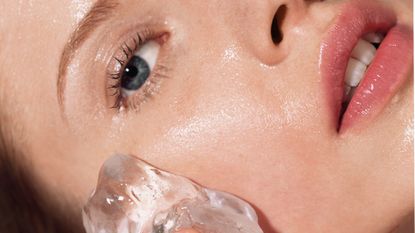 (Image credit: Image Source/Getty Images)
Self-care is the current buzzword but what happens when you reach peak jade roller? Enter facial cryotherapy – also known as 'skin icing' - the cool new trend flooding TikTok and Reels.
A cursory glance at flat lays on Instagram reveals a love affair with the jade roller - both for massage and as an easy way of incorporating the best crystals for beginners into a daily routine.
But in the background the equivalent of a facial roller 2.0 has been gaining traction: ice globes. The idea of using ice, or even splashing your face with cold water, in the morning isn't exactly new. But the latest generation of ice-based tools means it's an easier - and more relaxing - process to master at home.
But can we really freeze our faces into a brighter, tighter version of themselves?
Quite apart from taking your cheekbones to a whole new level, muscle stimulation, lymphatic drainage, immediate skin tightening and boosted circulation for a rosy glow are just a few of the benefits of skin icing.
Teresa Tarmey who relies on her own Cryo-Ball to smooth away 7am puff-face says: "The sub-zero temperatures and rolling sensation stimulates circulation, de-puffs and sculpts."
Better still, the effects are almost immediate, according to Dr. Yannis Alexandrides, cosmetic surgeon and founder of 111 Skin:
"Cryotherapy used either on the body or face incites vasoconstriction – a reduction of the blood vessel size." This constriction and icy shock to the skin sends fresh blood to the area - and we all know that fresh blood also carries fresh oxygen and nutrients so that fresh-from-the-cold glow is more than just superficial. It also means that the best vitamin C serums you apply afterwards will sink in better and make more of a difference.
Some cryotherapy tools are made of steel so when you keep them in the freezer they retain those icy temperatures. Others are made of glass, look like a pair of maracas and contain freeze-retaining fluids. Whichever you choose is down to personal preference. Here's our pick of the best to help you decide:
001 Skincare CRYOpress Ice Facial Massager
With a fan base including Jennifer Aniston and Gigi Hadid, this tool maintains a cool temperature of between -8 and -25 degrees Celsius. The brand also claims it helps to soothe sensitive skin.
Georgia Louise Cryo Freeze Tools
Georgia Louise frequently uses these tools over a sheet mask as part of her in-clinic procedures. She recommends first rolling from the inner areas of the face, outwards and then holding them over the eyes to drain away excess fluid.
Fraîcheur Ice Globes
They may look like a sophisticated rattle for adults but after freezing these globes overnight they make for one of the most relaxing a.m. treatment as they glide over the skin.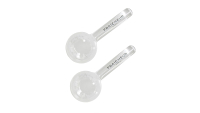 Teresa Tarmey Cryo-Ball
This surgical-grade steel ball contains fluids that stay freezing cold while you roll the ball across the forehead, over the cheeks, around the eyes and along the jawline.
Fiona Embleton is a multi-award-winning beauty editor who has tested over 10,000 products in her 10 years + of writing and shooting beauty stories. For the past four years, she was the Senior Beauty Editor at Marie Claire, having previously worked in the role of Beauty Editor at both Stylist and Cosmopolitan. She has recently gone freelance and alongside My Imperfect Life, she has written for titles including ELLE UK, ELLE Canada, Buro 247, Harper's Bazaar Arabia, Vogue Scandinavia, and ES Magazine. Beauty journalism allowed her to marry up her first-class degree in English Literature and Language (she's a stickler for grammar and a self-confessed ingredients geek) with a passion for make-up and skincare, photography, and catwalk trends. She loves jumping on the latest internet-breaking beauty news, dissecting the best red carpet looks, and having the crème de la crème of dermatologists, make-up artists, and hairstylists on speed dial so she can tap them for the best advice. She's a discerning beauty shopper and knows it can be confusing trying to navigate what's hype and what really works. So if she really likes something, you can trust that she has reached that opinion by vetting it against everything else she's ever tried. Her career highs? Interviewing Cate Blanchett and winning a Jasmine Award for the deeply personal feature Cancer Stole My Mother's Scent.