The best crystals for beginners and how to use each
Curious about crystals? Your crystals for beginners guide is right here! We asked the experts how to get your holistic journey started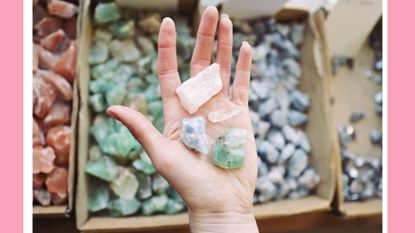 (Image credit: Getty)
Crystals are having a moment, whether you're looking for crystals for beginners or are already well-versed in their healing powers.
These days, it's just as normal to find a gigantic shard of rose quartz on someone's desk to ward off negative energy as you are a laptop. Crystals are no longer considered a fringe practice that only Californian hippies indulge in, nor are they simply the preserve of a certain type of baby boomer—one who probably went to Woodstock and still has the Birkenstocks and embroidered mirror bag to prove it.
There is a genuine movement among millennials and Gen Z-ers to engage with the healing power of crystals, whether they're using crystals for anxiety alongside the best meditation apps or crystals to help sleep. It's a movement part rooted in science, part indulged by celebrity idols. Victoria Beckham, for example, uses crystals backstage at her fashion shows. Katy Perry sleeps with one in her hand and Gwyneth Paltrow—well, we won't go into where Gwynnie puts her jade eggs!
The current climate also explains the resurgence of crystal culture. "The whole world is made of energy, every person, everything is vibrating at different frequencies," explains Emma Lucy Knowles, Victoria Beckham's very own crystal healer and author of The Power of Crystal Healing: Change Your Energy and Live A High-Vibe Life.
"When we are happy and buzzing, we emit high vibrations. When we are burnt out or feeling down, which have been recurring feelings during the pandemic, we emit low-energy vibrations. Energy is fluid and changeable so we can use crystals to change our energy and align ourselves with how we want to feel."
Our beauty and wellness writer Fiona Embleton gathered everything you need to know on crystals for beginners, including how to tap into the trend of using actual rocks for a healthy home or workspace, and how to incorporate crystals into your beauty routine.
Crystals for beginners 101: what you need to know
How to choose the right crystals for beginners
There are no set-in-concrete rules here. "Maybe you just liked the color and shape of the crystals, the way they sparkle or the way they feel but you don't really know why. However they call to you, it's all good. That's your intuition talking," says Knowles.
It's also important to remember that, much like your mood, your crystal of choice will change.
"Try thinking of crystals as being like your closest friendship circle," Knowles continues. "Each person in that group has a trait you lean on in times of heartache, or when looking for fun or a confidence boost. This is how crystals will call to you. Each has its own healing properties and you'll learn to instinctively know which one to turn to."
If you're looking for the best crystals for beginners, Knowles recommends the following "crystal super-set":
Amethyst: "This rich, purple crystal calms and promotes a balance within our inner emotions."
Rose Quartz: "A warming crystal that pulses out pure, radiating, unconditional love."
Tiger's Eye: "The protector and ultimate confidence booster, it allows you to see through your doubts and fears."
Citrine: "This sunshine-yellow crystal burns off negativity. It's a great piece for the home to disperse the lingering hangover of an argument."
Clear quartz: "This enlightening stone allows us to rise above the noise and daily chatter to a heightened state of connectivity."
The benefits of crystals for beginners
Crystal healing is a type of alternative therapy that involves using gemstones to bring balance to your life and mind.
"Crystals are naturally occurring minerals with a unique crystal structure, formed under pressure over millions of years," explains Knowles. "Each one vibrates at its own frequency and has its own special properties. Crystals work to heal or realign your energy when it's out of whack or to help you reach your goals."
In other words, they're a bit like tuning forks, bringing our energy back into balance.
The best crystals for beginners to start your collection
Kitsch Amethyst Healing Crystal
A purse-friendly option for the home
Specifications
Shape: Needle-shaped
Stone: Amethyst
Reasons to buy
+
No need to find a niche crystal shop
+
Purse-friendly
+
Kitsch is a lifestyle brand so you can build up a complete self-care ritual
+
Feels accessible rather than hippy
+
Amethyst is one of the most calming crystals for the home
Kitsch is like catnip for millennials with its cute shower caps, face masks and hair-friendly scrunchies—all of which make buying crystals for beginners more fun and mainstream, as there's no visiting a fusty old crystal shop to get your rock. You can also make the crystal the centerpiece of your self-care ritual, adding other products from the brand as you go. As for amethyst itself, this rich purple stone helps to calm and balance our inner emotions.
---
Själ Bio-Regeneratif Serum Active Energy Lift
Trail-blazing crystal skincare
Reasons to buy
+
Lightweight but nourishing
+
Good for sensitive skin prone to redness
+
Contains peptides, which are proven to help ramp up collagen production
+
Plays nicely under make-up
+
Contains rubies, which can be used to exfoliate dull skin
Själ is known for combining elements of ancient Eastern medicines with the latest in Western biotechnology. If you're looking to dip your toe into gemstone skincare, this serum is packed with a blend of ruby, diamond, amethyst, sapphire, quartz and tourmaline. It manages to be both nourishing and non-greasy, and it doesn't contain any ingredients that could rile sensitive skin. In fact, Själ's founder, Kristin Petrovich, believes the crystals help to heal inflammation. The added bonus is the anti-aging boost from peptides that ramp up collagen production.
---
Brushworks HD Jade Roller
Works just as well as more expensive models
Specifications
Stone: Jade
Number of rollers: 2 - one large for face, one small for under eyes
How to use: Roll over serums, moisturiser or sheet masks
Reasons to buy
+
Not much technique is needed - simply roll upwards and outwards
+
Alleviates tension in the face, which can lead to worry lines
+
Aids lymphatic drainage
+
Brings fresh blood, which carries nutrients, to the surface of the skin, banishing a dull complexion
+
Immediately soothing on a puffy face and under the eyes
Reasons to avoid
-
Jade rollers tend not to be as sturdy as aluminium rollers
Over 90,000 people googled 'jade rollers' in 2020 and it's not hard to see why. These naturally cool stones used in a massage tool are said to do everything—from sculpting and firming skin to boosting circulation, enhancing glow, reducing puffiness, minimizing fine lines, detoxifying and helping skincare products penetrate better. Phew! This inexpensive option still ticks all those boxes and its dual-ended tip means the small roller can comfortably glide over puffy under eyes without tugging.
---
Kora Organics Rose Quartz Heart Facial Sculptor
Eases away worry lines and feelings of anxiety
Specifications
Crystal: Rose quartz
Size: 11cm (H), 11cm (L), 3cm (W)
How to use: After applying facial oil, gently massage your face and neck in an upward and outward motion starting from the neck area.
Reasons to buy
+
Banishes a puffy face. Stick in the refrigerator to reduce inflammation, increase circulation and expel toxins
+
Helps to chisel cheekbones
+
It's ergonomic and different parts of the heart shape can be used to massage the face
+
It's an easy way to make crystals part of your night-time routine
+
Rose quartz is said to carry soothing energy – something you bring to your skin and emotional state with this tool
Reasons to avoid
-
Involves watching a video on how to use it properly
The benefits of this rose quartz tool are two-fold. First, you are adding the benefit of a facial sculptor to your skincare routine, which stimulates circulation and firms the muscles that loosen as you age. Second, this healing stone helps to ease tension, stress and anxiety, as well as promote feelings of happiness and emotional wellbeing. Use it in the mornings to reduce puffiness and eliminate toxins by massaging it in an upward and outward motion starting from the neck area, moving along to your chin, cheeks and around to the eye area.
---
Scorpio Zodiac Bliss Bag
Zodiac signs make a great starting point for crystal virgins
Reasons to buy
+
Ease when choosing a crystal
+
Perfect for astrology lovers as the stones are matched to your star sign's personality traits
+
The small size means these crystals can easily be placed in a pocket or on the body
+
If you don't have room for a large crystal in your apartment, you can simply place one of these small stones on a windowsill
Reasons to avoid
-
The crystals are pre-chosen
Finding the right crystal for you can be daunting. If you want complete ease but still personalization, look no further than these pouches, containing six healing crystals for your star sign. In this case, the Scorpio bag contains malachite to help release toxins from the body and promote self-confidence, rose quartz to open the heart chakra and increase self-love, and moonstone to promote empathy and kindness.
How to use crystals for beginners
"Gently hold them while sitting in meditation or place them on energy centers while lying down," says Knowles. "Skin-on-skin connection is superbly powerful but crystals are also strong enough to vibrate through your jeans. My pockets, even my bra, are full of them! Or place them in areas of your home that need healing."
Is crystal skincare the next big thing?
The most obvious way that crystals have made their way into our beauty routines is via crystal rollers. Typically made of jade, rose quartz or amethyst, crystal rollers are hand-held massaging tools typically made with one or two stone heads. The crystals themselves are chosen for two reasons—their alleged healing power and their naturally cool surface.
The roller itself is a swollen face's enemy. It removes excess fluid under the eye by constricting blood vessels, while the massage action boosts blood circulation and helps products absorb better into your skin.
But crystals also appear on the ingredients list of high-tech skincare formulations, with their vibrations and energy believed to balance our seriously stressed-out skin.
Kora Organics by Miranda Kerr fuses clean beauty with the power of crystals. She was inspired by her grandparents' garden, which contained many crystals and she has said she could "feel the magic" of rose quartz. As such, this gemstone features heavily in her skincare line.
Kristin Petrovich, the co-founder of Själ Skincare, where each product contains gemstones such as amethyst and tourmaline, says: "We are made up of minerals and our bone structure is crystalline, so we naturally resonate with gemstones. Crystals vibrate at a high frequency so when used on the face or body, their healing energy travels towards weaker cells helping to balance them."
Bring on those good vibes only!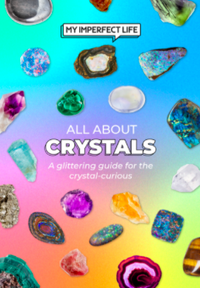 Fiona Embleton is a multi-award-winning beauty editor who has tested over 10,000 products in her 10 years + of writing and shooting beauty stories. For the past four years, she was the Senior Beauty Editor at Marie Claire, having previously worked in the role of Beauty Editor at both Stylist and Cosmopolitan. She has recently gone freelance and alongside My Imperfect Life, she has written for titles including ELLE UK, ELLE Canada, Buro 247, Harper's Bazaar Arabia, Vogue Scandinavia, and ES Magazine. Beauty journalism allowed her to marry up her first-class degree in English Literature and Language (she's a stickler for grammar and a self-confessed ingredients geek) with a passion for make-up and skincare, photography, and catwalk trends. She loves jumping on the latest internet-breaking beauty news, dissecting the best red carpet looks, and having the crème de la crème of dermatologists, make-up artists, and hairstylists on speed dial so she can tap them for the best advice. She's a discerning beauty shopper and knows it can be confusing trying to navigate what's hype and what really works. So if she really likes something, you can trust that she has reached that opinion by vetting it against everything else she's ever tried. Her career highs? Interviewing Cate Blanchett and winning a Jasmine Award for the deeply personal feature Cancer Stole My Mother's Scent.