Is facial steaming Jada Pinkett-Smith's secret to flawless skin at 49?
Facial steaming and why we should all take a leaf out of her beauty book...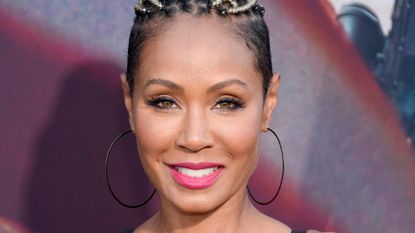 (Image credit: Getty Images / Gregg DeGuire/FilmMagic)
Jada Pinkett-Smith, 49, has revealed that facial steaming rather than expensive skincare sorcery is the secret to skin the texture of a smooth plum.
Wearing a sheet mask, *The Matrix* actress explained that she does this 3-4 times a week, alongside drinking plenty of water and liberally applying sunscreen.
It seems that steaming has peaked our interest, too, as Google searches for facial steamers have risen to over 90,000 in 2020 as DIY skincare rituals become the norm.
A cautionary note: while Jada recommends you "Boil water...pour it into a bowl...put your face over the bowl and throw a towel over your head. Sit under the towel for 1-2 minutes," most skincare pros would actually advise against this. The reason being, you run the risk of overheating the skin and steaming for longer than you should.
Facial steamer devices, however, side step these issues.
But what do facial steamers actually do?
Ultimately, facial steamers take the guess work out of steaming.
Put simply, these machines heat water to 40°C - the sweet spot for softening pores and removing impurities. They then release a stream of ionised water molecules into the skin.
Before discussing the many merits of facial steaming, it's worth sounding the myth-busting klaxon and clarify what it *won't* do. Steam does not, can not and will not open and close your pores. It's not physically possible.
"But what steam does do is raise your skin's temperature so that any dirt or sebum trapped inside pores can liquify, making it easier to remove," says Meghan Markle's facialist, Sarah Chapman.
In reality, this makes pores look smaller as there is nothing nitty gritty stretching them out of shape.
Added to this, steam improves circulation, which, in turn, encourages fresh nutrients and oxygen to travel to the skin. It also increases hydration, making it a great moisturizer for dry skin. "These nano-sized water particles carry moisture deep into the skin," adds Chapman.
Plus the whole process means you're guaranteed 100 per cent efficacy from any products your apply afterwards.
By freeing up pores you increase absorption, meaning your skincare ingredients can over deliver on their moisturizing, brightening and wrinkle-busting performance.
Fiona Embleton is a multi-award-winning beauty editor who has tested over 10,000 products in her 10 years + of writing and shooting beauty stories. For the past four years, she was the Senior Beauty Editor at Marie Claire, having previously worked in the role of Beauty Editor at both Stylist and Cosmopolitan. She has recently gone freelance and alongside My Imperfect Life, she has written for titles including ELLE UK, ELLE Canada, Buro 247, Harper's Bazaar Arabia, Vogue Scandinavia, and ES Magazine. Beauty journalism allowed her to marry up her first-class degree in English Literature and Language (she's a stickler for grammar and a self-confessed ingredients geek) with a passion for make-up and skincare, photography, and catwalk trends. She loves jumping on the latest internet-breaking beauty news, dissecting the best red carpet looks, and having the crème de la crème of dermatologists, make-up artists, and hairstylists on speed dial so she can tap them for the best advice. She's a discerning beauty shopper and knows it can be confusing trying to navigate what's hype and what really works. So if she really likes something, you can trust that she has reached that opinion by vetting it against everything else she's ever tried. Her career highs? Interviewing Cate Blanchett and winning a Jasmine Award for the deeply personal feature Cancer Stole My Mother's Scent.