These are the best Amazon skincare products beauty lovers buy again and again
Get your hands on the best Amazon skincare products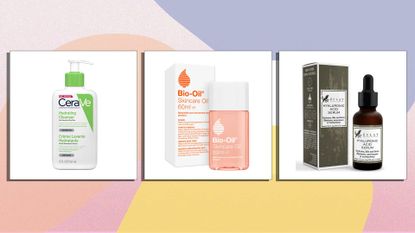 (Image credit: Cerave / Bio-Oil / Eclat)
Shopping for the best Amazon skincare products isn't always easy, especially when the e-tailer stocks a plethora of brands. From the mainstream go-tos to the lesser-known cult brands, the options are endless.
In fact, Amazon has become somewhat of a savior for us this year, as it has been an easy way to get all of our essential needs and wants in one place—like restocking the best moisturizers for dry skin.
Anyone who shops at Amazon knows that the website is a bit like a community. The review sections are full of real, thorough experiences (both good and bad) as people share their thoughts on the products they have tried and tested, leaving recommendations (or warnings) for one another.
One way to always tell a product is as great as it appears to be, is by looking at the amount of Amazon ratings and rave reviews it has received as it usually matches up. Some people even leave before and after pictures for that extra bit of reassurance. So with that in mind, we've selected some of the best Amazon skincare products on offer right now.
Happy shopping!
The best Amazon skincare products
1. CeraVe Hydrating Cleanser
Great for normal to dry skin
There's a reason why CeraVe products are so popular and it isn't just because of their purse-friendly price tags—their products work magic. The brand's Hydrating Cleanser has over 2,000 ratings on Amazon, most of which are five-star. Formulated with Hyaluronic Acid, the cleanser retains the skin's moisture whilst removing dirt, oil, and makeup, all while protecting the skin's natural barriers.
2. Garnier Nutri Bomb Milky Face Sheet Mask
A hydration boost for the skin in 15 minutes
Reasons to buy
+
Great for dry skin
+
Very moisturizing
Reasons to avoid
-
Can be inconvenient to place on face
This sheet mask is designed to rehydrate skin and reduce fine lines by reviving radiance and creating a glow. The mask, which you wear for just 15 minutes, is super nourishing as it contains milky serum with organic almond milk and hyaluronic acid. Plus, it gives immediate results according to its many rave reviews.
3. Bio-Oil Specialist Skincare Oil
Reduces scars, stretch marks and uneven skin tones
Reasons to buy
+
Improves visibility of scars
+
Improves visibility of stretch marks
The No.1 selling scar and stretch mark treatment is renowned for improving the visibility of scars (old or new), stretch marks and uneven skin tones. How? Its formula combines a blend of Vitamins A and E, as well as plant extracts in an oil base that work together to help improve the skin's texture and increase its elasticity.
4. Burt's Bees Lip Balm
Keeps your lips protected and hydrated all year around
Reasons to buy
+
Moisturizing and nourishing
This is Amazon's number one bestselling lip balm, with over 10,700 ratings. Containing SPF15, it provides sun protection, moisture, and nourishment no matter the weather. It's great for keeping your lips soft and hydrated in the winter but also perfect for the summer as it is water-resistant and the SPF-infused formula won't leave white marks on your lips.
5. Garnier Skin Micellar Cleansing Water
Cleanses your skin, removing dirt and pollution
Reasons to buy
+
Very cleansing
+
Gentle on the skin
Garnier's Micellar Cleansing Water is one of the most popular cleansers out there as it not only works as a great facial wash but an eye make-up remover. It cleans all dirt and pollution from the skin without stripping it of its natural radiance and glow.
6. L'Oreal Paris Revitalift Day Cream
Keeps the skin looking and feeling youthful
Reasons to buy
+
Improves firmness on the skin
+
Reduces visibility of wrinkles
Reasons to avoid
-
Results aren't instant so you've got to give this time
With almost 5,000 top ratings, L'Oreal Paris Revitalift Day Cream has been praised for its ability to maintain youthful skin. Enriched with Pro-Retinol A and Elasti-Flex, its formula helps improve firmness on the skin and reduces the visibility of wrinkles in just a few weeks, according to reviews.
7. Eclat Hyaluronic Acid Serum
Hydrates the skin and reduces fine lines
According to Amazon, this hyaluronic acid serum is among the best out there as results from a study revealed a 207% increase in skin hydration after 10 days for people who used it on a daily basis. If that wasn't enough, the formula also contains stabilized vitamins C & E, organic aloe vera, jojoba and geranium oil, and green tea to reduce the appearance of wrinkles and fine lines.
8. Aveeno Skin Relief Moisturising Lotion
Providing long-lasting moisture for dry skin
Reasons to avoid
-
Doesn't have a smell if you don't like that
Aveeno Skin Relief Moisturizing Lotion has a five-star rating on Amazon, much of which has to do with its power to moisturize for 24 hours straight, providing immediate and long-lasting relief for very dry, irritable skin. So if you suffer from dry skin, especially in the winter, this will be your new best friend.
We all need a good Vitamin C serum and judging by the top reviews Eclat's offering has received on Amazon, this is it. The nourishing product is formulated with the 20% vitamin C concentration (which is the scientifically optimal amount), Hyaluronic acid, ferulic acid, jojoba oil, MSM, retinol, aloe vera and vitamin E.
10. Dots for spots
A quick and easy way to target your spots
Pimple patches are an easy and effective way to target your spots and Dots For Spots has been hailed as one of the best. Each pack contains 24 stickers, all of which are translucent and super thin with tapered edges so they can seamlessly blend in with your skin. The cruelty-free products should be worn for 6+ hours but you'll know when to take them off as the translucent center turns opaque white.
Sagal is a journalist, specialising in lifestyle, pop culture, fashion and beauty. She has written for a number of publications including Vogue, Glamour, Stylist, Evening Standard, Bustle, You Magazine, Dazed and Wonderland to name a few.