GANNI x Levi's release a sustainable denim collection and we want every piece
The fashion-forward collaboration is back.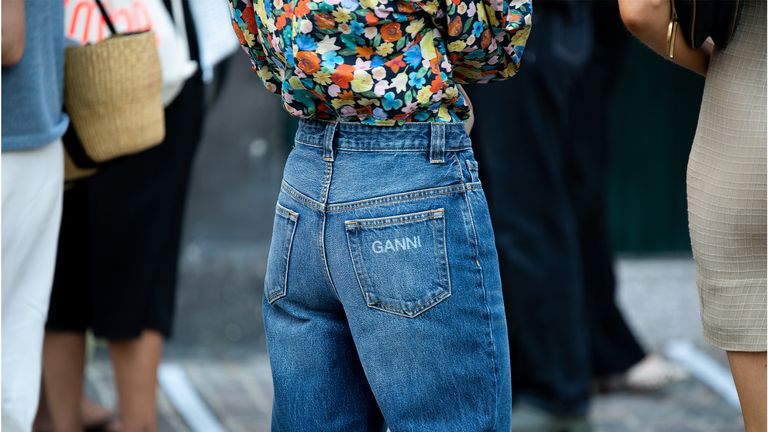 (Image credit: Raimonda Kulikauskiene / Contributor/ Getty Images)
After the success of last year's upcycled denim rental program, GANNI X Levi's is back with a 14-strong collection of vintage-look pieces. It's the perfect marriage of Scandi cool and Levi's all-American heritage, but front and center of this collaboration is an all-important sustainability message. And who better to deliver it than two of the best sustainable fashion brands in today's market?
Denim is often a challenge given the amount of water and energy it takes to produce just one pair of blue jeans. By some estimates it can take over 15,000 litres of water to grow the cotton to make a pair of jeans. The cotton is dyed multiple times then the jeans-maker may decide to bleach the jeans to lighten that colour, creating even more waste. Not to mention the pesticides needed to grow the cotton in the first place.
GANNI x Levi's have made giant steps towards solving that problem by crafting the jeans and signature peterpan-collared dresses from a new cottonized hemp fabric. It feels deceptively like traditional denim, but comes with a much smaller CO2 footprint as the hemp used to make the fabric is rain fed.
"This collaboration was an opportunity to [use] next level sustainable materials with cottonized hemp," Karyn Hillman, chief product officer at Levi's said in a press release. "It's been amazing working with the GANNI team, we both share a passion for authenticity, originality, and sustainability. Ultimately, we set out to inspire authentic self-expression - creating unique and easy pieces that people fall in love with, and wear again and again and again."
And that is definitely the case here. The collection retails from $115-$475 and drops tomorrow on GANNI.com and Levi.comas well as Levi's and GANNI stores globally and select partners.