These are the best sustainable fashion brands to have on your radar
We found the best sustainable fashion brands that will suit your wardrobe and budget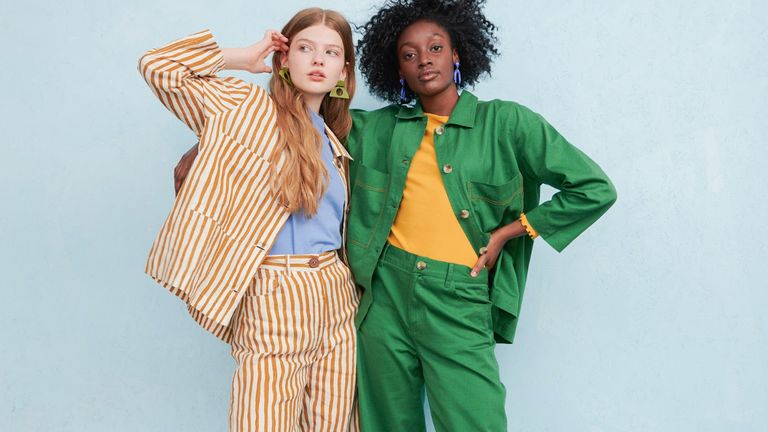 (Image credit: Ilk + Ernie )
The quest to find the best sustainable fashion brands is on the up. 
Sustainability has never been more in the spotlight than now with brands taking more steps towards sustainable and ethical trade. From brands pledging to reduce their carbon footprint and water waste to consumers choosing to buy less and more consciously, it seems the move to a more sustainable future has fully arrived. To help you make wiser fashion choices and not feel left out, we've rounded up and tested brands of different styles and price points that are committed to making fashion a better industry. 
How to make the right decision when choosing a sustainable fashion brand and not being greenwashed
Although there's a huge number of companies declaring themselves eco-friendly, once you dig a bit deeper, it's easy to tell some of them are just trying to get good publicity while not doing the bare minimum. This practice is called greenwashing and it's common nowadays. However, consumers aren't taking it lightly as with all the information we have access today, it's simple to uncover the truth. Some tips to make sure you're doing a conscious and ethical buy are to prefer organic and natural fibres; check the company's sustainability section (look for details on what measures they're taking and how they're doing it), and look for third-party certificates. 
Best sustainable fashion brand for great denim fits
White Stuff
Skinny jeans, £49.95, White Stuff
Reasons to buy
+Great Fitting+Affordable+Comfortable
Reasons to avoid
-Only one color option
Denim, a staple part of most wardrobes, is one of the most democratic pieces of clothing you can own. There's an option for all shapes, colours, sizes and prices you can imagine. It only makes sense that you can find great sustainable choices as well. Member of the Ethical Trading initiative, White Stuff launched a green jeans range this year, made with 98% recycled water, that benefits from an air-dried system using heat from the factory floor to reduce its energy consumption. You can choose from their straight, skinny or boyfriend styles. Our pick is the dark skinny jeans that have a great fitting and are so easy to wear. Team with an oversized white shirt and loafers, or with a ruffle blouse and heels, these have become our go-to pair.
Best sustainable fashion brand for cosy and high-quality jumpers
Celtic & Co
Funnel neck jumper, £98, Celtic & Co
Reasons to buy
+High quality+Soft touch+Other color options
Reasons to avoid
-Expensive
If you're looking for soft jumpers to keep you warm when temperatures drop, Celtic & Co should be your go-to brand. Besides using natural fibres in most of its production, recycled packaging and compostable tags, the brand is slow fashion adept, producing timeless and high-quality pieces that can be worn over and over again. From loungewear to outerwear and footwear, Celtic & Co has you covered for more than just one cold season. One of our favourites is the funnel neck lambswool jumper. Super soft and comfy, it also comes in different colours and patterns. Wear it tucked in your mom fit denim and sneakers for a cool and casual look.
Best sustainable fashion brand for colorful loungewear
The Pangaia
Seaweed fibre t-shirt, £68, Pangaia
Reasons to buy
+Anti-bacterial fabric+Soft touch
Reasons to avoid
-Few style options
Using only organic or recycled cotton in a zero-waste circular system, Pangaia brings minimalist loungewear in a range of colours: from earthy tones in their latest collection to bright orange and bold purple. It presents itself as a material science label rather than a fashion one, and it's easy to understand why. Pangaia develops new technologies and fabrics to help solve environmental problems. Some of them include seaweed fibres, bio-based plastic packaging, and botanical dyes. All styles come with a sort of outside 'label', listing its sustainable characteristics, one of the brand's signatures. If you're looking for super soft and comfortable basics to wear on a lazy Sunday, or a cool sporty look for a park stroll, Pangaia is your best choice. We're going for the seaweed fibre t-shirt in Sand, because who doesn't love basics in neutral colours? Style tip: as it's a gender-free sizing, go for a smaller size than you usually buy if you prefer a slimmer fit. 
Best sustainable fashion brand for impeccable knitwear
Knitss
Versailles skirt, £76.50, Knitss
Reasons to buy
+High quality+Versatile range of styles
Reasons to avoid
-Expensive
If you love knitwear just like we do, you'll be obsessed with Knitss. From summer essentials to winter coats, from tops to bottoms and accessories, the brand excels all-things knit. Think of different patterns and colours in all shapes. Knitss has its own factory and ensures it matches all ethical and social standards. 100% of the organic cotton they use is certified by GOTS (Global Organic Textile Standard); their viscose-based fibres are certified by FSC (Forest Stewardship Council), and their chemicals are eco-friendly. 
Our favourite piece is the Doyle skirt. The beige color is chic and elegant, and easy-to-wear. Dress it up with heels and a blouse or down with trainers and a t-shirt.  

Best sustainable fashion brand for chic jumpsuits
Ilk + Ernie
Brooke boilersuit, £130, Ilk + Ernie
Reasons to buy
+Two color options+Comfortable+Great fitting
Reasons to avoid
-Few size options-Few style options
Ilk + Ernie is a sustainable fashion brand based in Brighton, in the UK, and they produce all their clothing entirely from surplus fabric sold in Indian markets. Yes, that's right: a clothing brand that doesn't produce any fabric and believe us, they do it well. All the production comes from just one Indian factory certified by Sedex, an ethical trade membership organisation. For Ilk + Ernie, cool and modern designs go hand in hand with practicality and comfort. The clothes feature plenty of pockets, elasticated waistbands and appropriate fittings (not too tight that compromises your moves but not too loose that's shapeless). It's hard to point just one favourite but we love the Brooke boilersuit, that also comes in dusty pink. It'll go from season to season with different accessories and layers: zip it over a roll neck and pair it with boots in winter, or leave it a bit open and wear it with colourful sandals in summer.  
Best sustainable fashion brand for casual pieces with a twist
HAREM London
Kalfa waistcoat, £65, HAREM
Reasons to buy
+Handmade+Versatile
Reasons to avoid
-One size only
British-Turkish brand HAREM London combines eastern and western influences in its contemporary designs. Using primarily natural fabrics and recycling all scrap ones to be reused as details in different collections, the label brings its raw materials from Turkey to their studio in Dalston, where they have its small in-house production. HAREM focuses on comfortable and versatile pieces that will go from a work meeting to a casual dinner. Mixing different techniques and fabrics, the result is both beautiful and unique. We're in love with the tassel detailed waistcoat and can picture ourselves matching it with white jeans and layering it over a denim shirt.