What to do with old clothes, underwear and beauty products for an eco-friendly clearout
Knowing what to do with old clothes and underwear can be baffling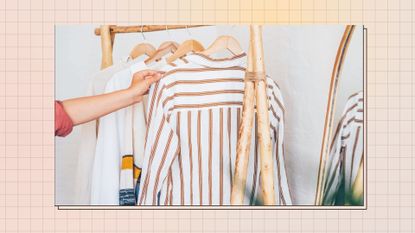 (Image credit: Getty)
It can be confusing to know what to do with old clothes, underwear and beauty products—especially if you're thinking about how to go about it in a more responsible and eco-friendly way than simply throwing it in the trash. And while few things beat the sense of calm brought by a good clear out, being aware of the impact our collective consumption has on the planet is essential, so it's important that we wise up on how to declutter as sustainably as possible.
Marie Kondo's Netflix series encouraged millions of people around the world to reassess their wardrobes, declutter their kitchens, and streamline their beauty collections, bidding farewell to items that didn't "spark joy". That in itself isn't a bad thing—but all those clearouts left many charities inundated with often unusable items.
So, how do you have a conscious clearout? Can you cut your closet down to a curated capsule wardrobe without generating unnecessary waste? With a little extra effort, the answer is, "absolutely!". To get some failsafe tips on how to get rid of clothes, underwear and beauty products more responsibly, we spoke to some fashion and beauty experts, to help you move into summer with a clear mind (and home).
Meet the experts on decluttering
How to get started decluttering your bedroom: a step-by-step guide
Before you start decluttering it's important to make sure you're in the right headspace to do so. If you're struggling to let go of any belongings, but know you need to, think about the bigger picture. Reframe the activity in your mind and focus on what you'll gain from letting go of the clutter and finding it a new home, rather than what you're giving away.
"Clutter can cause sensory overload, resulting in us feeling overwhelmed and irritable," says Dr. Gracie McLaven, clinical psychologist and founder of Brain · Body · Wealth. "By decluttering, we can gain a sense of empowerment, and feel calmer, happier, and in control."
Key tips on how to declutter
Take note of how often you wear your clothes—when was the last time, really?
Create a system, e.g. by type or color, and put surplus items to one side
Confirm you're donating to orgs that are actually in need of clothes, or sell them
Research clothing recycling services—this is especially useful for underwear
Check expiry dates of beauty products, give to family and friends or charity (if unopened)
Take before and after photos to motivate yourself
Tackle it section by section
Below are the key steps our experts have shared to help you declutter your fashion and beauty buys at home.
What to do with old clothes and accessories
1. Take stock of your closet
Your closet is a great place to start when it comes to de-cluttering, bearing in mind that the most sustainable fashion options are the clothes and accessories you already own. Celebrity stylist Ellis Ranson notes: "fashion changes quickly, so I ensure my clients have a strong staple wardrobe to help them transition through the seasons without ever feeling overwhelmed."
Look at everything you have as you go through, piece by piece. Instead of immediately purging, reconsider pieces and see if mixing up how you style them breathes in new life—and if not, perhaps some could be re-homed as an eco-friendly gift for a loved one? That piece you never wear could be one of the best white shirts for women in another's eyes. Focus your attention on items in season at the time, as they'll be fresh in your mind and it'll be easier to separate out castoffs that need a new home.
These tips aren't limited to a wardrobe clearout; the same principles apply to the rest of the home from bookshelves to your spice rack (though sadly the resale market for unopened cayenne pepper isn't quite as lucrative as it is for fashion). But by really examining and reviewing what you use and what's neglected, you can refine your life and remove unwanted clutter from pretty much any aspect of your life.
2. Assess how regularly you wear each item in your closet
Another tactic is to go through everything in your closet, piece by piece, and think about how often you wear and enjoy each item of clothing. This will help you decide which pieces you won't miss or can live without. It's important to be honest with yourself, but it's easy to convince yourself that you wear some items more often than you actually do.
If you can't decide right away, a good visual tool is to turn all of the hooks on your hangers so that they are facing the same direction on the rail. Once you've worn something, turn its hanger in the opposite direction. This will help you to keep track of what you've worn and what you've neglected—and work out which items could be sold or rehomed. By noting what you wear regularly and what you probably don't need, you'll also be able to make smarter shopping decisions in future, for more sustainable living.
3. Put a system in place
Having a system, such as separating your clothes into a summer and winter capsule wardrobe, for example, not only helps you keep on top of your items but also helps you to live more sustainably in the future.
Professional organizer Emma Harrod is a firm believer in color coding. "Creating blocks of color in your closet is both pleasing to the eye and functional," she explains. "It's important to organize space accordingly so you can find any item easily when you want it. This also helps to coordinate your outfits—and realize you don't need yet another white T-shirt!"
Emma also recommends grouping together different "types" of clothing. "Then, within each of these groups, initiate your color block. You will be able to clearly see the entire contents of your closet and gain a new perspective on how to style something, which in turn will help you fight off the urge for another unnecessary shopping spree."
4. Ensure donated clothes go to the right place
Ensuring your clothes go to the right place, depending on the condition they're in, is super important so that they don't put unnecessary pressure on local services. The best ways to make sure your culled clothes don't end up in landfill is to sell them, give them to a loved one, or participate in a clothing swap—perhaps a friend is looking for new working from home clothes? You can also donate to a charity, but for this option, check ahead to see what the charity needs before you drop items off, so as not to add to excess, and make sure that they're in good enough condition to be bought and worn by someone else.
Upcycling is another option, as your unwanted items could still benefit you. Old T-shirts could become a patchwork quilt, ill-fitting jeans could be transformed into a pair of denim shorts, and old sweaters and socks can even be cut up to use as dishcloths.
Very worn items still serve a purpose, as some clothing banks and charities have partnered with recyclers to repurpose fabrics. Once you've cut down to your most needed and loved, as well as a work capsule wardrobe, ensuring your unwanted items find a good home will also give you a mood boost. To help you get started, below we've listed some of the best places to recycle your clothes in the US and the UK.
🇺🇸 Where to get rid of clothes in the US
🇬🇧 Where to get rid of clothes in the UK
What to do with old underwear
Underwear is trickier to rehome or recycle because people don't tend to buy these items secondhand, while additional features like underwiring found in bras make them more complex than straight-up fabric recycling.
However, you can donate bras that are in good condition and certain services are in particular need of these items. Below are some need-to-know underwear recycling services available in both the US and the UK.
🇺🇸 Where to get rid of underwear in the US
🇬🇧Where to get rid of underwear in the UK
What to do with old beauty products
Tackling your makeup bag and any beauty drawers also doesn't have to mean generating huge amounts of waste. "There's no need to feel guilty and there are plenty of ways to do this sustainably," shares content creator and founder of SkinTing, Chloe Wise.
"First, be honest about what does and doesn't work for you in terms of products. This will help you avoid holding on to products that will expire before you use them."
1. Note down expiry dates
Expiration dates are important as they indicate whether a product is still 1) safe to use and 2) effective. An open jar symbol with a number and the letter M inside indicates the number of months a product needs to be used within. An hourglass means the product lasts for less than 30 months, and indicates the best before end date.
Chloe also recommends labeling products with the date you open them so you know when it's time to toss it. "For those products that do go out of date, you can declutter and recycle the packaging—retailers like Boots now have in-store recycling points—or turn it into something new, for instance re-using moisturizer pots to store cotton buds." Regional recycling rules vary, so make sure you're separating packaging per local guidance.
2. Ask family and friends to finish opened products
Partially used beauty items are harder to recycle, but there are things you can do with products that don't work for you. "Any products that don't work for me I'll offer to friends and family as my first port of call," Chloe says. "This often gives loved ones the chance to try something they may not have been able to otherwise."
3. Donate or sell unopened items
If your products haven't been opened and are still within their use-by date, they can be donated to local charities, shelters, or food banks. Alternatively, they could even be sold on sites like eBay and Depop, as with pre-loved fashion.
Doing the former can also have a positive impact on your local community. There are more needed supplies, of course, but an unused lipstick may end up in the hands of someone who would appreciate the little confidence boost it brings. Take cues from author and self-empowerment coach Stephanie Harrison. "Positive ripples evoked by a selfless act positively affect not just your own health and sense of pride and achievement, but your community's, too."
🇺🇸 Where to get rid of beauty products in the US
🇬🇧 Where to get rid of beauty products in the UK
Sarah-Rose Harrison is a London-based celebrity stylist and Contributing Fashion Editor at Marie Claire UK.
No day is ever quite the same for her but the one constant is that she's always looking for the next big thing and the newest style.
From ways to be more sustainable to up-and-coming brands, she's got you covered.
With contributions from