Is this popular Netflix show the inspiration behind Gigi Hadid's new hair?
Even supermodels can see red.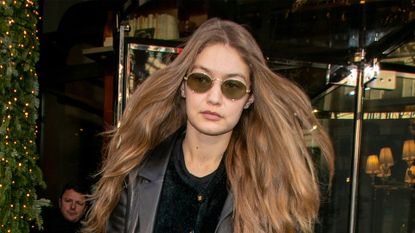 (Image credit: Marc Piasecki /Getty Images)
Gigi Hadid's red hair has taken us all by surprise. The 25-year-old supermodel has ditched her signature dark blonde strands in leu of this new auburn hue, which we can't help but wonder was inspired by The Queen's Gambit.
All was revealed at the weekend, ahead of Gigi returning to work and walking the Versace runway. "Opening & closing @versace is always an honor and was the best comeback," she wrote on Instagram. "Mostly just lucky to be healthy, working, and in a safe/tested environment to hug so many I've missed like family this past year. thank you to everyone who made this possible, especially my Italian Taurus queen @donatella_versace always & forever & grazie for the major moments sweet."
It's great to see the supermodel back on the runway but what we can't get enough of is her new flame-coloured hair, which perfectly complements her skin tone and makes her green eyes pop.
The supermodel's hair transformation by Panos Papandrianos started on Friday 5th March and she documented the dyeing process on her Story. Papandrianos himself shared several pictures of Hadid on his grid, along with the caption: "Ginger for Gigi 🧡🔥🧡 @gigihadid #PlayingWithColors."
Naturally, fans went wild for the new look, leaving comments like, "You're awesome 🔥🙌🏽 good work ❤️," "Looks great!!💖" and "Bravo Pano, she looks like a superhero now 🔥🔥🔥🔥🔥."
We can reveal Gigi's color was indeed inspired by The Queen's Gambit. Hot off the back of the show's recent Golden Globes win, the supermodel says she was inspired to make the dramatic change by Anya Taylor-Joy's character Beth Harmon. "She is dedicated to everyone responsible for The Queen's Gambit," the model wrote.
We'd be lying if we said we weren't think about going Harmon red, too, for Spring.
Fiona Embleton is a multi-award-winning beauty editor who has tested over 10,000 products in her 10 years + of writing and shooting beauty stories. For the past four years, she was the Senior Beauty Editor at Marie Claire, having previously worked in the role of Beauty Editor at both Stylist and Cosmopolitan. She has recently gone freelance and alongside My Imperfect Life, she has written for titles including ELLE UK, ELLE Canada, Buro 247, Harper's Bazaar Arabia, Vogue Scandinavia, and ES Magazine. Beauty journalism allowed her to marry up her first-class degree in English Literature and Language (she's a stickler for grammar and a self-confessed ingredients geek) with a passion for make-up and skincare, photography, and catwalk trends. She loves jumping on the latest internet-breaking beauty news, dissecting the best red carpet looks, and having the crème de la crème of dermatologists, make-up artists, and hairstylists on speed dial so she can tap them for the best advice. She's a discerning beauty shopper and knows it can be confusing trying to navigate what's hype and what really works. So if she really likes something, you can trust that she has reached that opinion by vetting it against everything else she's ever tried. Her career highs? Interviewing Cate Blanchett and winning a Jasmine Award for the deeply personal feature Cancer Stole My Mother's Scent.