H&M will now turn your old jumpers into brand new pieces in just 5 hours
The swedish retailer is trialling a Loop machine that upcycles clothes in stores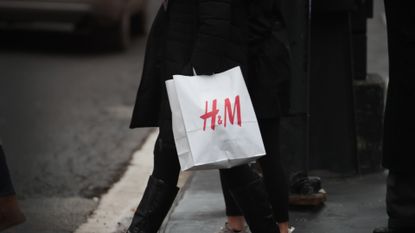 (Image credit: Getty Images:Photo by Scott Olson)
While some of the best sustainable fashion brands are independent businesses, H&M has been a pioneering force for making conscious fashion more accessible on the high street. And now, the Swedish retail giant has introduced a game-changing new in-store recycling machine.
The new tech invention, titled 'Looop', can transform old knitwear into brand new piece within five hours (yes, really!) and has recently been set up at H&M's flagship store in Swedish capital, Stockholm. But how does it all work?
Loop: H&M's new upcyling scheme
Believe it or not, it's all fairly straight-forward. The machine, which was first highlighted in a sustainable fashion report by Stylus, has been designed to improve in-store recycling. All shoppers have to do is insert your old knitwear garments and it shreds the clothes into fibres before spinning them into a new yarn.
You will then get the choice of having your pieces remade into either a women's jumper, a baby blanket or a scarf. Clever, right?
Created by the not-for-profit H&M Foundation, who teamed up with The Hong Kong Research Institute of Textiles and Apparel, the main aim of the initiative is to increase the life cycle of H&M products, whilst promoting an appreciation for old textiles and garments among customers.
To make it as eco-friendly as possible, the system uses no water or chemicals in the process. And to avoid overproduction, the new clothing items are made to order as customers wait.
This is just the first step in H&M's fight for sustainability and making it more visible for customers. The retailer is currently working on developments for the machine so that it can accept a wider range of materials and expand the available garment options.
Hopefully other brands will follow suit!
Sagal is a journalist, specialising in lifestyle, pop culture, fashion and beauty. She has written for a number of publications including Vogue, Glamour, Stylist, Evening Standard, Bustle, You Magazine, Dazed and Wonderland to name a few.