"I'm a huge skincare nerd!": Hailey Bieber reveals the two ingredients she looks for in her skincare
Spoiler: you'll scan all skincare ingredients lists after reading this.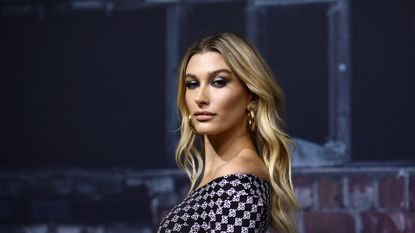 (Image credit: Sebastian Reuter / Stringer/Getty Images)
Hailey Bieber's favorite skincare ingredients will have your dermatologist voicing their approval if intense hydration and a boost in collagen production are your top priorities.
There's no denying that Hailey is a keen beauty aficionado, frequently taking her Instagram followers through her favorite products (the best vitamin C serum , for example) and being completely transparent about her own skin issues, including peri-oral dermatitis. But while hosting a bareMinerals Zoom event this week for beauty editors and influencers (Hailey is bareMinerals' brand ambassador) she also revealed she's a "huge skincare nerd!".
On the subject of bareMinerals new Ageless range Hailey said: "The entire bareMinerals Ageless range has the benefit of peptides. Peptides are on of my favorite ingredients to have in skincare, they're so beneficial for the skin. I've seen so much difference from using products that have peptides in them. During quarantine I've actually been spending a lot of time on my skincare routine and looking at what ingredients are in my skincare. I just love learning more and more about skincare and what these ingredients do."
It transpires that another key ingredient Hailey looks for is squalane. "I absolutely love squalane. It's a really amazing skincare ingredient and it makes this formula [an all-new bareMinerals foundation] feel so nice on my skin. My skin is on the drier side and I can feel the foundation hydrating my skin whenever I put it on."
Judging by Hailey's stellar glow throughout the event, we'll be scanning the ingredients list on products for her two go-to ingredients forthwith.
Fiona Embleton is a multi-award-winning beauty editor who has tested over 10,000 products in her 10 years + of writing and shooting beauty stories. For the past four years, she was the Senior Beauty Editor at Marie Claire, having previously worked in the role of Beauty Editor at both Stylist and Cosmopolitan. She has recently gone freelance and alongside My Imperfect Life, she has written for titles including ELLE UK, ELLE Canada, Buro 247, Harper's Bazaar Arabia, Vogue Scandinavia, and ES Magazine. Beauty journalism allowed her to marry up her first-class degree in English Literature and Language (she's a stickler for grammar and a self-confessed ingredients geek) with a passion for make-up and skincare, photography, and catwalk trends. She loves jumping on the latest internet-breaking beauty news, dissecting the best red carpet looks, and having the crème de la crème of dermatologists, make-up artists, and hairstylists on speed dial so she can tap them for the best advice. She's a discerning beauty shopper and knows it can be confusing trying to navigate what's hype and what really works. So if she really likes something, you can trust that she has reached that opinion by vetting it against everything else she's ever tried. Her career highs? Interviewing Cate Blanchett and winning a Jasmine Award for the deeply personal feature Cancer Stole My Mother's Scent.