The risky Halloween activities you should avoid this year because of COVID-19
How COVID-19 restrictions have changed Halloween traditions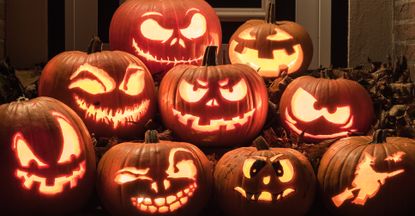 (Image credit: Getty Images)
Now that October is in full swing, the countdown to Halloween is officially on. However, like everything, celebrating the holiday will be a little different this year amid COVID-19 restrictions. But that doesn't mean you can't have fun!
If you're still planning on making this year's spooky season memorable, then there are few things you'll have to keep in mind to keep yourself and others as safe as possible.
As you'll be very familiar with by now, small gatherings that take place outdoors and last for a shorter amount of time have become the generic norm, especially now that cases on COVID-19 seem to be on the high rise again all over the world. Allowing enough social distancing and wearing face masks can also ensure safe socialising.
When it comes to Halloween specifically, there are sadly a few traditions we'll have to avoid this year. To make things easier for us, the CDC has listed seven high risk activities to stay clear of this Halloween:
Participating in traditional trick-or-treating where treats are handed to children who go door to door.
Having trunk-or-treat where treats are handed out from trunks of cars lined up in large parking lots.
Attending crowded costume parties held indoors.
Going to an indoor haunted house where people may be crowded together and screaming.
Going on hayrides or tractor rides with people who are not in your household.
Using alcohol or drugs, which can cloud judgement and increase risky behaviors.
Traveling to a rural fall festival that is not in your community if you live in an area with community spread of COVID-19.
While it may sounds like all the good things about Halloween are off the table, they're not. You could use the holiday as an excuse to relax and relieve stress with some downtime, from carving pumpkins to hosting horror movie nights at home with the people you live with. You could even put on a Halloween treasure hunt at home or in your garden if you have one, and then there are all the Halloween snacks which are most definitely still part of the agenda.
So watching Hocus Pocus and eating candy... Sounds good to us!
Sagal is a journalist, specialising in lifestyle, pop culture, fashion and beauty. She has written for a number of publications including Vogue, Glamour, Stylist, Evening Standard, Bustle, You Magazine, Dazed and Wonderland to name a few.