Harry Styles swears by this extreme wellness trend
Harry Styles has revealed the wellness routine he recently fell in love with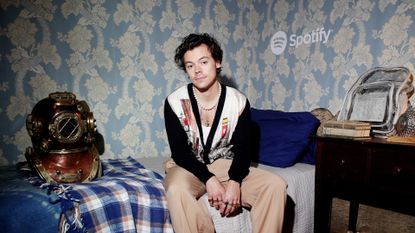 (Image credit: Photo by Rich Fury/Getty Images for Spotify)
Harry Styles made history as the first solo man to ever grace the cover of Vogue last week when the fashion magazine unveiled its December 2020 issue. And while all the flawless shots from the shoot have been the talk of the week, one particular thing Harry said in his interview caught our attention.
The former One Direction star turned solo artist, and universal heartthrob, revealed that he is really into experimenting with new wellness trends, explaining that there is one particular ritual he's a firm believer in.
Speaking to Vogue, Harry explained that he had recently underwent several cryotherapy sessions. For those of us who don't know what that is (most of us), it's a form of temperature-based physical therapy that encases patients in a freezing chamber set to -175 degrees fahrenheit. Yes, we know, it sounds awful. In fact, we're shivering at the thought of it.
However, the sessions are said to be really good for your health as they are believed to reduce inflammation, boost post-workout recovery, and supercharge metabolisms.
It may seem like an extreme measure to take just to practise a bit of wellness but according to Harry, it really does pay off. "My body definitely feels better for it," he told Vogue.
In the interview, the 'Watermelon Sugar' singer also admitted that he did a six-day juice cleanse and intense Pilates sessions prior to his shoot, so it's safe to say he doesn't play around when it comes to his health and fitness. He's also a huge fan of meditation, telling the publication that meditating twice a day has been crucial for his mental health.
"It has changed my life but it's so subtle," he explained. "It's helped me be so much more present. I feel like I'm able to enjoy the things that are happening right in front of me. Meditation just brings a stillness that has been really beneficial, I think, for my mental health."
Harry's Vogue shoot has not only made history but it has gone down as an iconic display of dismantling gender barriers, as the 26-year-old star rejects societal 'norms' by wearing incredible skirts, dresses and jewelry, and oh did he look good!
Sagal is a journalist, specialising in lifestyle, pop culture, fashion and beauty. She has written for a number of publications including Vogue, Glamour, Stylist, Evening Standard, Bustle, You Magazine, Dazed and Wonderland to name a few.