Harry Styles' gorgeous new Gucci film is a feast for the eyes
The heartthrob stars in the latest episode of Gucci's cinematic advert series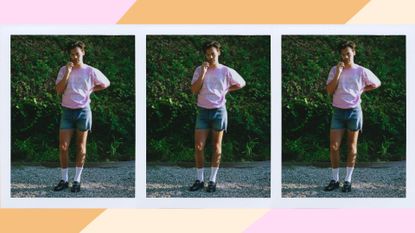 (Image credit: Gucci / Gus Van Saint)
If seeing Harry Styles' iconic Vogue cover has left you wanting more, (we're already obsessed with his wellness routine) then you're in for a treat. The man of our hearts is back, this time in a chic pair of jorts (that's jean shorts for those who don't know), as he stars in the latest episode of Gucci's sublime film series.
Earlier this month the Italian fashion house launched Guccifest, a cinematic collaboration between the brand's creative director Alessandro Michele and filmmaker Gus Van Sant. The mini-series, which is made up of seven episodes - three of which have been released so far - is titled Ouverture of Something that Never Ended. It follows protagonist Silvia Calderoni, and a very well dressed cast of extras, as she goes about her day.
So far, we've seen her at home, in the cafe and in the latest episode, she takes a trip to the post office, where she's surrounded by beautiful Gucci nods. However, what really caught our attention is the surprise cameo from king of style and famous face of Gucci himself, Harry.
The episode starts with Silvia and the rest of the cast queuing up at a Roman post office, wearing full Gucci regalia. Italian art critic Achille Bonito Olivia is also waiting in line and happens to be talking to Harry on the phone (as you do at the post office), which is when we're treated to the special appearance.
Harry for Gucci Ouverture.https://t.co/reIaUwKZWW pic.twitter.com/Mcs1uALy71November 18, 2020
See more
The camera cuts over to Harry, who is casually strolling around his garden, fabulously dressed in denim shorts, classic horsebit loafers, tall white socks, and a sporty T-shirt emblazoned with 'Gucci Loves Pink Eschatology 1921'.
The two share a poignant conversation about art, creativity and division, as Olivia explains that we live in "rather tense times. Full of conflicts and confrontation. But also of differences that manage to coexist."
Aside from the major highlight of Harry's presence, the breathtaking visuals, dreamy fashion and the sophisticated mood of the series paired with the enigmatic protagonist make it worth indulging in. The series, which promotes Gucci's latest collection, will continue with new episodes every night until Sunday. Oh, and you can expect appearances from Billie Eilish and Florence Welch in the upcoming instalments.
Sagal is a journalist, specialising in lifestyle, pop culture, fashion and beauty. She has written for a number of publications including Vogue, Glamour, Stylist, Evening Standard, Bustle, You Magazine, Dazed and Wonderland to name a few.