The latest TikTok trend is to find out what you'd look like next to Harry Styles
One TikToker has the perfect way for you to find out…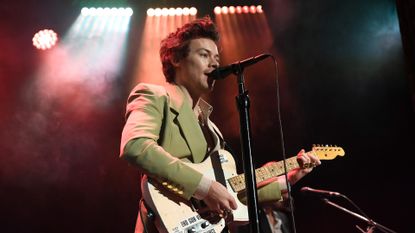 (Image credit: Kevin Mazur / Getty Images)
For many of us - single or not - we have spent time daydreaming about what it would be like to meet Mr. Harry Styles. Would he be coy and charming? Would he just take a selfie, say "nice to meet you love" and walk away? (Sadly this one is the most likely...)
But don't fret, one TikToker has come up with a genius hack. She's revealed how you actually see what you and Harry Styles would look like together, which fans are hailing as "the Lord's work".
TikToker Jeanette Wilson sources photos of Harry Styles with celebrities of a certain height. She then creates a TikTok that shows you what you would look like next to him if you are that height.
A great example is a TikTok of Harry Styles next to Helene Pamprun, a French photographer. Harry Styles is 6,0 ft and at just 5,0 ft tall, Helene Pamprun is a whole foot shorter than him.
Now fans of Harry Styles that are 5ft can truly see what their height difference would be if they themselves were to meet Mr. Styles.
Fans are losing their minds over it, one simply wrote: "So what you're saying is… me and Harry Styles would look adorable." Another commented: "I have decided to pass away after seeing this", to which the creator replied: "honestly same".
Another video caters to fans who are 5,6 ft after the Tiktoker found various images of Styles next to hair stylist Lou Teasedale who is also 5,6 ft to show us what their height difference looks like in real life.
Earlier today, Jeanette Wilson also posted a TikTok that included various heights next to Harry Styles in a round up compilation video. So hopefully yours is included!
Laura Harman is a journalist who has written for Woman & Home, Grazia and Good to Know and regularly contributes to My Imperfect Life.