HIIT workouts can boost your mental health and make you live longer, says science
New research has linked HIIT work outs to healthier and longer lives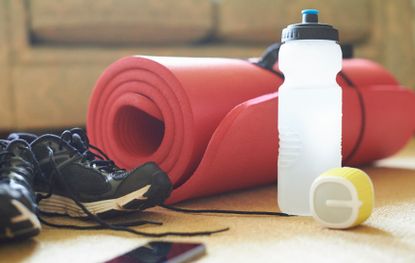 (Image credit: Getty Images)
While we all know that exercise is good for us, some workouts could be doing a lot more for your body than toning your abs and tightening your glutes. New research has suggested that HIIT workouts in particular have been linked to not only boosting our mental health but making us live longer.
HITT, which is short for high intensity interval training, is all about vigorous exercising for a short period of time combined with more mild moves or significant rest time. This style has long been a favourite among gym bunnies but can sound quite intimidating if you've just started with beginner's workouts.
There are plenty of HIIT sessions that don't include weight lifting and according to a study recently published in The British Medical Journal, we should all be doing them if we want to increase our lifespan and improve our mental health. The research suggests that this type of workout is especially effective for adults in their 70s and over, with results showing a boost in mental and physical wellness, as well as fitness - all of which can lead to a longer life.
The study was conducted by a number of researchers from Norwegian hospitals and universities. They looked at 1,567 Norwegian adults, aged 70-77, over a period of five-years and assigned 400 of them to do two HIIT sessions a week, with each being defined as a workout that pushed them to 90% of their peak heart rate.
As a result, they found that this group had significantly better fitness, as well as mental and physical quality of life, compared to a group who did moderate intensity exercise - which was defined as 50 minute work outs that resulted in 70% of peak heart rate twice a week - and a third group who simply followed national guidelines for exercising and fitness check ups.
Dorthe Stensvold, lead author of the study and professor at the Norwegian University of Science and Technology, said: "The difference is not statistically significant, but the trend is so clear that we believe the results give good reason to recommend high-intensity training for the elderly.
"By high intensity we mean training that gets you really sweaty and out of breath. Now our hope is that the national recommendations for physical activity will be modified to encourage older people even more strongly to do high intensity training - either as their only form of exercise or to supplement more moderate training."
The study also found that the group who did the HIIT workouts were less likely to die during the five-year study, with only 3% passing away compared to 6% of the moderate intensity trainers.
Even if we're not over 70 yet, it's never too early to start a good habit!
Sagal is a journalist, specialising in lifestyle, pop culture, fashion and beauty. She has written for a number of publications including Vogue, Glamour, Stylist, Evening Standard, Bustle, You Magazine, Dazed and Wonderland to name a few.