How to remove gel nail polish at home, according to a nail artist
The 'no tears' guide on how to remove gel nail polish without destroying your nails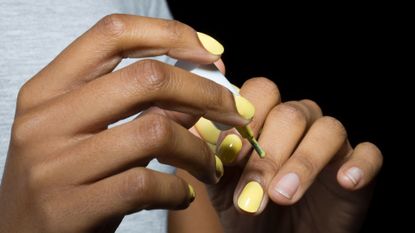 (Image credit: Getty Images)
Two weeks of chip-free wear and glossy shine sets our pulses racing — until we get to the part when we're Googling 'how to remove gel nail polish.'
After months of social distancing, booking a trip to the salon to remove your gel nails is often put on the back burner. Which means taking matters into your own hands (quite literally!).
We get it — once the layer around the cuticle starts to lift it takes every ounce of self-control not to pick or rip it off. But do resist the urge, as it's the major cause of damage to the nail bed underneath.
Ultimately, what goes on, must come off. We spoke to Michelle Humphrey (opens in new tab), Dua Lipa's nail artist, to find out the best way to remove your gel manicure when it's time to call it quits.
1. Break out the nail file
"Before you apply nail polisher remover, take a coarse nail file and gently sand down the very top layer of polish as this effectively breaks the seal," says Humphrey. "If you skip this stage you'll find removal a nightmare!"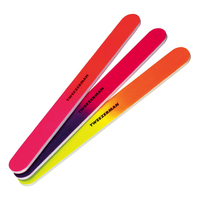 (opens in new tab)
2. Hydrate your skin
"Next, coat the skin surrounding your nails with cuticle oil to prevent dehydration from the acetone in the polish remover. I love Sally Hansen Vitamin E Nail and Cuticle Oil (opens in new tab) as its thick formula really nourishes nails."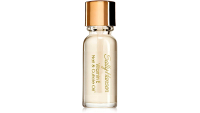 (opens in new tab)
3. Soak cotton pads in nail polish remover
While the pros use remover wraps that already have built-in cotton pads, this is where your DIY skills are put to good use. Cut aluminum foil into squares big enough to cover your nail tips. "Place a cotton pad, cut in half and soaked in acetone or nail gel remover, in the middle of the aluminum foil," Humphrey says.
4. Wrap your fingertips in aluminum foil
Wrap your fingertips in the aluminum squares, making sure the cotton pad is secured against the nail. Then wait 10 or 15 minutes.
5. Hurry things along a bit
"Gently push any gel, that's come loose, off the nail plate using an orangewood stick," explains Humphrey.
"Never force it. If necessary, re-wrap and repeat on the remaining polish, making sure you keep the cotton pad well-saturated in polish remover. Expect this process to take 30-45 minutes and always do one hand at a time."
6. File again, buff and hydrate (in that order)
Once all the gel has been removed, Humphrey recommends you gently file nails into your desired shape and buff the surface into a smooth, glossy shell. Then drench them in moisture with another layer of cuticle oil.
Brush on a nail strengthener
"Nail strengthener is optional after removal, but great for when you're having a break from gels," adds Humphrey, who recommends OPI's Nail Envy Sensitive & Peeling Formula Nail Strengthener. "Just ensure the nail is wiped clean of any excess cuticle oil first."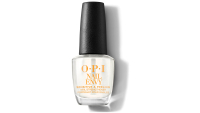 (opens in new tab)
Et voila, not a single brittle, broken nail in sight.
Fiona Embleton is a multi-award-winning beauty editor who has tested over 10,000 products in her 10 years + of writing and shooting beauty stories. For the past four years, she was the Senior Beauty Editor at Marie Claire, having previously worked in the role of Beauty Editor at both Stylist and Cosmopolitan. She has recently gone freelance and alongside My Imperfect Life, she has written for titles including ELLE UK, ELLE Canada, Buro 247, Harper's Bazaar Arabia, Vogue Scandinavia, and ES Magazine. Beauty journalism allowed her to marry up her first-class degree in English Literature and Language (she's a stickler for grammar and a self-confessed ingredients geek) with a passion for make-up and skincare, photography, and catwalk trends. She loves jumping on the latest internet-breaking beauty news, dissecting the best red carpet looks, and having the crème de la crème of dermatologists, make-up artists, and hairstylists on speed dial so she can tap them for the best advice. She's a discerning beauty shopper and knows it can be confusing trying to navigate what's hype and what really works. So if she really likes something, you can trust that she has reached that opinion by vetting it against everything else she's ever tried. Her career highs? Interviewing Cate Blanchett and winning a Jasmine Award for the deeply personal feature Cancer Stole My Mother's Scent.