How to get healthier nails
Bookmark this page if you want to know how to get healthier nails - fast.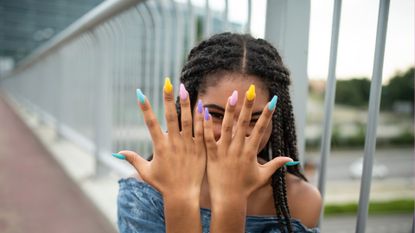 (Image credit: Martin Novak/Getty Images)
Wondering how to get healthier nails? If you've been hiding your thin, peeling nails under a permanent gel manicure or you're simply attempting to grow your nails longer than ever before, it's time to take matters - quite literally - into your own hands.
Unsurprisingly, hydration is key - in other words, treat your hands the way you would your face with the best moisturizers for dry skin. But some small tweaks to your at-home mani can help too.
Here's everything you need to know for achieving the most resilient talons.
What causes weak nails?
Ageing is one reason for weak nails. After the age of 30, our bodies product less keratin, which makes up the top layers of our nails. They can also flake more easily and appear dull as a result of being exposed to the elements (extreme cold and yes, you guessed it, alcohol-based hand sanitizers).
Fortunately, there are ways to strengthen your nails and reverse the situation.
How to maintain healthy nails and cuticles at home
1. Moisturize daily
Hydration is key when it comes to growing nails. Using a hand cream on your nails and the surrounding skin (try The Body Shop Almond Milk & Honey Calming & Protecting Hand Cream) locks in moisture to prevent future damage. Add a cuticle oil to your basket, too, as it softens cuticles and nourishes the nailbed. We rate the OPI ProSpa Nail & Cuticle Oil, which was created together with dermatologist Dr Zena Gabriel, to bring you the skincare benefits of oleic acid, grapeseed and avocado oils.
2. Keep nails on the shorter side
Consider cutting down the length of your nails while you build up their strength as there will be fewer exposed edges to tear: "It's also likely that you simply can't grow your nails past a certain length and keep your manicure immaculate if your nails are weak," says Marta Nagorska, OPI nail tech and a regular fixture backstage at Fashion Week shows. "If your nails are dehydrated and peeling, the nail polish will adhere to the flaky layers, resulting in a chipped manicure very quickly."
3. Switch to a soft nail file
Prevent snags by rounding the edges with a soft nail file. Micro-fibre is ideal as with rougher grains you run the risk of making tears in the nail. The soft fabric of Deborah Lippmann's Smooth Operator 4-Way Gloss Nail Buffer makes it a cult favorite.
4. Consider taking biotin
Studies show that brittle nails could be a sign of biotin deficiency, so it might be a good idea to supplement your diet with an extra dose of the essential B vitamin. Wild Nutrition Food-Grown Skin Hair & Nails only contains nutrient-rich, organic ingredients that your body recognizes and happily absorbs.
The typical recommended supplemental dose is roughly up to 3,000 mcg daily for six months, according to the Cleveland Clinic, but your doctor may recommend alterations to this, depending on your personal health.
Be sure to up your intake of biotin-rich foods such as eggs, avocado, almonds and salmon, too.
5. Ditch your acetone nail polish remover
When your manicure shows signs of chipping, avoid reaching for a nail polish remover containing high concentrations of acetone (a solvent designed to dissolve nail polish quickly).
Your best bet? An acetone-free nail polish remover. "If your nails are already dry and therefore prone to breakage, it is best to switch to acetone-free nail polish removers that contain conditioning ingredients such as aloe vera and essential oils," says Nagorska. "They take slightly longer to get the job done on gel polish but, generally speaking, will leave your nails and cuticles feeling nourished and hydrated."
6. Add a nail strengthener to your routine
According to Orly's UK Brand Ambassador, Lou Stokes, the best way to rehabilitate your nails is with a nail hardener. Typically rich in proteins or keratin, they help to bond the nail layers together and seal the edges to prevent them from being bendy, fragile and ultimately leading to breakage. Stokes swears by the Orly Nail Defense.
Fiona Embleton is a multi-award-winning beauty editor who has tested over 10,000 products in her 10 years + of writing and shooting beauty stories. For the past four years, she was the Senior Beauty Editor at Marie Claire, having previously worked in the role of Beauty Editor at both Stylist and Cosmopolitan. She has recently gone freelance and alongside My Imperfect Life, she has written for titles including ELLE UK, ELLE Canada, Buro 247, Harper's Bazaar Arabia, Vogue Scandinavia, and ES Magazine. Beauty journalism allowed her to marry up her first-class degree in English Literature and Language (she's a stickler for grammar and a self-confessed ingredients geek) with a passion for make-up and skincare, photography, and catwalk trends. She loves jumping on the latest internet-breaking beauty news, dissecting the best red carpet looks, and having the crème de la crème of dermatologists, make-up artists, and hairstylists on speed dial so she can tap them for the best advice. She's a discerning beauty shopper and knows it can be confusing trying to navigate what's hype and what really works. So if she really likes something, you can trust that she has reached that opinion by vetting it against everything else she's ever tried. Her career highs? Interviewing Cate Blanchett and winning a Jasmine Award for the deeply personal feature Cancer Stole My Mother's Scent.