These Amazon bestselling huggie earrings have 4,200 rave reviews and they're only $14
And they're gorgeous!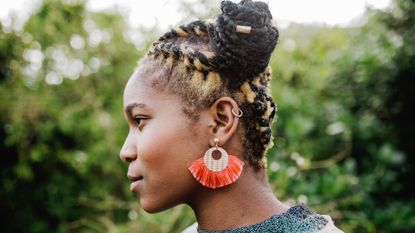 (Image credit: Getty Images)
Is there anything better than a purse-friendly fashion win, especially when it's on jewelry staples like huggie earrings? If you agree that the only answer to that is no, then we've got great news. A pair of huggies on Amazon's Bestseller List have been getting a lot of attention after receiving over 4,200 rave reviews.
The gold-plated earrings are jewellery brand Pavoi and they're incredibly chic, with a minimalist design and clear crystals, so its no wonder shoppers are going crazy from them. But that's not all, they're also incredibly purse-friendly priced at just $14 (£10.88).
The huggies are currently the number one best selling pair, out of the 6,000+ huggies available on Amazon. Plus, they've also been selected as Amazon's Choice for the trendy earring style. But most impressive of all is all the glowing five-star reviews for the products, with many mentioning how comfortable they are and how versatile they are to style.
"I have very sensitive ears. Very sensitive. These don't bother me. I can wear them all day and night. I started with one pair and loved them so much I had to get another pair," read one review.
Another happy customer said: "These are an excellent purchase. I initially bought them for my top cartilage piercings. I switched one from a stud to this huggie and as you can see it works, but is slightly bigger than I wasted for that hole. However, it fits nicely between my first and third piercings on my ear lobe. So, it's a win."
Similarly, a third review read: "Absolutely love them! one continuous loop no extra parts. Great quality and value with quick delivery!"
Many have also provided cute pictures of themselves wearing the huggies and they look great. With the style, quality and affordable price combined, they sound like the perfect purchase for anyone looking for some new ear candy!
Sagal is a journalist, specialising in lifestyle, pop culture, fashion and beauty. She has written for a number of publications including Vogue, Glamour, Stylist, Evening Standard, Bustle, You Magazine, Dazed and Wonderland to name a few.