The chicest pairs of huggie earrings to suit every occasion and budget
Our shopping expert has handpicked the huggie earrings to accessorize every outfit, whether you're looking for luxury or searching for style on a budget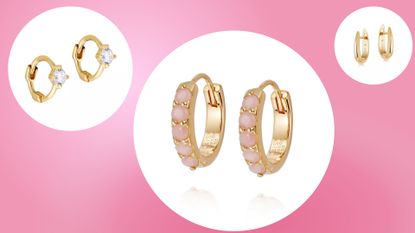 (Image credit: Seol & Gold, Scream Pretty, Missoma)
Like the little sister of the classic big hoop, huggie earrings can be dressed up or down depending on your vibe. While hoop or drop earrings hang from your ear, huggie earrings have a design that—you guessed it—"hugs" the ear instead. They click shut for a more secure fit and look great either worn alone or stacked as part of an ensemble of earrings. As they sit close to your ear, they're also a great alternative to larger designs if you want a comfortable accessory with none of the risks of getting caught in your hair or painfully pulled.
Another great thing about huggie earrings is that, depending on where you're browsing, there is often a choice of sizes so you can decide how snug you'd like the earring to be. There is also a range of shapes to choose from, from classy rounded hoops to asymmetric designs or flatter styles that have space for some sparkle, and they often come in both gold and silver huggie earrings.
One of our contributing fashion experts has assessed a whole number of huggie earrings from the best jewelry brands on the market to pick out the ones, which are really worth investing in. So whichever style you're after and whatever your budget, here are some of the best huggie earrings to suit every shopper.
Meet the expert on huggie earrings
Helen Dimmick (opens in new tab) is a leading gemmologist and stylist with more than 20 years of experience in the jewelry industry. Here she has advised My Imperfect Life readers on how to choose and style the best huggie earrings as part of an outfit.
What's the best way to style huggie earrings?
As gemmologist and stylist Helen Dimmick explains: "for the most effective look, I would mainly choose fine, slender styles and forms but always in multiple pieces… and you can always add a gem for a touch of color! They don't need to match, an eclectic combination chosen well can [also] be striking."
Although Dimmick notes that "huggies go beautifully with everything," she advises bearing in mind that "high necklines ensure that the focus is on the face, and therefore ears," when choosing your outfit.
How we tested the best huggie earrings
Today, the jewelry market is absolutely heaving with pretty pairs of huggie earrings, so narrowing them down to a curated edit of the best styles was no mean feat. To ensure we had the very best styles, our in-house testers took the following factors into account when making their final selection.
Price
Design
How comfortable the earrings are to wear
Quality of materials used
The brand's credentials
The best huggie earrings to shop right now
Whether you're after everyday staples or evening pieces, or you're searching for a style like Kate Middleton's gold huggie hoops, our shopping expert has put several pairs to the test to deduce where you should invest your money.
Our favorite pair of huggie hoops were the standout quality, classically stylish Scream Pretty's Bezel Huggie Hoop Earrings with Ruby Pink Stones. Small yet sturdy and snug, they neatly embellish your ear with four bezel-set pink stones.
At the higher end of the price scale, we also really rate the beautifully made Daisy Jewellery Pink Opal Huggie Earrings. Studded with responsibly sourced pink opal stones, this pair will make a lovely addition to any jewelry collection.
1. Monica Vinader Skinny Diamond Mini Huggie Earrings
The best luxury huggie earrings
Specifications
Metal: Sterling silver
Outer diameter: 9mm
RRP: $185/£140
Reasons to buy
+
Chunky design with real sparkle
+
Plated vermeil jewelry
+
Come with five-year warranty
+
Ethically sourced diamonds
+
Also available in rose gold and gold finishes
Reasons to avoid
-
Not suitable for those that prefer daintier designs
Monica Vinader is up there with our favorite brands for reasonably priced fine jewelry, and this pair of sparkling huggie earrings are studded with no less than 14 diamonds (seven on each earrings), giving a total carat value of 0.037cts.
Not only that, but the diamonds are actually ethically sourced, making them an ideal choice if you do your utmost to kit your closet out with items from the best sustainable fashion brands. Complete with a snap lock closure, they'll stay put through classy evenings out and special occasions—and they're available in three different metal finishes to suit all tastes and preferences. A worthy investment!
2. Scream Pretty Bezel Huggie Hoop Earrings with Ruby Pink Stones
The best huggie earrings for everyday wear
Specifications
Metal: 18ct gold plated sterling silver
Inner Diameter: 6mm
Outer Diameter: 11mm
RRP: $48.70/£40
Reasons to buy
+
Neatly comfortable
+
Sparkling bright stones
+
Affordable
Reasons to avoid
-
Won't fit higher set piercings
A pink-hued pair in sterling silver featuring 18ct gold plating, we found that these colorful huggies will sit firmly in place on your ear so there's very little risk of them coming loose and falling out. The four round, bezel set stones are pink nano cubic zirconia, creating a delicate scalloped edge that catches the light for a rosy sparkle. The circular shape doesn't bend with wear, nor does their click-post fastening, making them a hard-wearing pair that should survive any of your adventures.
Size-wise, we would note that these earrings are on the daintier side. They do work well in the lower and main lobe, as well as in a cartilage piercing, but they may be too tight to click shut in a larger lobe or higher-set piercings. Arriving in a branded box, they're also available in sterling silver with rhodium plating.
3. Daisy Jewellery Pink Opal Huggie Earrings 18ct Gold Plate
The best huggie earrings for a payday treat
Specifications
Metal: Recycled Sterling Silver & 18ct Gold Plate
Inner diameter: 10.4mm
RRP : $184/£149
Reasons to buy
+
Ethically sourced gemstones
+
Delicate and elegant design
+
Adds a pretty hint of color
Reasons to avoid
-
Not a very snug fit; best suited to lobe piercings
Everything about these stunning gold and pink huggie earrings feels luxurious; with responsibly sourced Pink Opal stones that are cut from natural crystals and stones to make each piece unique and 18k gold plating over 100% recycled silver, they're sure to become your go-to accessory for special moments or even an everyday staple. Plus, with dark pink officially the color of the year in the form of viva magenta, you're also getting in on one of the major jewelry trends right now.
Complimentary gift packaging makes the experience of unwrapping your new purchase all the more luxurious, and the brand even offers free worldwide delivery. If gold isn't your style, there's also the option to get them in silver!
4. Auden Tiny Teardrop Turquoise & Gold Plated Huggie Earrings
The best huggie earrings with a drop effect
Specifications
Metal: Gold-plated brass
Drop length: 1cm
RRP: $38/£26
Reasons to buy
+
Well secured charm
+
Delicate drop feature
+
Pretty pop of color
Reasons to avoid
-
Click fastening can take care
With a gorgeous blue gemstone within a cute teardrop setting, these gold huggie earrings by Auden Jewelry are great for combining with other pieces, but they're also pretty enough to steal the show alone. The hoop size lends itself well to hanging from the earlobe, but we also found that the charm is small enough that it doesn't get tangled in long hair or twist around on itself—ideal.

If you find dangling earrings too heavy, but like the overall drop effect, this pair strikes that balance perfectly, being comfy enough to wear for hours on end. If blue isn't quite your style, you've got seven equally as stunning other color options to choose from. Why not look into color analysis to further help you find your perfect match?
5. Seol & Gold Tiny CZ Huggies
The best huggie earrings with a tiny hoop
Specifications
Metal: 9ct gold
Inner diameter: 5mm
Outer diameter: 7mm
RRP: $37.85/£32
Reasons to buy
+
Sturdy hoop
+
Long-term wear
+
Five metal finishes to choose from
Reasons to avoid
-
A little fiddly to put in
These teeny tiny huggies feature a 2.5mm solitaire cubic zirconia stone and are the perfect delicate decoration for your ear. Delivered in a cotton bag with signature Seol & Gold neon pink and green details, due to their extra small size they fit higher lobe piercings well. Our testers did find that they could be a little fiddly to put in, but they do click into place securely, which minimizes their chance of falling out.
An excellent option if you prefer full gold earrings to plating, these hoops also lie flat enough to sleep in without any discomfort at all. So far, we've worn ours for three months straight and they haven't tarnished at all—impressive, we're sure you'll agree! A nice understated pair, these miniature earrings stand up to the task of long-term and layer effortlessly with other huggies, too.
6. Astrid and Miyu Orbit Crystal Huggies in Gold
The best huggie earrings for a shiny statement look
Specifications
Metal: 18k gold-plated sterling silver
Inner Diameter: 7mm
Outer Diameter: 9.5mm
RRP: $79/£55
Reasons to buy
+
Shimmery and stylish
+
Delicate
+
Lovely design
+
Available in gold, rose gold and silver
Add a bit of sparkle to your ear candy with this gorgeous pair of gold Mystic Crystal huggie hoops by Astrid and Miyu, one of the most popular affordable jewelry brands on the high street. While the simple look can be chic, we love to add a bit of shimmer and sparkle every now and again, especially if the rest of our outfit is minimalistic.

Jazz things up by wearing these huggies, scattered with an array of white cubic zirconias, along with a simpler design to compliment them. These huggies are made from sterling silver and are plated with 18-karat gold. Keep them in great condition by following our guide on how to clean your jewelry pieces, which will ensure they last for as long as possible.
7. Missoma Claw Huggies
The best huggie earrings with a timeless design
Specifications
Metal: 18ct gold plated vermeil on sterling silver
RRP: $84/£65
Reasons to buy
+
Comes in several metals (with stones too)
+
Timeless design
+
Fashion favorite jewelry brand
With a celebrity fan base that reads like the invite to a swanky red carpet event, Missoma is generally our go-to for all jewelry needs, being one of the best sustainable jewelry brands around. And, when it comes to huggies, there's no exception.
We love that they come in a few different metals too (18ct Gold Vermeil, Sterling Silver, 18ct Gold Vermeil Pavé, Sterling Silver Pavé, 18ct Gold Vermeil Black Pavé), which means there really is an option to suit every style and every budget.
How to choose huggie earrings to suit you
Just like all jewelry, selecting the right pair of huggie earrings largely comes down to your own personal style. Before you go in to check out potential picks, think about whether your goal is to wear multiple huggies in each ear, to opt for single earrings or pairs, or to combine them with other earring types like studs. Our dedicated guide on how to pick an ear piercing will provide you with some more inspiration if you're feeling a bit stuck, as will wising up on the biggest ear piercing trends of the moment.
It's also worth noting that some piercings will lend themselves better to different-sized hoops and huggie earrings; this also depends on how high up or how far into the lobe a hole is set.
You can also experiment with inner diameter sizes to get an idea of how snugly huggies will fit. As a general guide, huggies with an inner diameter of 6-7mm tend to neatly hug the earlobe. A 5mm inner diameter, on the other hand, will likely better fit an upper lobe piercing where there's less space between the hole and edge of your ear. Those with an inner diameter of 8mm or more will fit more loosely, so opt for this if you like a little more room between the huggie and your ear. On the other hand, the outer diameter measurements will steer you toward how chunky a pair of huggies is.
Consider the material and any gemstones, too, as well as the colors you gravitate towards most, how much money you're able to spend, and if any particular metals have a tendency to irritate your skin. The same goes for how you feel about lightweight earrings compared to chunkier styles.
Can you sleep in huggie earrings?
Due to their smaller size, huggie earrings tend to be more comfortable than regular hoops and are generally considered safe to sleep in. If they do cause you any discomfort at all while sleeping, however, be sure to remove them.
Our expert Dimmick notes: "Huggies are safer to wear than big hoops as there is less chance of getting them caught on clothing. They are also lighter, so they don't put pressure on the earlobe which makes them much more comfortable."
Are huggie earrings for pierced ears only?
You'll need to have your ears pierced if you want to start wearing any of these huggie earrings, yes. If you don't have any ear piercings, it is still possible to shop stylish ear cuffs that are an alternative to the real deal—though these tend to lend themselves better to the upper ear as a faux cartilage piercing, and aren't as secure.
Helen is a freelance writer, who has contributed to titles including Glamour, Grazia, The Independent, Fabulous and Fit & Well. Specialising in beauty, fashion, and lifestyle, she writes about new finds, standout brands, and expert insight. Helen loves multiple ear piercings, layering up looks and seeking out fresh style inspiration.