18 chic pairs of huggie earrings to suit every occasion and budget
Our shopping expert has handpicked the huggie earrings to accessorize every outfit, whether you're looking for luxury or searching for style on a budget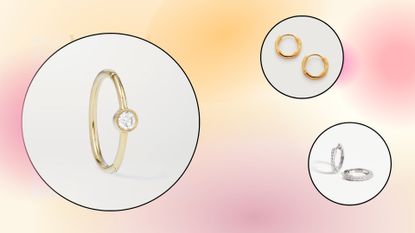 (Image credit: Maria Tash/Monica Vinader/Missoma)
Huggie earrings are the cute little sister of the classic big hoop and can be dressed up or down depending on your vibe of choice. While hoop earrings hang from your ear, huggie earrings are designed to—wait for it—"hug" the earlobe instead. They click shut for a secure fit and they look great both worn alone or stacked as part of an ensemble of earrings.
As they sit close to your ear, they're a great alternative to hoops if you want a comfortable accessory with none of the risk of getting caught in your hair or painfully pulled. And there are so many different designs on offer, from silver huggie earrings to Kate Middleton-approved chunky gold hoops.
The other great thing about huggie earrings is that, depending on where you're browsing, there is often a choice of sizes so you can decide how snug you'd like the earring to be. There is also a range of shapes to decide on, from classy rounded hoops to flatter styles that often have space for some sparkle.
Meet the expert on huggie earrings
Helen Dimmick is a leading gemmologist and stylist with more than 20 years of experience in the jewelry industry. Here she has advised My Imperfect Life readers on how to choose and style the best huggie earrings as part of an outfit.
What's the best way to style huggie earrings?
As gemmologist and stylist Helen Dimmick explains: "for the most effective look, I would mainly choose fine, slender styles and forms but always in multiple pieces… and you can always add a gem for a touch of color! They don't need to match, an eclectic combination chosen well can [also] be striking."
Although Dimmick notes that "huggies go beautifully with everything," she advises bearing in mind that "high necklines ensure that the focus is on the face, and therefore ears," when choosing an outfit from your capsule wardrobe.
How we tested the best huggie earrings
Today, the jewelry market is absolutely heaving with pretty pairs of huggie earrings, so narrowing them down to a curated edit of the best styles was no mean feat. To ensure we had the very best styles, our in-house testers took the following factors into account when making their final selection.
Price
Design
Quality of materials used
The brand's credentials
The best huggie earrings, chosen by our shopping experts
Best gold huggie earrings
Your choice of metal will come down to personal preference, but yellow gold jewelry is super on trend at the moment. At My Imperfect Life we believe that you should wear whatever makes you feel most comfortable and best expresses your sense of style. However, if you do want to choose jewelry based on your skin's undertone, gold is thought to best suit those with warmer or neutral tones.
Best silver huggie earrings
Silver huggies can also add a nice eye-catching something to your ears, and come with the added bonus that they are often cheaper than their gold counterparts. Taking a color analysis approach, just as gold jewelry suits warmer-toned skin, silver jewelry suits cool and neutral-toned skin particularly well.
Seol & Gold Tiny CZ Huggies
RRP: $39.65
Teeny tiny huggies featuring a 2.5mm solitaire cubic zirconia stone that will delicately decorate your ear. Due to their extra small size, they fit higher lobe piercings, and although fiddly to put in, they do click into place securely. They lie flat enough to sleep in without any discomfort; we wore ours for three months straight and they haven't tarnished at all. They also stand up to the task of long-term wear while effortlessly layered with other huggies, too.
Lucy Williams Tiny Orb Hinged Hoop Earrings
RRP: $59
A classic design from the Lucy Williams x Missoma collection, these tiny hoops feature orb detailing for a chic, understated look. They'll pair well with a fully curated ear, but also work well when worn alone—and they're available to buy in both sterling silver and the brand's signature 18ct gold plated vermeil finishes.
Astrid & Miyu Wave Silver Huggies
RRP: $80
With a simple, slightly curved design made from rhodium-plated sterling silver, these Astrid & Miyu huggies are a nice little twist on a completely plain pair of huggies. They're elegant enough to be worn alone, or would make a great part of a curated ear with other studs and hoops.
Missoma Classic Pave Huggies
RRP: $84
Not all of us can stretch to a pair of actual diamond huggies, and so cubic zirconia is often the way to go for a sparkly pair that won't break the bank. Missoma's pave huggies are super pretty, reasonably priced, and are a great piece for stacking.
Estée Lalonde Mini Bold Huggie Earrings
RRP: $101
Part of a collaboration between Estée Lalonde and Daisy Jewellery, these chunky and eye-catching silver hoops are the perfect finishing touch to just about any outfit, in our opinion. For those gold jewelry fans, they're also available in 18ct gold plate.
Best diamond huggie earrings
They have a long-held reputation for being a girl's best friend, but diamonds will add a considerable amount to your basket total than a plainer pair of gold or silver hoops. That aside, this investment piece will make a classy and timeless addition to any jewelry collection.
How to choose the best huggie earrings for you
Just like all jewelry, selecting the right huggies partly comes down to your own style. Before checking out potential picks, think about whether you want to wear multiple huggies in each ear, go for single pairs, or combine with other earring types (or check out our guide on how to pick an ear piercing). Some ear piercings work better with different-sized huggies, and that also depends on how high up or into the lobe a hole is set.
Explore inner diameter sizings to get the best idea about how snugly the huggies will fit. As a general guide, huggies with an inner diameter of 6 or 7mm neatly hug the lobe. A 5mm inner diameter is likely to fit best on an upper lobe piercing, where there's less space between the hole and edge of your ear. Those of an 8mm inner diameter or more are a looser fit, if you like a little room between huggie and ear, all hail the traditional hoop vibe. Similarly, outer diameter measurements will steer you towards how chunky huggies are.
Think about material and gemstones, the colors you gravitate towards most, what you fancy spending and whether any metals typically irritate your skin. The same goes for how you feel about lightweight versus chunkier earrings.
Can you sleep in huggie earrings?
Due to their smaller size, huggie earrings tend to be more comfortable than normal earrings and therefore are comfortable and safe to sleep in. If they cause you discomfort while sleeping however, make sure you take them off before you go to sleep.
Are huggie earrings for pierced ears?
Yes—you'll need to have your ears pierced if you want to start wearing huggie earrings!
Helen is a freelance writer, who has contributed to titles including Glamour, Grazia, The Independent, Fabulous and Fit & Well. Specialising in beauty, fashion, and lifestyle, she writes about new finds, standout brands, and expert insight. Helen loves multiple ear piercings, layering up looks and seeking out fresh style inspiration.