Best huggie earrings: stylish hoop earrings for all budgets
Searching for huggie earrings? From splurge-worthy to budget-friendly, discover our top hoop picks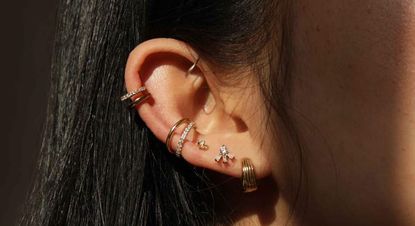 (Image credit: Astrid & Miyu)
If you're on the hunt for huggie earrings, look no further. Huggies are an easy go-to, whether it's a loungewear or dressed-up kind of day and we're here to help you find the best huggie earrings to suit both your taste and price range.
What are huggie earrings?
Hinged small hoops placed through a piercing and clicked shut, huggie earrings hug (duh) the earlobe. Going full circle right around your lobe, you can wear them as a single pair or stack 'em up.
The best huggie earrings to add to your collection
Whether you're after silver huggie earrings or Kate Middleton-approved chunky gold hoops, we put a few pairs to the test to find out where you should invest your money. Our favorite huggies are the standout quality, classically stylish Scream Pretty's Bezel Huggie Hoop Earrings with Ruby Pink Stones. Small yet sturdy snug huggies, they neatly embellish your ear with four bezel set pink stones.
And at a higher price point, we equally rate the celestially-adorned, beautifully made Tada & Toy Cosmic Star Tiny Hoops. A more relaxed fit, Tada & Toy's huggies are lightweight and comfy to wear. We're feeling starry-eyed over their decorative detail.
1. Dior earrings in Gold from Vestiaire Collective
The best luxury huggies
Specifications
Metal: Gold plated
Outer diameter: 19mm
Reasons to buy
+
Chunky contemporary design
Reasons to avoid
-
Not suitable for those that prefer dainty jewelry
Sold via Vestiaire Collective—our go-to luxury resale store—these are the perfect way to update your earring collection. The ribbed design on these Dior Huggies keeps these the right side of chunky and whatever the occasion—whether it's low-key or you're going out-out—they easily find their way into your wardrobe.
2. Scream Pretty Bezel Huggie Hoop Earrings with Ruby Pink Stones
The best huggies for everyday style
Specifications
Metal: 18ct gold plated sterling silver
Inner Diameter: 6mm
Outer Diameter: 11mm
Reasons to buy
+
Neatly comfortable
+
Sparkling bright stones
Reasons to avoid
-
Won't fit higher set piercings
A pink-hued pair in sterling silver with 18ct gold plating, these colorful huggies sit firmly in place on your ear. The four round bezel set stones are pink nano cubic zirconia, and really catch the light. Covering the earring's front half, their fit creates a delicate scalloped edge. Hard-wearing huggies, the circular shape doesn't bend with wear and neither does their click post fastening.

Size-wise, these earrings are on the daintier side. They do work well in the lower and main lobe as well as cartilage but may be too tight to click shut in a larger lobe or higher set piercings. Arriving packaged within a branded box, they're available in sterling silver with rhodium plating, too.
3. Tada & Toy Cosmic Tiny Star Hoops
The best huggies for a pay-day treat
Specifications
Metal: .925 sterling silver
Inner diameter: 10mm
Outer diameter: 12mm
Reasons to buy
+
Strong clasp
+
Intricate detailing
Reasons to avoid
-
If you're looking for snug huggies, these aren't for you
Sterling silver larger-style huggies, their piece de resistance is four tiny gold-plated stars. Excellent quality earrings, the hinge, clasp and earring shape are impressively robust for hoops.

Available in 18ct gold or rose gold plated vermeil on sterling silver with gold or silver accompanying stars —you can pick your favourite colorway. And the option to wear silver and gold together adds extra versatility for accompanying jewelry, too. We love stacking mixed metals and this pair ties them all in nicely together.

Luxuriously presented, you'll receive a bundle including care instructions, branded canvas bag with ribbon tie and inside, the huggies in a classic cardboard box. They undoubtedly feel like a special huggies buy, down to every last detail.
4. Jewellerybox Silver Chain Huggies
The best budget huggies earrings
Specifications
Metal: .925 sterling silver
Inner diameter: 11.8mm
Outer diameter: 13mm
Reasons to buy
+
Value for money
+
Chain detail
Reasons to avoid
-
Not the most delicate piece of jewellery
A pair of sterling silver huggies with on-trend chunky chain detailing, these are your bargain buy coming in at under ten bucks. Bigger than a snug-fit huggie, the edgy style matches their larger size. The entire earring hoop (other than its hinge and clasp) is a rigid 3mm wide chain. They are packaged in a cute brown envelope, sealed with a sticker.

This lower-cost option saves you cash without compromising on style. They are striking hoops and are ideal if you love silver jewelry, with a twist. The chunky composition means they're in no way flimsy either. Working for each part of the lobe, you can layer up with multiple pairs and build a bolder look.
5. My-Wishbone Snowflake Mini Hoop in gold-plated
The best huggies for a drop earring effect
Specifications
Metal: white gold plated .925 sterling silver
Inner diameter: 7mm
Outer diameter: 10mm
Reasons to buy
+
Well secured charm
+
Delicate drop feature
Reasons to avoid
-
Click fastening can take care
A glittering huggie option thanks to its snowflake charm, this petite white gold plated pair adds subtle sparkle. Made up of a main huggie hoop, the firmly fixed charm attachment creates a drop earring. These huggies are a suitable size to work in any ear piercing, sitting snug alongside the lobe. Plus, the charm is small enough not to tangle up in your hair or get twisted around.

If you find dangly earrings too heavy but like the drop effect, they'll fit the bill, being comfy enough to wear for hours on end. Like the ARO pair above, take extra care with their delicate click clasp to avoid bending out of shape. When not glitzing up your ear, pop them in their presentation box.
6. Seol & Gold Tiny CZ Huggies
The best huggies for a tiny hoop
Specifications
Metal: 9ct gold
Inner diameter: 5mm
Outer diameter: 7mm
Reasons to buy
+
Sturdy hoop
+
Long-term wear
Teeny tiny huggies featuring a 2.5mm solitaire cubic zirconia stone, these 9ct gold beauties will delicately decorate your ear. The earrings are delivered in a cotton bag with signature Seol & Gold neon pink and green details. Due to their extra small size, they fit higher lobe piercings, and although fiddly to put in, do click into place securely.

A top find if you prefer full gold earrings to plating, they lie flat enough to sleep in without any discomfort. So far, we've worn ours for three months straight and they haven't tarnished at all. Bringing understated ear bling, these miniature earrings stand up to the task of long-term wear while effortlessly layering up with other huggies, too.
7. Astrid and Miyu Mystic Crystal Huggies in Gold
The best huggies for a shiny statement look
Reasons to buy
+
Shimmery and stylish
+
Delicate
+
Lovely design
Add a bit of sparkle to your ear candy with this gorgeous gold Mystic Crystal huggie by Astrid and Miyu. While the simple look can be chic, we all love a bit of shimmer every now and again, especially if the rest of your outfit is pretty minimalist.

Jazz things up by wearing this huggie, scattered with an array of white cubic zirconias, with some basic hoops that compliment it. The huggie is made from sterling silver and is plated with 18-karat gold.
8. Orelia Clean Edge Huggie Hoops - Gold
The best huggies for an edgy look
Reasons to buy
+
Has character
+
Unique design
+
Purse-friendly
Reasons to avoid
-
Doesn't contain real gold but has a brass base
These huggies are perfect for anyone looking to switch things up with an edgy addition to their stack. Unlike your classic go-tos, the chunky style features a cool design that adds a bit more character to your jewelry look.

Pair it with some delicate hoop designs to make it really stand out. Plus, did we mention it's a total bargain at just $25 (£18)? What's not to love?
9. Missoma Claw Huggies
A timeless classic from our go-to jewelry brand
Reasons to buy
+
Comes in several metals (with stones too)
+
Timeless design
Reasons to avoid
-
Can be on the pricey side
With a celebrity fan base that reads like the invite to a swanky red carpet event, Missoma is generally our go-to for all jewelry needs. And, when it comes to huggies, there's no exception.
We love that they come in a few different metals too (18ct Gold Vermeil, Sterling Silver, 18ct Gold Vermeil Pavé, Sterling Silver Pavé, 18ct Gold Vermeil Black Pavé) which means there really is an option to suit everyone (and every budget).
How to choose the best huggie earrings for you
Just like all jewelry, selecting the right huggies partly comes down to your own style. Before checking out potential picks, think about whether you want to wear multiple huggies in each ear, go for single pairs, or combine with other earring types (or check out our guide on how to pick an ear piercing). Some ear piercings work better with different-sized huggies, and that also depends on how high up or into the lobe a hole is set.
Explore inner diameter sizings to get the best idea about how snugly the huggies will fit. As a general guide, huggies with an inner diameter of 6 or 7mm neatly hug the lobe. A 5mm inner diameter is likely to fit best on an upper lobe piercing, where there's less space between the hole and edge of your ear. Those of an 8mm inner diameter or more are a looser fit, if you like a little room between huggie and ear, all hail the traditional hoop vibe. Similarly, outer diameter measurements will steer you towards how chunky huggies are.
Think about material and gemstones, the colors you gravitate towards most, what you fancy spending and whether any metals typically irritate your skin. The same goes for how you feel about lightweight versus chunkier earrings.
Can you sleep in huggie earrings?
Due to their smaller size, huggie earrings tend to be more comfortable than normal earrings and therefore are comfortable and safe to sleep in. If they cause you discomfort while sleeping however, make sure you take them off before you go to sleep.
Are huggie earrings for pierced ears?
Yes—you'll need to have your ears pierced if you want to start wearing huggie earrings!
Helen is a freelance writer, who has contributed to titles including Glamour, Grazia, The Independent, Fabulous and Fit & Well. Specialising in beauty, fashion, and lifestyle, she writes about new finds, standout brands, and expert insight. Helen loves multiple ear piercings, layering up looks and seeking out fresh style inspiration.