Jada Pinkett Smith just hinted that Will's Oscar slap will be discussed on Red Table Talk
Jada revealed that her family is focusing on 'deep healing" and may share their 'discoveries' on Red Table Talks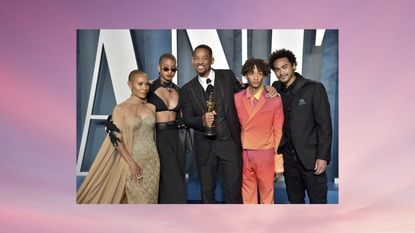 (Image credit: Photo by Lionel Hahn/Getty Images)
Jada Pinkett Smith has revealed that she may be brining her family to Red Table Talks to discuss Will Smith's Oscar slap.
For weeks, social media users have been joking about the Smith family addressing their own issues on the show, in which they usually help guests resolve past traumas and unpack a variety of topics from mental health to family feuds. Now, it seems we could actually be getting just that, with Jada hinting at the idea of the family sharing their 'discoveries' following the incident on their famous talk show.
In a written statement introducing the new season of Red Table Talk, the actor and host expressed that her family are focusing on "deep healing" following the scandal that left Will Smith banned from the Oscars following his altercation with Chris Rock. The King Richard star also resigned from the Academy's Board, after apologising to Chris Rock.
The slap shocked the world in what was definitely the biggest WTF-moment in Oscars history, as Smith charged up onstage and slapped Rock across the face, shouting "Keep my wife's name out of your f*cking mouth!" after Rock made an insensitive joke about Jada's shaved head, which is a result of hair loss.
He later apologised for his actions in his acceptance speech for winning the Best Actor category, saying: "I know, to do what we do, we got to be able to take abuse. You gotta be able to have people talk crazy about you. In this business, you gotta be able to have people disrespecting you and you gotta smile and pretend like that's okay...I want to be a vessel for love."
"Considering all that has happened in the last few weeks, the Smith family has been focusing on deep healing," Jada wrote in the new statement. "Some of the discoveries around our healing will be shared when the time calls."
She added: "Until then … the table will continue offering itself to powerful, inspiring, and healing testimonies like that of our incredibly impressive first guest. Thanks for joining us."
Naturally, this has made us all wonder whether we will be seeing the family revisiting the scandal on the new season of the show and the all-important question, will Chris Rock be joining them? For now, we'll have to wait and see!
In the meantime, the trailer for the fifth season of Red Table Talks dropped on April 19, with guests including Janelle Monáe, Oscar-winning actress Kim Basinger and her daughter Ireland Baldwin (Hailey Bieber's cousin), the parents of Miss USA Cheslie Kryst who died by suicide earlier this year and victims of the Tinder Swindler.
Sagal is a journalist, specialising in lifestyle, pop culture, fashion and beauty. She has written for a number of publications including Vogue, Glamour, Stylist, Evening Standard, Bustle, You Magazine, Dazed and Wonderland to name a few.