Does Jennifer Lawrence have red hair and bangs now?
As new pictures of an apparent hair transformation emerge, has J-Law ditched her signature blonde?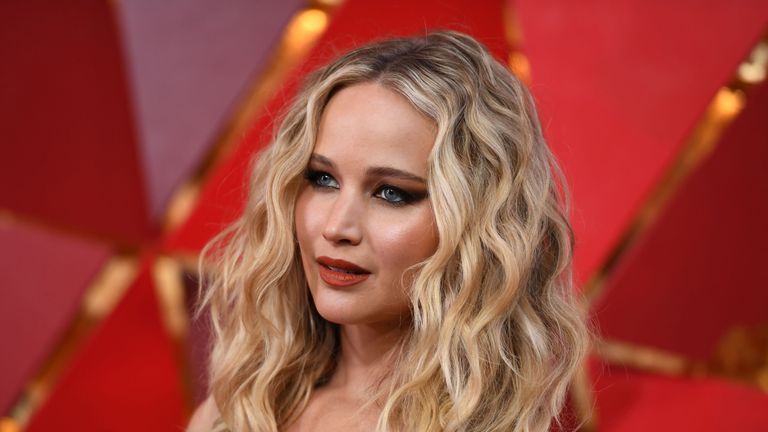 (Image credit: Getty Images)
New pictures have emerged of Jennifer Lawrence with hair that's VERY different to her usual look, and naturally her fans have questions.
Although she was brunette while playing The Hunger Games' Katniss Everdeen, most of us recognize J Law as the blonde as she has been for years.
The star is also no stranger to bob hairstyles, with her hair regularly styled with waves or some kind of updo for the red carpet.
This week however, J-Law was spotted with bright red hair complete with a full fringe – and don't know about you, but it certainly shocked us.
On closer inspection however, it seems that J-Law's new 'do is all to do with an upcoming film.
The actor is currently shooting a movie with Leonardo DiCaprio, Don't Look Up, in which they play a pair of astronomers on a mission to warn the world of a massive impending asteroid collision. Also known as the end of the world. Yikes.
While she's firmly cemented in our minds as a blonde, die hard fans of the actress may remember that she accidentally went red back several years ago.
Her hairstylist told InStyle in 2012, "Her new color is actually a happy accident. It's been colored and re-colored so many times I told her to give it a break and use stripping shampoos."
We've no confirmation as to whether or not this new look is Jennifer's actual hair but, as she's filming, there's a chance it's a wig.
If not, we applaud J-Law for taking the plunge!
Lucy is a beauty journalist who has written for titles including Marie Claire, Cosmopolitan, Women's Health, InStyle and Woman & Home, and regularly contributes to My Imperfect Life. Most recently she was Junior Beauty Editor at Marie Claire. Covering skincare, haircare, make-up and wellbeing, her job involves anything from picking the brains of the world's top dermatologists to swatching the latest and greatest foundations. When she's not got beauty on the brain, you're most likely to find her spending time with dogs (her sister owns one very sassy cockapoo), reading or sleeping. She's also a big fan of RuPaul's Drag Race, rosé and and house plants that stay alive.