'Juiced-up' skin: meet the new clean beauty trend for 2021
When clean beauty and the produce aisle hook up.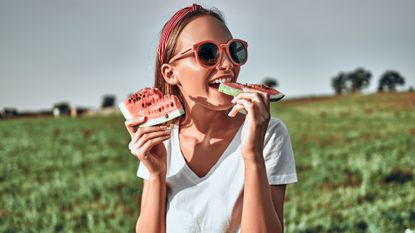 (Image credit: Harbucks/ Getty Images)
With sales of orange juice soaring in the pandemic, you're probably on pretty good terms with your citrus press. Now Whole Foods is naming 'juiced-up' skincare as one of the biggest beauty trends of 2021.
"Produce-aisle favourites are now playing starring roles in new beauty products," claimed the Whole Foods's trend report. "New skin-care and self-care essentials will make you rethink how to take full advantage of top superfoods. From celery and mushrooms to blueberries, who knew that your go-to ingredients for juices, smoothies, and salads could help your skin appear a little brighter and firmer?"

Who knew indeed? But with the wellness industry now worth approx $4 trillion, it makes sense for the beauty world to tap into its influence. Step aside best retinol serums as a cursory glance at ingredients lists is set to read more like the menu at your local juice bar with kale, broccoli and green tea playing starring roles.
Celery's ability to boost hydration in the body is vaunted so it's hardly surprising that it's performing the same role in our best moisturizer for dry skin. Blueberries are a great source of antioxidants and dermatologists recommend an 'inside and out' approach by including them in our diets as well as applying them topically to defend against the ravaging effects of UV and pollution.
Although a lesser-known skincare ingredient, mushrooms are considered powerful anti-inflammatories - and given that most symptoms of ageing are linked to inflammation, they're good for S.O.S moments.
Fancy trying the trend? Keep scrolling for some 'juiced-up' skincare heroes...
Celery: Cocokind Pore Refining Concentrate
Avocado: Yes To Avocado Cream Mask
Wheatgrass: Philosophy Nature In a Jar Balm Mask
White shiitake mushroom: Biossance Squalane + 10% Vitamin C Dark Spot Serum
Fiona Embleton is a multi-award-winning beauty editor who has tested over 10,000 products in her 10 years + of writing and shooting beauty stories. For the past four years, she was the Senior Beauty Editor at Marie Claire, having previously worked in the role of Beauty Editor at both Stylist and Cosmopolitan. She has recently gone freelance and alongside My Imperfect Life, she has written for titles including ELLE UK, ELLE Canada, Buro 247, Harper's Bazaar Arabia, Vogue Scandinavia, and ES Magazine. Beauty journalism allowed her to marry up her first-class degree in English Literature and Language (she's a stickler for grammar and a self-confessed ingredients geek) with a passion for make-up and skincare, photography, and catwalk trends. She loves jumping on the latest internet-breaking beauty news, dissecting the best red carpet looks, and having the crème de la crème of dermatologists, make-up artists, and hairstylists on speed dial so she can tap them for the best advice. She's a discerning beauty shopper and knows it can be confusing trying to navigate what's hype and what really works. So if she really likes something, you can trust that she has reached that opinion by vetting it against everything else she's ever tried. Her career highs? Interviewing Cate Blanchett and winning a Jasmine Award for the deeply personal feature Cancer Stole My Mother's Scent.