Kamala Harris and Nancy Pelosi make history at the presidential address
Together, Kamala Harris and Nancy Pelosi brought serious girl power to Biden's first address of Congress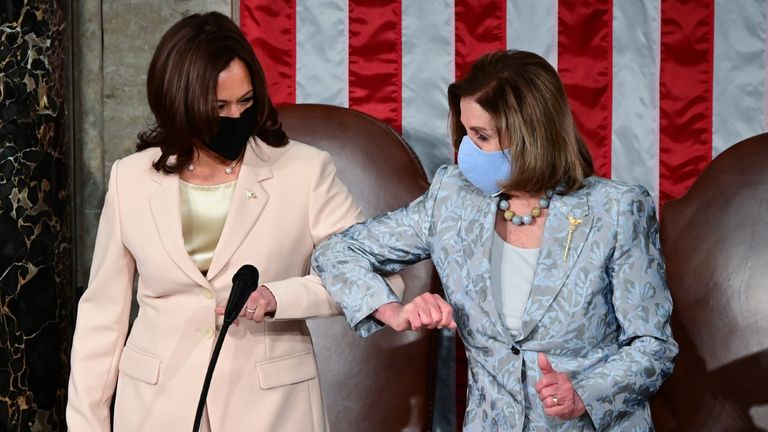 (Image credit: Getty Images / Bloomberg / Contributor)
Kamala Harris and Nancy Pelosi are no strangers to making history: the former as the first woman, Black-American and South Asian person to serve as Vice President of the United States, and the latter as the first woman elected as Speaker of the House. 
The inauguration of Joe Biden was a powerful moment for women everywhere, especially when Amanda Gorman performed as the youngest ever inaugural poet.
And now President Joe Biden has given his first address to a joint session of Congress, showing viewers—and the world—a very powerful and historic sight, as Vice President Harris and House Speaker Pelosi stood behind the president onstage during the address. This is the first time that two women have held these positions of power. 
She did it first: 20 women who set records, made history and changed the world in 2020
President Joe Biden said in his speech: "Madam Speaker, Madam Vice President. No President has ever said those words from this podium and it's about time."
The whole occasion was a powerful statement on gender equality.
VP Harris tweeted: @POTUS: "America is on the move again. Turning peril into possibility. Crisis into opportunity. Setback into strength."

Speaker Pelosi also wrote: "Tonight, the American people heard @POTUS deliver a unifying message of resilience, resolve and hope."

Viewers loved the sight of two women standing behind POTUS at such an event. One Twitter user wrote: "Young girls everywhere are learning if Kamala and Nancy can do what they dream, they can too!"

Another said: "How freaking great is it to see Kamala and Nancy sitting up there?? Wow."
 

A third deemed the moment historic: "Vice President Kamala Harris and Speaker Nancy Pelosi in this historic moment as the two most powerful women in U.S. History."
Naomi is trainee news writer who writes for My Imperfect life, Woman & Home and Goodto. Naomi writes articles from fashion trends and skincare to entertainment news.