This star sign will apparently be the luckiest in love in 2021
If you have this star sign you'll be lucky in love in 2021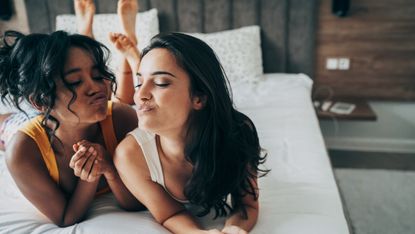 (Image credit: Getty)
Your love life may have been hit by the pandemic this year, but in 2021, with the promise of a vaccine, we'll hopefully have some sort of normality again.
And it seems one lucky star sign is set to have a stellar of a year when it comes to dating and romance - according to one well-known astrologer.
Susan Miller, who shares her predictions for each star sign on wellness site Well and Good has revealed that Libras will 'win the jackpot' when it comes to love in 2021.
Lucky Libras! So what do they have in store for them?
The astrologer began with how it's been a hard few years, when it comes to love, for Libras. However, even if they're coupled up, their luck is about to change.
Miller said in her predictions for next year, for those born under the star sign: "If they gave a proposal during those three years and worked hard on it and finally got someone interested, that's where the profit is going to be."
However, she also went on to suggest that single Libras, who have been working hard on their love lives this year will reap the benefits too. So if you've been hammering those Zoom dates and getting nowhere, then next year could be where it all comes together.
"It's about what they did just before now, what they put in place." Miller predicts: "Saturn always leaves a gift by the door as fast for dealing with its vigorous training. So they'll have that this year too, which is really nice."
Miller, who is the founder of Astrology Zone, also went on to advise that for Libras to get the most out of 2021 they should avoid chaotic periods - when Mercury is in retrograde.
Mercury retrograde, which happens a few times every year, including between January 30 to February 21 and May 29 to June 22 - could interfere with any communication signals.
Take note, Libras!
Cute astrology-themed gifts
Brand
Colour
Price
Refine ☵
Sort By
Freelance lifestyle journalist for @BBCBusiness @Womanandhome @ESlifeandStyle @TheIndyBest / co-host of @getajobpodcast and founder of PR secrets. I specialise in health and wellbeing, travel, business, human interest, beauty, and in-depth features.