The best astrology gifts for the Zodiac fan in your life
In our selection of the best astrology gifts—from homeware to clothing—you'll find something every spiritually-connected sign will appreciate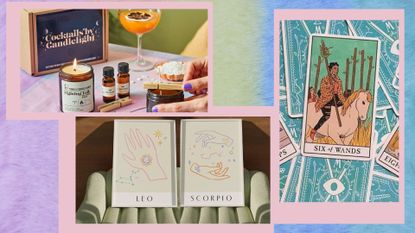 (Image credit: Future)
Thanks to the popularity of Zodiac-themed products, finding cute astrology gifts has never been easier; whether you're after homeware, fashion, or meaningful jewlery, there's something on offer for every astrologically-minded person!
After all, we all have that one friend who checks their weekly horoscope without fail, knows the exact dates of Mercury Retrograde. So, when a special occasion such as Christmas comes round, (or their birthday) an astrology-themed gift is always bound to go down well. But there's a fine line between classy and tacky when it comes to astrology-inspired products—you want something cute, fun and significant, but not something that looks like you just randomly picked it up at the local dollar store, whilst in the queue to pay for something else.
If you're struggling to find something that is suitably thoughtful for your astrology-obsessed loved one this festive season, that's where we come in: we've rounded up some of the best products right now across all of the best astrology categories. From Zodiac-themed candles, to birthstone jewelry, and even clothing with nod to your loved ones astrological proclivities, there are plenty of options. And if astrology gifts aren't really your thing, we've also expertly picked out the best wellness gifts and the best cozy gifts—you know, if you're putting together your own Christmas wish list this December...
Best astrology gifts for each Zodiac sign
If you're looking for astrology gifts targeted at specific Zodiac signs, check out our guides for each star sign here:
Best astrology gifts for those who live by their horoscope
1. Astrology books
The best way to immerse yourself in astrology and learn all it has to teach is to read all about it. The are a plethora of books out there to add to your reading list, whether you're new to the world of the zodiacs, or want to expand your existing knowledge base.
Zodiac books by Stella Andromeda
RRP: $8.89/£7
These books by author Stella Andromeda are a great start if you're looking to dive into the astrological world. Not only are they pretty on the outside, coming in cute pastel shades that will seriously pop on your pal's bookshelf (or coffee table), but they're full of gems on the inside, too. Available in each zodiac sign, the book series explores the ancient art of astrology to provide insight into what's written in the stars.
The Complete Guide to Astrology by Louise Edington
RRP: $5.45/£11.99
If you're new to astrology, this handy book will give you a great introduction, with all you need to know about the foundations and historical origins of the practice. But Louise Edington's book also delves deeper those those who have that base of knowledge too, and explores more complex parts of astrology including the influence of certain plants (hello, Mercury Retrograde), and moon signs.
The Magic of Astrology by Jessica Allen
RRP: $9.99/£11.55
This is a great gift option if you've got a loved one who is keen to learn more about themselves via astrology. Inside you'll find whole chapters on each zodiac sign, covering everything about how your sign relates to your personality. There are also charts to help you navigate things like decor and travel based on your star sign, as well as bonus material like compatibility charts. Your friend/family member will love diving into this!
2. Astrology necklaces
Birthstone jewelry is an excellent option if you're after sentimental astrology gifts that your loved one can keep close to them every day. There are an array of pendants on offer at brands like Missoma, Monica Vinader and Swarovski (to name a few). And you can also engrave many of the birthstone necklaces available, so you can give an already stunning gift that extra personal touch with a special message.
Pandora Birthstone pendant
RRP: £85/$115
This birthstone pendant is Rhodium plated and each one comes with your relevant birthstone in the form of a brilliantly-cut crystal. The zirconia silver chain is off-set really nicely by the colorful gem. This gemstone necklace is something we'd love for ourselves, but it's also a stunning option if you're looking for a Christmas gift for your girlfriend this year.
Lily & Roo Diamond Zodiac Necklace
RRP: $203.68/£175
This diamond necklace is a lovely way to express an interest in the zodiac in a stylish way. Choose the correct star sign (all are different symbols), as well as the material you want the necklace to be—choose from gold or white gold. You can then also choose the chain length, and even get this beautiful piece gift wrapped ready for the holidays.
View at Not On The High Street in the US
Stone and Strand Birthstone necklace
RRP: $275/£270
This elegant, simple gold birthstone necklace is really special, with a fine gold chain and a small attached gemstone, corresponding to yours or your recipients birth month. Hand crafted from gold, the dainty chain would look equally stylish on its own, or layered up with other gold pieces you might have in your jewelry box.
View at Net-a-Porter in the US
3. Astrology mugs
A nice mug for the tea and coffee lover in your life will always go down a treat, especially if it is personalized with their Zodiac sign. Whether they want to show off their sign with pride or have a personal characteristic that fits their Zodiac perfectly, a mug will help them approach every breakfast time in starry style!
Oliver Bonas moon & star ceramic mug
RRP: $20.50/£14
If you think your giftee would prefer an astrology based gift that is more subtle, this simple yet pretty ceramic mug from Oliver Bonas is perfect. Coming in a celestial blue color with a muted gold star and moon design on either side, it's ideal for their morning cup of coffee or tea.
View at Oliver Bonas in the US
Constellation heat reveal mug
RRP: $20.72/£9.99
This color change mug is a fab choice for your astrologically-minded bestie or co-worker—they'll receive the mug in the black night-sky design, and as they pour a hot drink into it, it will lighten to reveal multiple star constellations! They won't want to stop drinking their morning beverage...
Typo Aries graphic print star sign mug
RRP: £6 (UK only)
For those who practically live and die by the characteristics of their star sign, this is a great inexpensive gift for them to chill out with. With a funky graphic print, there's also some text about the relevant star sign's personality, so your friend can read and learn as they drink.
4. Astrology earrings
If your recipient is always accessorizing with a pair of eye-catching earrings or has multiple piercings to play with, a pair of astrology earrings will likely be a welcome addition to their jewelry box. You can even get earrings with their personal birthstone on them. And for that special someone, the celestial pieces below are sure to be treasured for years to come.
PD PAOLA Zodiac gemstone earrings
RRP: $56/£56
This gemstone earring set comes in the shape of your chosen star sign's constellation, which results in a really colorful and unique design. Made with 18ct yellow-gold plating, and various gems including rose quartz, malachite and lapis lazuli—we reckon this would make for a really special gift for the lady in your life.
Oliver Bonas Celestial Drop Stud Earrings
RRP: $18.50/£12.50
Give your gift recipient a chance to mix up their jewelry box with these star and moon stud earrings, which can be worn together for a unique look, or separately if they want something a bit more uniform. With pretty, multi-colored gems adorning the front, they'll add a bit of sparkle to any outfit.
View at Oliver Bonas in the US
Yasmin Everley Jewellery Astrology Earrings
RRP: $91.95/£79
For something more subtle, these earrings are perfect. Made up of a circle (the brand explain that the Ancient Greeks considered this to be the perfect shape), with each star sign's constellation inside, they give a nod to the zodiac without being too obvious. Just choose the sign you need from the drop-down list.
View at Not On The High Street in the US
5. Astrology journals
Journals are a great way to document your spiritual journey, making them one of the best astrology gifts. Depending on the one you choose, you can find journals which highlight important astrological dates and transits, to explanations of the lunar phases and moon rituals. They're also super cute, and make for a great way to incorporate astrology into your daily and weekly planning. And if you're not entirely sure how to get started, see our guide to journaling for beginners.
RRP: $13.81/£11.24
Factor astrology into your day-to-day with this diary, which features daily insights and coaching tools to help you plan your days according to the cosmos. Handily, the diary is divided up into the star signs, and charts how the sun's movement through the zodiac can affect everyones energies. It's the perfect tool for noting your feelings, and tasks, according to the zodiac.
RRP: $21/£15
We adore the blue and gold constellation design on this oh-so-pretty journal—and the inside is even better. With 240 lined pages, it also includes lots of astrological information in the front—including different star patterns and times of the world, to help in your zodiac journey. Each page also has space for a 'subject' line and a date, to help you keep track of your daily tasks.
View at Design Works Ink in the US
RRP: £26 (UK only)
This is actually a wellness journal, but you can choose your relevant star sign to adorn the front cover. Inside, you'll find a wellness map, pages for your goals, and 12 weeks of space to mark your daily intentions, sleep, exercise and other wellness-related goals. If you want to, you could even pop in how astrological events, such as Mercury Retrograde, are making you feel!
6. Astrology candles
Who doesn't love a good candle? We'll be the first to admit that we've made our way through many of the best scented candles during our self-care days, but for astrology lovers, the candle game is even better, as there are a plethora of zodiac and birth candles out there to fill your space with.
Etsy Hidden Gemstone Healing Soy Wax Candle
RRP: £12.75+/£13.23
This handmade reiki-charged candle is unique, in that it also comes with a star sign-based gemstone, which you'll find located inside the actual candle. In terms of scents, you can choose either a unique blend based on star sign (we're intrigued), or you can choose a more classic scent, such as island getaway, rose garden, or mocha frappe.
Birth Date Zodiac Gift Candle
RRP: $23.28/£20
Astrology fans will love this unique candle that comes imprinted with their exact birth date, and all of the associated astrological facts—making it a brilliant birthday gift if you've already got all of their Christmas presents! The candle itself is scented with a unique blend of vanilla, rhubarb and strawberry, which is sure to please all noses.
View at Not On The High Street in the US
Typo Scorpio starsign candle in black
RRP: £12 (UK only)
Similarly to the Typo mug, this single-wick Typo candle features a fun graphic print of each star sign, with information about the star sign's characteristics below that your loved one can read as they light their candle. It's a soy-wax blend so its non-toxic and safe for burning throughout the day, and has a comforting vanilla scent.
7. Astrology cards
Whether your recipient is an expert in all things astrology or are just starting out in their Zodiac exploration, a set of pretty tarot cards is a super interesting gift. If your friend is already a pro at interpreting the spiritual messages then a fresh set will be appreciated; and if they've never given it a go but want to learn how to use tarot cards, gift them their first pack to get them started.
The Modern Witch Tarot Deck
RRP: $16.90/£17.75
This deck features fun illustrations and 78 cards in total, and was created by artist Lisa Sterle in order to reflect the diversity and energy of the new spiritual world. Inside the deck you'll find all the classic cards, from The Chariot to The Empress. This would be a great deck to gift a spiritually-minded loved one.
The Illuminated Tarot by Caitlin Keegan
RRP: $16.48/£12.99
We love how luxe this 53-card tarot deck looks, with gold illustrations and a deep blue cover that will look stylish displayed in any home. This set comes with a handy instruction booklet too, if you're gifting someone who hasn't tried their hand (get it?) at reading cards yet. It can even be used to play traditional card games!
PERFBAPO Tarot Deck with Guidebook
RRP: £10.99 (UK only)
If you're buying for a true beginner, this set could be perfect. Not only do you get a complete tarot set, but you'll also get a guidebook (for beginners), sharing the meanings behind each card, and with a general introduction to tarot readings. The cards have been beautifully designed, too.
8. Astrology homeware
With the amount of astrology and zodiac inspired homeware around, it can be hard to pick the right pieces—especially ones that complement your loved one's home and personal space. That's why we've narrowed down some cute pieces that work and bring some positive energy wherever they're placed. The Etsy zodiac sign prints below are one of our favorites at the moment, and so affordable!
RRP: From $35/£36.06
We adore these abstract zodiac posters, which can be bought in a variety of sizes from 8x10in to 27.5x39in. You can choose two zodiac signs as part of the pair, each of which will (of course), come with a different design as per the zodiac's symbol. If buying for a loved one, why not choose yours and their star sign? Or perhaps theirs and their partners? The options are endless!
RRP: $18.99/£17.99
Summon the energy of the moon in your home with this stylish yet subtle gold wall hanging, illustrating the varying phases of the moon. And your loved one can place their new piece of lunar-inspired decor anywhere—be it above their bed, across a wall in their living space, or over their dining table for a truly celestial experience. One of the most affordable zodiac gifts!
RRP: £17.99 (UK only)
Send you loved one off into peaceful dreams with this mystical, deep blue bedding set, which includes the actual duvet cover and two matching pillowcases. And not only is it extremely affordable—it's also super stylish. It's actually reversible too, meaning your friend or family member can alternate between the blue seen here, or a white and gold design.
9. Astrology make-up
Some of our favorite beauty brands are embracing the ever-growing astrology phenomenon by releasing zodiac and galaxy inspired make-up, much of which is thanks to the TikTok beauty hacks that are so popular right now. From Spectrum's zodiac brushes to Huda Beauty's astrological eyeshadow palette, we're so here for the cosmic cosmetics.
Huda Beauty Mercury Retrograde Eyeshadow Palette
RRP: $67/£58
Journey through space with the jaw-dropping Mercury Retrograde palette from Huda Beauty, which features a range of shades including icy purples and blues, as well as dusty coppers, shimmery pinks, and plenty of high-shine metallics. It's the perfect, buildable palette too—use the matte shades first and build towards more metallic shades.
Spectrum Collections Zodiac 6-piece Eyebrush Set
RRP: $31.25/£29.95
Allow them to upgrade their brush collection (because lets face it, we probably update ours way less than we should), with these fun, gold-starred brushes from Spectrum Collections. Included in the set is a tall tapered blender, a crease blender, a color applicator, a fluffy pencil, a precision crease, and a brow styler.
I Heart Revolution Book of Spells Eyeshadow Palette Fortunes and Crystals
RRP: £12 (UK only)
We had to include another eyeshadow palette in our round-up of the best astrology gifts—because you can never have too many, right? This offering is punchy, colorful, and should be reserved only for your most glam occasions. Inside, you'll find bright pinks and purples, glittering browns and beiges, and moody metallics, from gray to black.
10. Astrology tops
Fashion retailers have been expanding their astrology offerings for years now, with cute merchandise for every zodiac sign available everywhere from H&M to Shein. Representing your sign has never been more en vogue, especially if you're marking any of the remaining astrology events in 2022. Designs range from tops with a specific star sign on them, or more abstract astrological symbols.
RRP: $6.99/£5
This classic cotton jersey is likely to become a staple in your capsule wardrobe, and it's a super affordable gifting option too. The simple white tee comes with an orange zodiac motif, and would look chic paired with jeans and a blazer.
RRP: $16.64/£12.99
Have a bit of fun with this 'Aries AF' t-shirt for that person in your life that totally exemplifies their sign. There are a wide range of sizes available and you can even get this tee in a variety of different colors too, including red, white and navy.
Celestial Aesthetic T-Shirt
RRP: £14.98 (UK only)
This simple tee is adorned with all sorts of gold celestial symbols, from moon phases to constellations. It comes in two different fits for men and women, and is one of the most affordable options in our round-up of the best astrology gifts.
11. Astrology bath products
From bath salts to bath bombs, did you know there were special bath products catering to your astrological needs? It actually makes a lot of sense. Bath time is not only an essential part of our self-care routine, but it is an intimate time, where we can really relax and reflect—much like when we're exploring our horoscopes or astrology charts. So, why not combine the two with these astrology gifts?
Zodiac Inspired Healing Meditation Bath Salts
RRP: From $10.46/£10.77
Relax and unwind at the end of a long day with these reiki-charged Himalayan pink bath salts, infused with lemon, geranium and peppermint essential oils. You can choose which zodiac sign to add to the label, and you can purchase the bath salts in a variety of sizes, from 4oz to 16oz.
The Salty Herb Moon Bath Salts Shot
RRP: $5.77/£4.50
This 'shot' of salts has been formulated to relieve the symptoms of menstruation, including cramps and bloating. Inside you'll find Clary Sage, Lavender, and Rose & Cypress essential oils, which will combine to make for a soothing experience anytime, but especially during your period.
Zodiac Bath Bomb with Crystal & Herbs
RRP: £9.78 (UK only)
With scents of citrus, eucalyptus and lavender, not only does this bath bomb look lovely, but it's also guaranteed to smell divine. Each one contains an amethyst crystal inside, which is known to be a natural stress reliever. The crystal will dislodge as the bath bomb melts—so be careful you don't lose it!
12. Astrology gift sets
We love a cute gift set and when it comes to zodiac-themed kits, the options are endless. You can get everything from matching jewelry (see our guide to the best places to buy sustainable jewelry though, if that's more your thing), to a set of healing crystals to reenergize you.
Zodiac Cocktail And Candle Making Kit
RRP: $52.38/£45
If you want something really special, this cute cocktail and candle making starter pack is exactly what you need to get a fun tarot card reading party started. It includes all you'll need to get crafty, and to make four delicious cocktails and two coconut wax candles inspired by your star sign! You can also add a gift message.
Set 9 of Zodiac and Constellation Rings
RRP: $11.06/£8.63
This elegant set of nine celestial rings would make for a stunning gift for the jewelry lover in your life! Handmade with zircon gemstones, each one is adorned with an astrological-themed symbol, including a half moon and stars, or the gems. The perfect stacking set to add something special to your outfit.
Etsy Star Sign Healing Crystal Set
RRP: $12.81/£10
There's nothing more spiritual than crystals, so allow your loved one to channel some positive energy (whether they're all over crystals, or you need crystals for beginners) with this set that has been custom made for each star sign. Inside you'll find five stones designed to complement and enhance each star sign's natural energy.
13. Astrology coasters
Coasters are a cute and subtle way to nod to your loved one's interest in astrology in their home. From cute galaxy and star prints to cool ceramic designs, these astrology coasters aren't only practical (keeping your coffee table ring-free), but they're also super pretty. Plus, there are options for every zodiac sign, if you want to personalize your gift even further.
Star sign ceramic coaster set
RRP: $10.25/£8
Call us basic, but we adore these super cute pastel-colored star sign coasters, with your chosen star sign and constellation etched onto the surface. You'll need to choose a color and a star sign, and one coaster will set you back $10.25/£8—but you can add multiple options to your order if you want a full set.
Simple Alchemy Coasters set of 4
RRP: $36/£37.09
These 70s-style acrylic coasters and fun and funky, adding something a little different to your home decor. With rubber soles and a glass surface, they're easy to clean and sturdy, and they come in your choice of three colors; fluorescent pink or green, or opaque black, meaning there's an option for everyone.
Kate Aspen Under The Stars Coaster Set
RRP: £10.27 (UK only)
These round glass coasters are great for special events or relaxing at home—with a dark navy background, white star constellations, and a gold border, they'll really stand out, and should go with just about any decor. The set comes with two coasters, but for a bit more you can buy a set of six.
Amy Hunt is a lifestyle writer and editor, and was previously Lifestyle Channel Editor at womanandhome.com, having been with the brand since 2015. She is passionate about everything from entertainment to books, to homes, food and wellness. When she isn't editing, researching or writing articles, he's busy burying her nose in a gripping thriller, practising yoga, or buying new homeware.