The best astrology gifts for starry-eyed Zodiac fans
Best astrology gifts that every spiritually-connected sign will appreciate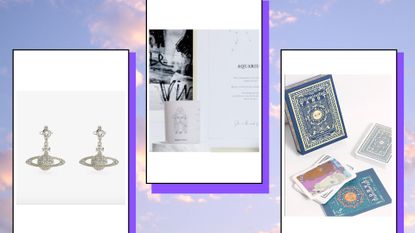 (Image credit: Future)
Thanks to the popularity of Zodiac-themed products, finding cute astrology gifts has never been easier; pretty much every high street store has something star-inspired to offer. However, finding the right gift is another thing altogether.
We all have that one friend who checks their weekly horoscope without fail, knows the exact Mercury Retrograde 2022 dates and wants to tell us all about Stellium in Pisces right now. So, when their birthday or a special occasion comes around, an astrology-themed gift is always bound to go down well. But there's a fine line between classy and tacky when it comes to astrology-inspired products—one quick Google search and you'll know exactly what we mean.
While your starry-eyed loved ones will love an Zodiac gift, a cliche product that you picked up while queuing to pay for your own basket doesn't show them that you care. If you're struggling to find something that is suitably thoughtful, personal and useful to any astrology-obsessed loved one, that's where we come in: here are some of the best gifts for astrology lovers that are sure to make you the star gift-giver all year round.
Best astrology gifts for those who live by their horoscope
Astrology Books
RRP: $7.93/£6.10
The best way to immerse yourself in astrology and learn all it has to teach is to read all about it. The are a plethora of books to add to your reading list, whether you're new to the world of zodiacs or want to expand your knowledge.
These books by author Stella Andromeda are a great start, Not only are they pretty on the outside, coming in cute pastel shades that'll pop on your pal's bookshelf, but they're full of gems on the inside, too. Available in each zodiac sign, the book series explores the ancient art of astrology to provide insight into what's written in the stars.
Birthstone Necklaces
RRP: From $40/£30
Birthstone jewelery is an excellent option if you're after a sentimental gift that they can keep close to them every day. There are an array of pendants on offer at brands like Missoma, Monica Vinader and Swarovski (to name a few), each of which represent a special birthstone you can pick for your loved one.
This particular birthstone pendant from Missoma is engravable, so you can give an already stunning gift that extra personal touch with a special message.
Astrology Mugs
RRP: From $12.21/£8.99
A nice mug for the tea and coffee lover in your life will always go down a treat, especially if it is personalised with their Zodiac sign. Whether they want to show off their sign with pride or have a personal characteristic that fits their Zodiac perfectly, help them approach every breakfast time in star-crossed style.
RRP: From $124/£90
If your recipient is always accessorizing with a pair of eye-catching earrings or has multiple piercings to play with, a pair of astrology earrings will be a welcome addition to their jewelry box. For that special someone, the Vivienne Westwood range of celestial dangles are sure to be appreciated.
Astrology Journals
RRP: From $10.99/£8.97
These journals are a great way to document your spiritual journey. Each book include pages of in-depth astrological insight, from highlighting important dates and transits to explanations of the lunar phases and moon rituals. They're also super cute (the Magic of I one is our favourite) and provide monthly calendars and spaces for daily and weekly planning.
Astrology Candles
RRP: From $12.26/£10.80
Who doesn't love a good candle? We'll be the first to admit that we've made our way through the best yankee candle scents (opens in new tab) during our self-care days but for astrology lovers, the candle game is even better as there are a plethora of zodiac and birth candles out there to fill your space with. From Birthdate.co, which sells candles crafted on your birthday, to crystal candles for positive energy, take your pick.
Astrology Cards
RRP: From $12.78/£9.72
Whether your recipient is an expert in all things astrology or are just starting out in their Zodiac exploration a set of pretty tarot cards is a great gift. If your friend is already a pro at interpreting the spiritual messages then a fresh set will be appreciated; if they've never given it a go but want to learn how to use tarot cards (opens in new tab), gift them their first pack to get them started.
Astrology Homeware
RRP: From $5.24/£4
With the amount of astrology and zodiac inspired homeware around, it can be hard to pick the right pieces - especially ones that compliment your home and personal space (or that of the loved one you've gifting). That's why we've narrowed down some cute pieces that work and bring some positive energy wherever they're placed. Desenio's Moon Phases Snake Poster is one of our favourites at the moment, and it's so affordable!
Astrology Make-Up
RRP: From $14/£9.99
Some of our favourite beauty brands are embracing the ever-growing astrology phenomenon by releasing zodiac and galaxy inspired make-up, much of which is thanks to the TikTok beauty hacks (opens in new tab) and TikTok's 'One Word Horoscope' effect. (opens in new tab) From Spectrum's zodiac brushes to Revolution's Book of Spells eyeshadow palette, we're here for the cosmic cosmetics.
Astrology Tops
RRP: From $6.99/£5
Fashion retailers have been expanding their astrology offerings for years now, with cute merchandise for every zodiac sign available everywhere from H&M to high end designers like Victoria Beckham (opens in new tab). Representing your sign has never been more en vogue, especially if you're attending any astrology events in 2022 (opens in new tab).
This Gemini boyfriend hoodie by Khloe Kardashian (opens in new tab)'s brand Good American is the perfect example of the variety of astrology tops around that are actually cool and trendy enough to wear.
---
Astrology Bath Products
RRP: From $5.91/£4.50
From bath salts to bath bombs, did you know there were special ranges catering to your astrological needs when it comes to bath products? It actually makes a lot of sense. Bath time is not only an essential bath of our self-care routine but it is an intimate time, where we can really relax and reflect on ourselves, much like when we're exploring our horoscopes or astrology charts. So, why not combine the two?
---
Astrology Gift Sets
RRP: From $9.56/£6.99
We love a cute gift set and when it comes to zodiac-themed kits, the options are endless. You can get everything from matching jewellery (opens in new tab) (Etsy have the most adorable astrology ring sets for each star sign) to a set of healing crystals to reenergise you.
Oh, and this cute cocktail and candle (opens in new tab)making starter pack is exactly what you need to get a tarot card reading party started. Not only is it adorable but it includes everything you need to make four delicious cocktails and two coconut wax candles inspired by your star sign!
---
Astrology Coasters
RRP: From $10.50/£8
These coasters are a cute and subtle astrology nod to keep in your home. From cute galaxy and star prints to cool ceramic designs, theres astrology coasters will keep your coffee table looking and feeling right. Plus, there are options for every zodiac sign.
Astrology earrings
---