This is why your lips are always chapped - even after lip balm
You'd think that liberally applying lip balm would be the cure-all for dry lips. Not so, say the experts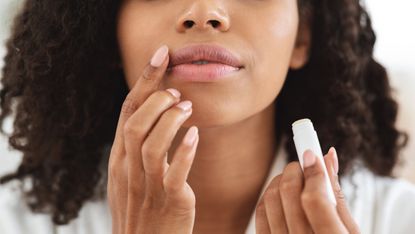 (Image credit: Getty Images)
We don't mean to be the bearers of bad news, but your lip balm (opens in new tab)addiction may not actually be doing your pout any favours (try telling that to the woman with six different flavoured tubes rolling around her purse...).
Why are your lips chapped even when using lip balm?
We asked science and, while the answer may not be what you want to hear, it's worth listening to. Lip balms coat your lips with a protective barrier that prevents moisture loss. However, constant top ups of moisture makes the skin here lazy, just as it does elsewhere on the body (yes, even with the best moisturizers for dry skin (opens in new tab)).
"Over-moisturising the surface sends a signal that your skin has enough water and lipids so it starts to produce less hydration of its own," says aesthetic doctor Dr Barbara Sturm (opens in new tab), who counts Kim Kardashian and Hayley Bieber as clients.
Put simply, you put your skin in a nanny state where it relies purely on product to stay hydrated. So when you're not wearing balm, lips become dry and chapped, causing you to apply more. And then the addiction becomes real.
To top it off, some lip balms actually contain chemicals that cause an uptick in flakiness. For example, menthol may be cooling but it's also an irritant - hence why lips look swollen after applying it. That raspberry flavour you love? It makes you more likely to lick your lips and therefore coat them in saliva – which, FYI, is the biggest cause of dry lips.
To flip the script, look for lip balms that incorporate skin-quenching ingredients such as avocado oil (Drunk Elephant Lippe Balm (opens in new tab)) and shea butter (Dr Barbara Sturm Lip Balm (opens in new tab)).
Also good is glycerin (a favourite of Dr Sturm's), which is like hyaluronic acid's budget little sister thanks to its ability to attract water. You'll find it in La Roche Posay Nutritic Lip Balm. (opens in new tab)
Not only will your lips feel plump full of moisture for longer but you're less likely to go in for another schmear.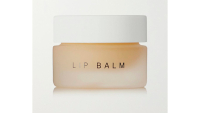 (opens in new tab)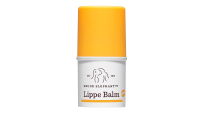 (opens in new tab)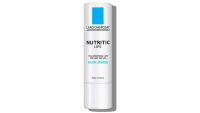 (opens in new tab)
Fiona Embleton is a multi-award-winning beauty editor who has tested over 10,000 products in her 10 years + of writing and shooting beauty stories. For the past four years, she was the Senior Beauty Editor at Marie Claire, having previously worked in the role of Beauty Editor at both Stylist and Cosmopolitan. She has recently gone freelance and alongside My Imperfect Life, she has written for titles including ELLE UK, ELLE Canada, Buro 247, Harper's Bazaar Arabia, Vogue Scandinavia, and ES Magazine. Beauty journalism allowed her to marry up her first-class degree in English Literature and Language (she's a stickler for grammar and a self-confessed ingredients geek) with a passion for make-up and skincare, photography, and catwalk trends. She loves jumping on the latest internet-breaking beauty news, dissecting the best red carpet looks, and having the crème de la crème of dermatologists, make-up artists, and hairstylists on speed dial so she can tap them for the best advice. She's a discerning beauty shopper and knows it can be confusing trying to navigate what's hype and what really works. So if she really likes something, you can trust that she has reached that opinion by vetting it against everything else she's ever tried. Her career highs? Interviewing Cate Blanchett and winning a Jasmine Award for the deeply personal feature Cancer Stole My Mother's Scent.