We've got a text - Love Island is back for Season 3!
Island life here we come...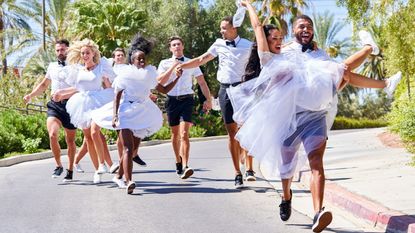 (Image credit: Getty/ CBS Photo Archive )
Get ready to grab your bikinis and ditch Netflix—we're headed back to paradise! Love Island is due to be back with a bang as the CBS show has been renewed for a third season, and we can't wait to tune in.
The lucky singletons won't be needing dating apps any longer, after the reality dating show broke the exciting news on Instagram with a cool mock text from CBS, saying: "SEASON 3 COMING SOON. #Aloha #BackOnIslandTime #ItsTheNewSeasonForMe."
"I GOT A TEXT...Love Island is BACK for Season 3 and this time we're saying aloha to Hawaii 🌺.".
A premiere date is yet to be announced, and the show is keeping tight-lipped on the hot line up of singletons.
Season two had to be filmed at a hotel in Las Vegas last summer due to travel restrictions amid the ongoing coronavirus pandemic. Contestants also had to quarantine before arriving at the villa - fingers crossed things will be different this time around.
Arielle Vanderberg hosted the first two seasons, and while fans are still waiting for her to announce that she'll be returning to host season three, she did leave a bit of a hint by reposting the announcement on her Instagram story last night.
Narrator Matthew Hoffman shared his excitement for the new season too, commenting: "HERE WE GO !!!!!!!!!," and former contestant Bennet Sipes joined in the fun adding: "Let's go."
Last season's winners Caleb Corprew and Justine Ndiba bagged a whopping $100,000 grand prize but sadly announced earlier this month that they're no longer together. However, the season saw one unlikely match between Connor Trott and Mackenzie Dipman, and it seems they're still going strong, you go guys!
So if you're still looking for love, you might just be in luck, because Love Island is currently casting sexy singles to ship off to the new villa, what are you waiting for?
Since December 2020, Kudzai has worked as a trainee journalist at FUTURE, writing about fashion, entertainment and beauty content for My Imperfect Life.

Kudzai previously worked as a freelance fashion wardrobe stylist, directing magazine photoshoots and coordinating the fashion direction of recording artists.

A fully qualified Journalism and Media graduate from De Mont Fort University, Kudzai graduated in the summer of 2020.