Maybelline, Morphe and your other favourite beauty brands now come in black packaging for a very important cause
Get involved in the Make It Black campaign.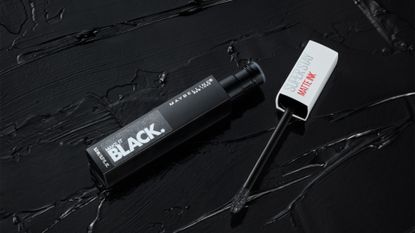 (Image credit: Make It Black)
Sharon Chuter is shaking up the beauty industry with the Make It Black campaign.
In the wake of George Floyd's killing last year, the Uoma Beauty founder launched the #PullUporShutUp hashtag, encouraging brands to publicly disclose the number of black employees in leadership roles at their companies.
That hashtag led to the creation of an entire organisation, Pull Up For Change, which holds these same brands accountable for diverse hiring practices. Now, in honour of Black History Month, Chuter, together with Pull Up For Change, have unveiled the Make It Black campaign.
Launching on 5th February, products from iconic beauty brands such a Maybelline, Morphe, Briogeo, NYX Professional Makeup, and Uoma Beauty will sport limited edition black packaging as a way to showcase the beauty of the colour. Black often has negative - even sinister - connotations so the idea behind the new-look packaging is to redefine people's perceptions and make black synonymous with luxury and beauty.
Chuter has even petitioned for the Oxford English Dictionary and Merriam Webster Dictionary to update their definitions of the word 'black'.
"Language plays a critical role in how we perceive the world," Chuter said in a statement. "The function of language goes beyond expressing ideas and concepts, it shapes thought and defines our collective consciousness. Language should be neutral, unbiased and reflective of our current realities. It is, in this regard, that the dictionary has work to do."
Shoppers can purchase these special products from the Make It Black website, the brands' official websites, or over at Ulta.
It's time to use your beauty dollar to take a stand.
Fiona Embleton is a multi-award-winning beauty editor who has tested over 10,000 products in her 10 years + of writing and shooting beauty stories. For the past four years, she was the Senior Beauty Editor at Marie Claire, having previously worked in the role of Beauty Editor at both Stylist and Cosmopolitan. She has recently gone freelance and alongside My Imperfect Life, she has written for titles including ELLE UK, ELLE Canada, Buro 247, Harper's Bazaar Arabia, Vogue Scandinavia, and ES Magazine. Beauty journalism allowed her to marry up her first-class degree in English Literature and Language (she's a stickler for grammar and a self-confessed ingredients geek) with a passion for make-up and skincare, photography, and catwalk trends. She loves jumping on the latest internet-breaking beauty news, dissecting the best red carpet looks, and having the crème de la crème of dermatologists, make-up artists, and hairstylists on speed dial so she can tap them for the best advice. She's a discerning beauty shopper and knows it can be confusing trying to navigate what's hype and what really works. So if she really likes something, you can trust that she has reached that opinion by vetting it against everything else she's ever tried. Her career highs? Interviewing Cate Blanchett and winning a Jasmine Award for the deeply personal feature Cancer Stole My Mother's Scent.