Maybelline's Fit Me Concealer is one of the top under-eye concealers, say Amazon shoppers
Note: drop Maybelline's Fit Me Concealer straight into your basket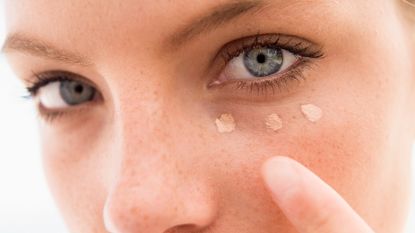 (Image credit: Monkey Business Images/ Getty Images)
What is it about Zoom meetings that make us look so washed-out, with dark circles to rival the rings of Saturn? That's when a kickass under-eye concealer, like Maybelline's Fit Me Concealer, is called for — so no one will ever know how many hours sleep you really got last night.
This popular drugstore buy is not only a beauty editor favorite but it's become a best-seller in the concealers category on Amazon, with more than 2,700 shoppers leaving the type of glowing reviews that makes you want to shop it in bulk.
Available in 12 shades, Maybelline's Fit Me concealer is creamy in texture so you avoid tugging the delicate skin under the eyes, which incidentally makes dark circles even worse. It's also lightweight and just as with the best foundation for acne-prone skin, it's non-comedogenic so, whether you're using it to cover up dark circles, redness around the nose, or an angry pimple, it won't crust or cake-up over the course of the day.
But equally importantly, it has the type of dewy, soft-focus finish that's almost imperceptible as 'makeup'.
"This concealer blends really well with my skin, and it hides all my imperfections. It also brightens my skin and gives it a nice look. This is a great affordable concealer," said one shopper.
Meanwhile, another praised its staying power: "This is one of the only beauty products I have used up completely and re-purchased three times. Being a beauty product junkie, this should speak to how great this concealer is. I love that it's creamy enough to use under the eyes and not cause dryness/creasing yet not SO creamy that you can use it on other areas of the face and it won't move around...I will continue to use this concealer for years to come."
If you haven't yet jumped on the bandwagon, then it's time you did.
Fiona Embleton is a multi-award-winning beauty editor who has tested over 10,000 products in her 10 years + of writing and shooting beauty stories. For the past four years, she was the Senior Beauty Editor at Marie Claire, having previously worked in the role of Beauty Editor at both Stylist and Cosmopolitan. She has recently gone freelance and alongside My Imperfect Life, she has written for titles including ELLE UK, ELLE Canada, Buro 247, Harper's Bazaar Arabia, Vogue Scandinavia, and ES Magazine. Beauty journalism allowed her to marry up her first-class degree in English Literature and Language (she's a stickler for grammar and a self-confessed ingredients geek) with a passion for make-up and skincare, photography, and catwalk trends. She loves jumping on the latest internet-breaking beauty news, dissecting the best red carpet looks, and having the crème de la crème of dermatologists, make-up artists, and hairstylists on speed dial so she can tap them for the best advice. She's a discerning beauty shopper and knows it can be confusing trying to navigate what's hype and what really works. So if she really likes something, you can trust that she has reached that opinion by vetting it against everything else she's ever tried. Her career highs? Interviewing Cate Blanchett and winning a Jasmine Award for the deeply personal feature Cancer Stole My Mother's Scent.