Best foundation for acne prone skin: the top tried-and-tested formulas
Looking for the best foundation for acne prone skin? From Clinique to BareMinerals, these are our top picks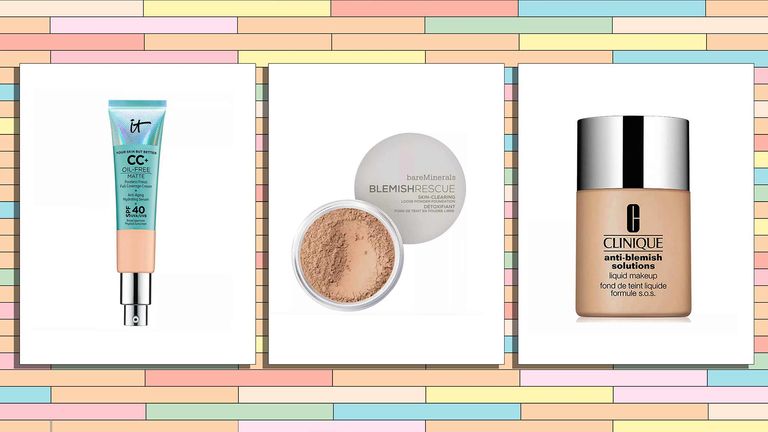 (Image credit: IT Cosmetics / Bareminerals / Clinique)
If you're looking for the best foundation for acne-prone skin, we've got you covered. We get it—no matter how old you are, having breakouts never gets any easier—and choosing a foundation is a whole other ball game. 
There's no doubt that you automatically just want to reach for the nearest foundation when a new breakout occurs, but the rational side of your brain probably also knows that it's best not to smother the spots. Instead, it's about reaching a happy medium and finding a product that'll help even out your skin and conceal the pesky blemishes, while also being kind to your skin, not overloading it with things that'll cause further aggravation. 
But with so many different foundations out there, how do you know what's going to be best for you and your individual skin concerns? This is where the best non-comedogenic foundations come into play. We've rounded up the best foundations for acne skin types in order to help narrow down the choice...
The best foundations for acne prone skin you can buy right now
1. Clinique Anti-Blemish Solutions Liquid Makeup
Best for most people, this foundation has been formulated with salicylic acid, and helps prevent future breakouts
Specifications
Number of shades available: 10
Formula type: liquid
Finish: natural matte
Reasons to buy
+Buildable coverage that won't look cakey+Formulated with salicylic acid
Reasons to avoid
-Hasn't got a very extensive shade range-Dries down quite quickly so you have to be fairly quick on application
A cult foundation from a cult brand: Clinique's Anti-Blemish Solutions truly excelled itself in our tests. The lightweight, silky texture was easy to apply—we found it best applied with a damp make-up sponge—and although it dries down quickly, it's something that we got used to the more we used it. 
Formulated with salicylic acid to help treat blemishes and breakouts, it's also oil-free and works to help neutralize any redness skin might have. Another thing we also loved was the natural-looking finish; no matter how many layers were applied it didn't look chalky. In other words, skin stayed looking like skin, which in our books is vital.
2. Oxygenetix Oxygenating Acne Control Foundation
With 2% salicylic acid, this is a premium foundation with exceptional skincare benefits
Specifications
Number of shades available: 9
Formula type: liquid
Finish: natural matte
Reasons to buy
+Has SPF30+Formulated by medical professionals 
Reasons to avoid
-Very limited shade range-Is less affordable than most foundations
This foundation is on the more expensive end of the scale, but when you take into account its claims and credibility, it's definitely worth it—it's formulated for acne prone skin and contains 2% salicylic acid, which is a much higher level than most other foundations that contain it. It's also enriched with soothing aloe vera and vitamin E, which help target inflammation and calm redness and has the added benefit of SPF30. It's super lightweight, lasts all day, and has significant oil-controlling powers. 
However, we did have to take into account the extremely limited, incredibly pale selection of shades available. If you can find your shade, it's a truly incredible discovery—and if you can afford it, it's worth the investment. 
3. It Cosmetics Your Skin But Better CC+ Oil-Free Matte SPF40
Best for those with acne and rosacea, with a full coverage finish, this isn't for the faint-hearted
Specifications
Number of shades available: 14
Formula type: liquid
Finish: full coverage matte
Reasons to buy
+Part of the iconic It Cosmetics CC Cream family+Formulated with SPF40
Reasons to avoid
-Not a very expansive shade range-Has heavy coverage
Acne and oily skin sufferers rejoiced when It Cosmetics launched this oil-free, matte version of its cult CC cream because it meant they could see what all the fuss was about, too. Despite the fact it does have heavy coverage and a matte finish, we love that it still looks relatively natural on the skin and doesn't feel cakey or suffocating. 
It also lives up to its claims of helping to reduce oiliness and shine throughout the day, plus it's hydrating which is fairly unheard of for a foundation like this. The added SPF40 is always a bonus addition that we can get fully on board with. 
4. Maybelline Fit Me! Matte & Poreless Liquid Foundation
Best for oily skin, this suits-all foundation is affordable and oil-free
Specifications
Number of shades available: 40
Formula type: liquid
Finish: medium matte
Reasons to buy
+Extremely affordable+Great range of shades
Reasons to avoid
-Doesn't have any additional skincare benefits-Not quite as long-lasting as some others
When it comes to affordability and shade range, Maybelline's Fit Me Matte & Poreless Foundation ticks all our boxes. 40 shades are impressive for any foundation, let alone one that's suitable for oily skin types. While there's a real lack of shade diversity when it comes to foundations for acne prone skin, Maybelline is leading by example—and despite the fact this did need topping up throughout the day, in terms of price, it's definitely a good choice.
5. BareMinerals Blemish Rescue Skin-Clearing Loose Powder Foundation
Formulated with salicylic acid, this is a non-drying powder foundation for those that prefer a mineral foundation
Specifications
Number of shades available: 10
Formula type: mineral powder
Finish: natural matte
Reasons to buy
+The mineral formula is kind to skin+0.5% salicylic acid helps fight acne
Reasons to avoid
-Limited shade range-Fairly lightweight coverage in comparison to other products
For mineral or powder foundation fans, this is the way to go. Formulated with 0.5% salicylic acid, zinc, and sulphur, it will help treat blemishes and mattify skin. It has a natural matte coverage that's easy to build up if you need to, however one layer might not be quite enough depending on your personal preferences. 
It also won't dry out skin, so if you're taking acne medication that can cause severe dryness, this will help maintain the moisture levels in your skin as well as being kind and gentle to it. Plus, the mineral formula means skin will be able to breathe and won't feel clogged up. 
---
---
How to choose the best foundation for acne prone skin
There's definitely no shortage of foundations available nowadays, from affordable high street formulas through to super expensive options. When it comes to acne prone skin, though, there are a few factors that you need to consider.
The first is that the formula needs to be non-comedogenic, meaning it won't clog pores. Many foundations tend to be comedogenic—i.e., they're more likely to block pores—which isn't good for acne-prone skin as it just means the situation will end up worsening, which you definitely don't want to do.
The next thing to look for is a foundation that has additional benefits: products formulated with salicylic acid are an excellent choice. Salicylic acid is a real lifesaver for acne-prone skin types thanks to its ability to flush out pores, dissolving the dead skin that blocks pores while also reducing the production of sebum. 
Finally, it's worth investing in a formula that'll look as natural as possible; a lot of foundations targeted towards acne-prone skin have a heavy, matte finish that can often look cakey and one-dimensional. Instead, look for products that have buildable coverage but still reduce the likelihood of that 3pm oil-slick that we all know too well.
Lucy Partington has been a beauty journalist for eight years, writing for titles including Stylist and Cosmopolitan. She's a true skincare nerd who's on a lifelong quest for a glowing complexion and loves nothing more than learning about new ingredients and products. She's obsessed with having perfect eyebrows and collecting eyeshadow palettes she'll probably never use.