The best foundations for acne-prone skin for effective but healthy-looking coverage
These are the very best foundations for acne-prone skin, as tested and reviewed by an expert beauty editor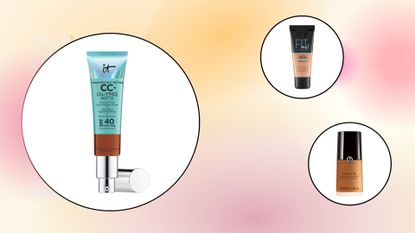 (Image credit: Future/brands pictured)
The best foundations for acne-prone need to tick several boxes to be able to call themselves the "best". Not only do they need to provide decent coverage without making your skin look cakey, they should absorb excess oil without drying out your skin and—most importantly—not trigger breakouts or worsen existing spots. And of course, as with all of the best foundations, formulas for acne-prone skin should leave skin looking and feeling healthy.
While your gut may tell you to reach for a higher-coverage foundation when your skin is acting up, doing so can unfortunately make your skin even angrier. "Unless you need heavier makeup for specific purposes, I generally suggest lighter formulations, such as CC creams or even tinted sunscreen—some are specially formulated for acne prone skin," London-based dermatology fellow Dr. Bernard Ho tells us.
It is, therefore, important to closely examine a formula before you use it and ensure that it's not loaded with heavy or pore-clogging ingredients—even when shopping on a budget and perusing the best drugstore foundations. To pinpoint the most suitable beauty buys, our expert beauty contributor tested a bunch of those that claim to suit acne-prone skin to see how well they perform. These buys will provide you with the coverage you need, disguising angry redness without aggravating your acne.
Meet the experts on foundation for acne-prone skin
Dr. Bernard Ho is an NHS doctor and dermatology fellow at St George's Hospital in London, who has advised My Imperfect Life readers on shopping for makeup that works on acne-prone skin.
How we tested the best foundations for acne-prone skin
For those doing battle with acne or blemish-prone skin, the best non-comedogenic foundations make an ideal match because they don't contain pore-clogging ingredients. Or the best foundations for combination skin are great if different areas of your skin act differently. And if you're on a budget, plenty of drugstore options nowadays also play well with blemished skin, provided they're suited to this skin type.
Below you'll find all of the acne-prone skin foundations I deem it worth knowing about, from luxury picks to dry skin saviors. When putting these formulations through their paces I wore each one at least twice for a full day, focusing particularly on the following factors.
Formula
Range and number of shades
Finish
Ease of application
How long it lasted on the skin
Packaging
Price
During the testing process, I also made sure that I tried a broad range of foundations including popular formulas that are well known for being specifically for acne-prone skin, newer products, and some underdogs that—although not necessarily marketed for acne-prone skin—could still prove very suitable. Below is my edit of those that came out on top as the best foundations for acne-prone skin.
Meet the tester
Meet the tester
Lucy Partington
My skin can be sensitive to some ingredients but it's generally quite hardy, is a bit blemish-prone and falls on the slightly oily side. In my personal opinion, the best foundation for acne-prone skin should first and foremost be non-comedogenic as standard, as this means the formula won't further clog your pores. The finish, however, is entirely personal—historically they have fallen under the matte category, but there are now a few other options on the market for a more satin-y or radiant look.
The best foundations for acne-prone skin, reviewed by a beauty editor
1. NARS Sheer Glow Foundation
Best natural-looking foundation for acne-prone skin
Specifications
RRP : $47/£35
Number of shades: 40
Formula type: Liquid
Finish: Dewy
Reasons to buy
+
Hydrating enough to stop spots becoming visibly flaky
+
Leaves a dewy glow
+
Blur imperfections
+
Doesn't leave a greasy residue
Finding a formula that disguises acne without visibly drying out spots and that still feels light on the skin and that is and comfortable to wear is no mean feat. But this makeup bag staple is the embodiment of makeup artist François NARS' famous ethos: "makeup shouldn't cover your skin—it should enhance your natural beauty, not mask it". Loaded with skin-loving ingredients it strikes the balance between being gentle on problem areas while still evening out your complexion. In fact, for a formula that's billed as sheer, I found it actually has an impressive level of pigment and coverage. This is a must for concealing blemishes or scarring as you don't need to apply a lot of product (and run the risk of foundation pilling) to do so. The finish is also slightly dewy, which leaves skin looking fresh and glowy, not dull and cakey.
If you're worried about dry skin causing acne, this foundation's hydrating properties should also tick your boxes as they prevent the formula from drying around spots and blemishes. Those aforementioned skin-loving ingredients include antioxidants like vitamin C, which brighten and protect the skin from further damage from free radicals and environmental factors. The hero of the formula, though, has to be turmeric. Like vitamin C, this works to brighten the skin and reduce the appearance of acne scars (a visible result that can be seen from prolonged use, by the way), and its anti-inflammatory properties also calm acne flare-ups. Overall, it's a must-have skincare-makeup hybrid that's perfect for those after decent coverage and a lightweight, silky feel.
2. Clinique Anti-Blemish Solutions Liquid Makeup
Best foundation for acne-prone skin to prevent future breakouts
Specifications
RRP : $33/£31
Number of shades : 10
Formula type: Liquid
Finish: Natural matte
Reasons to buy
+
Buildable coverage, not cakey
+
Contains salicylic acid
+
Lightweight and silky, not heavy
+
Natural finish
Reasons to avoid
-
Disappointing shade range
-
Dries down quite quickly, so you have to apply fast
A cult foundation for acne-prone skin from a cult brand, Clinique's Anti-Blemish Solutions truly excelled itself in my tests and is a well-recognized favorite for many people with acne. Its lightweight, silky texture was easy to apply—I found it best applied with a damp make-up sponge—and although it dries down quickly, this was something that I soon got used to the more I used it.
Formulated with salicylic acid to help treat blemishes and breakouts, this foundation is also oil-free and works to neutralize any discoloration in the skin. Another factor that I loved was its natural-looking finish; no matter how many layers I applied it didn't look chalky. In other words, my skin stayed looking like skin, just like when you use one of the best BB creams, which, in my book, is vital.
3. Oxygenetix Oxygenating Breathable Foundation
Best premium foundation with exceptional skincare benefits
Specifications
RRP : $66/£55
Number of shades : 9
Formula type: Liquid
Finish: Natural matte
Reasons to buy
+
SPF 30
+
Lasts really well
+
High concentration of salicylic acid—2%
Reasons to avoid
-
Very limited shade range
-
Expensive
View complete shade range at Oxygenetix in the US
This foundation is on the more expensive end of the scale, but when you take into account its claims and credibility, it's definitely worth it. A favorite among celebrities, it's formulated specifically for acne-prone skin, and contains 2% salicylic acid (a spot-busting ingredient and a form of beta-hydroxy acid), a much higher level than most other foundations that contain it. It's also enriched with soothing Aloe vera and vitamin E to target inflammation and calm redness. It also features SPF 30, meaning you get some level of UV protection, though it's of course better for your skin to apply one of the best sunscreens for face separately. It's also ultra lightweight, lasts all day, and has significant oil-controlling powers.
However, I must point out the extremely limited, incredibly pale selection of shades that are on offer here. If you can find your shade and afford this formula, it's one of the best foundations for acne prone skin, and a truly incredible discovery.
4. IT Cosmetics Your Skin But Better CC+ Oil-Free Matte SPF 40
Best foundation for acne-prone skin with redness
Specifications
RRP : $44/£33
Number of shades: 14
Formula type: Liquid
Finish: Full coverage, matte
Reasons to buy
+
Cult favorite product
+
Formulated with SPF 40
+
Hydrating
+
Disguises variety of skin concerns
Reasons to avoid
-
Not a very expansive shade range
-
Some may prefer lighter coverage
Those with acne-prone and oily complexions rejoiced when IT Cosmetics launched this oil-free, matte version of its cult CC cream, because it meant they could see what all the fuss was about, too. Despite the fact it does have heavy coverage and a matte finish, I love that it still looks relatively natural on the skin and doesn't feel cakey or suffocating.
As well as disguising discoloration like redness with ease (the CC is a hit among those with rosacea), it also lives up to its claims of helping to reduce oiliness and shine throughout the day, plus it's hydrating which is fairly unheard of, even when it comes to the best foundation for acne prone skin. The added SPF 40 is always a bonus that I'm fully on board with, and this is easily one of the best foundations for oily skin around.
5. Maybelline Fit Me! Matte & Poreless Liquid Foundation
Best foundation for oily acne-prone skin
Specifications
RRP: $8.99/£5.99
Number of shades : 40
Formula type: Liquid
Finish: Medium, matte
Reasons to buy
+
Extremely affordable
+
Great range of shades
+
Oil-free
Reasons to avoid
-
No additional skincare benefits
-
Not as long-lasting as others
When it comes to affordability and shade range, Maybelline's Fit Me Matte & Poreless Foundation ticks all my boxes, making it one of the best drugstore foundations, in my opinion. 40 shades is quite impressive for any foundation, let alone one that's suitable for oily skin types and very affordable.
There's a real lack of shade diversity when it comes to foundations for acne-prone skin, but Maybelline is leading by example—and despite the fact that I did find that this foundation did need a little topping up throughout the day, but considering its price tag, it's definitely a good choice.
6. Giorgio Armani Luminous Silk foundation
Best buildable foundation for acne-prone skin with a dewy finish
Specifications
RRP : £44.50
Number of shades: 40
Formula type: Liquid
Finish: Satin
Reasons to buy
+
Allows you to build coverage to your preferences
+
Good range of shades
+
Great staying power
+
Gives a very natural finish
Reasons to avoid
-
Might not have the coverage that some are after
On testing this higher-end foundation, it proved to almost look like another, more polished and perfected layer of skin. In one application, uneven textures, visible pores and red blemishes were smoothed over, with no gathering around dry patches or particularly nasty instances of acne—which is why it's one of the best foundations for acne prone skin.
It doesn't give the fullest coverage, but I actually liked that. I could still see a glimpse of our freckles and natural complexion, but the foundation covered imperfections expertly. It gives an almost airbrushed finish to skin, while still feeling very natural and not at all cakey. The staying power of the Luminous Silk foundation was also truly impressive; it stayed put all day despite its natural-looking, satiny finish.
"This is one foundation that has stayed by my side for years—through thick and thin—and never failed me," My Imperfect Life's deputy editor Aleesha Badkar adds. "Its silky texture buffs in smoothly and feels comfortable when wearing but, despite being slightly thinner than some other foundations, it doesn't sink into my large pores. The light-reflecting particles also leave my skin with the most incredible glow, like golden hour in a bottle. And despite being a silky and light formula with buildable medium coverage, it's got the most immense staying power. I wore this on my best friend's long, busy outdoor wedding day on the hottest day of the year in the South of France and, despite running around as maid of honor, it was still going strong at the end of the night—right up until we jumped in the pool in our dresses!"
See our full, in-depth review of the Giorgio Armani Luminous Silk foundation here.
Lucy Partington has been a beauty journalist for eight years, writing for titles including Stylist and Cosmopolitan. She's a true skincare nerd who's on a lifelong quest for a glowing complexion and loves nothing more than learning about new ingredients and products. She's obsessed with having perfect eyebrows and collecting eyeshadow palettes she'll probably never use.