The secret message behind Meghan Markle's Oprah look and how she's channelling Princess Diana
Is Meghan sending a coded message?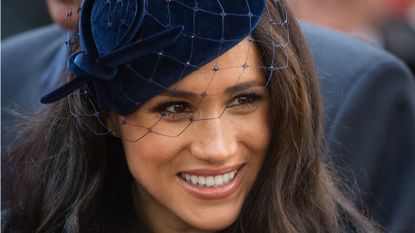 (Image credit: Samir Hussein /Getty Images)
Meghan Markle's Oprah look is a marked deviation from her usual fresh-faced, girl-next-door glow. In a move that's reminiscent of Princess Diana's makeup in her 1995 bombshell interview with Martin Bashir, Meghan has opted for thickly lined eyes, or what industry insiders are dubbing the 'power eyeliner'.
A trailer for the tell-all interview Meghan and Prince Harry have agreed to give Oprah, revealing all about their departure from the Royal Family, has been released by CBS. In it, Meghan's eye makeup is sending out a message at odds with the seemingly sunny and serene setting (an outdoor terrace).
Normally Meghan is the poster girl for the all-American natural look: a touch of peachy-hued blush, soft brown liner and balmy lips. When it comes to accentuating her eyes, her signature go-to is a smudge of brown kohl on the upper lash line and a couple of coats of mascara.
On the odd occasion that she has mixed things up a bit, it's been with a sweep of bronzer, a red lip or she's stepped up the glow with highlighter. All of which is still very on brand.
But for the Oprah interview Meghan has changed tack all together. By upping the drama with a badass smoky eye, pitch black eyeliner and lashings of mascara, the Duchess is signalling, in our option, just how much she's ready to get down to business.
While Prince Harry directly compares Meghan to his late mother, the Duchess of Sussex appears to be giving her own nod to Princess Diana when she gave her no-holds-barred interview in 1995. Meghan's heavily kohled eyes seem to mimic the way Princess Diana rimmed her eyes with black eyeliner for her BBC interview with Bashir, when she delivered the now-infamous line: "There were three of us in this marriage, so it was a bit crowded."
All of this could, of course, be sheer coincidence but one thing's for sure: by playing up the eyes you automatically draw attention to every emotional glance at the camera.
Here's how to watch Meghan Markle and Prince Harry's Oprah Winfrey interview in the UK. Prepare to be riveted.
Fiona Embleton is a multi-award-winning beauty editor who has tested over 10,000 products in her 10 years + of writing and shooting beauty stories. For the past four years, she was the Senior Beauty Editor at Marie Claire, having previously worked in the role of Beauty Editor at both Stylist and Cosmopolitan. She has recently gone freelance and alongside My Imperfect Life, she has written for titles including ELLE UK, ELLE Canada, Buro 247, Harper's Bazaar Arabia, Vogue Scandinavia, and ES Magazine. Beauty journalism allowed her to marry up her first-class degree in English Literature and Language (she's a stickler for grammar and a self-confessed ingredients geek) with a passion for make-up and skincare, photography, and catwalk trends. She loves jumping on the latest internet-breaking beauty news, dissecting the best red carpet looks, and having the crème de la crème of dermatologists, make-up artists, and hairstylists on speed dial so she can tap them for the best advice. She's a discerning beauty shopper and knows it can be confusing trying to navigate what's hype and what really works. So if she really likes something, you can trust that she has reached that opinion by vetting it against everything else she's ever tried. Her career highs? Interviewing Cate Blanchett and winning a Jasmine Award for the deeply personal feature Cancer Stole My Mother's Scent.